A baby had a miracle escape when his dad's car careered on its roof across a motorway inches from a lorry.
Captured on a dashboard camera, the four-month-old tot was in a baby seat when the car flipped over, leaving a trail of sparks as it missed the lorry before hitting another car.
The shocked driver pulled over to find the baby had survived with his parents upside down in the front seats.
The dashcam drama was released by haulage firm Owens Group, based in Llanelli, South Wales, after the incredible crash on the M5 in the Midlands.
The Owens haulage lorry can be seen driving along in the inside lane when a white Volvo saloon suddenly slides into shot on its roof.
It is just inches from the camera as sparks fly across the road with the car skidding on its roof towards the hard shoulder.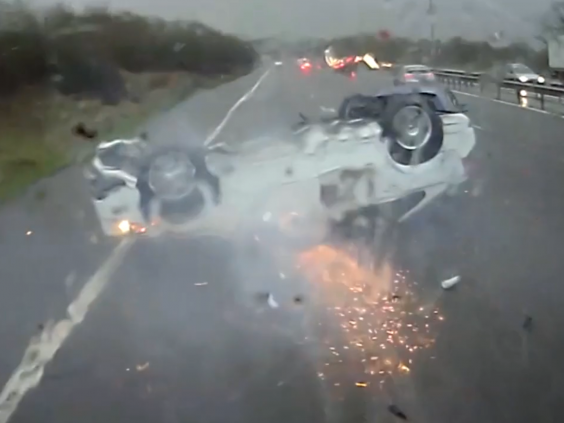 It then hits a blue hatchback car that smashes into the central reservation.
The company released the footage, filmed on the M5 in 2014, to illustrate the benefits of having a forward-facing dashboard camera attached to each of its vehicles.
Mike Colborne, 48, health and safety manager at Owens Group, told how the lorry driver tried to help the family inside the car.
He said: "Our driver helped as best he could and phoned the police. Everybody was able to get out.
The drive of our lives: 50 Years of Britain's motorways
"We now have the forward-facing cameras in all our vehicles. We were trialling it at the time and that was enough for us.
"It is totally down to protecting the driver and the company."
The lorry involved happened to be the only one fitted with a camera at the time as the company took part in a trial.
Additional reporting by Wales News Service
Reuse content