The search for the missing Bristol musician known as DJ Derek took a new twist on 4 August with police suddenly changing the focus of their search for the 73-year-old after "credible" reports he was spotted 11 miles from the area he was previously thought to have vanished from.
Avon and Somerset detectives said they had witness accounts from old neighbours of Derek Serpell-Morris that he was seen at a bus top in the south Gloucestershire town of Yate at around midday on either 16 or 17 July.
The force's investigation has refocused on that area following weeks spent on the assumption that Mr Serpell-Morris, Britain's oldest DJ, went missing in the early hours of Saturday 11 July following a night out with friends in the centre of Bristol.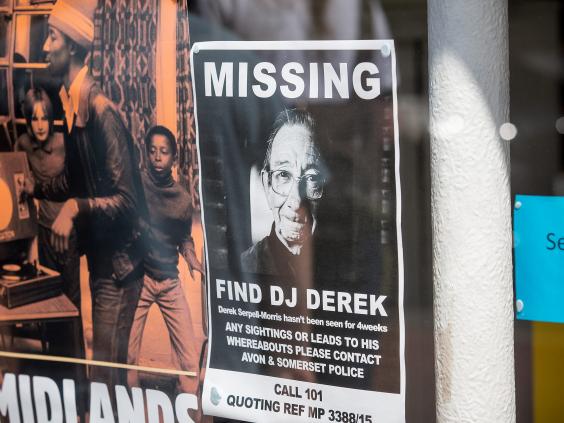 Police said he has also been sighted at Cribbs Causeway and Thornbury which, when all three points are connected to the DJ's home on Albert Park Place, form a diamond shape of 14 miles length and almost 11 miles wide. Detectives said they were checking potential links between Mr Serpell-Morris's disappearance and all bus routes along in and out of those areas.
Bristol musician and DJ Roni Size said: "Some positive news about #FindDJDerek - keep looking people."
However, the sudden change in the investigation has slightly frustrated his family.
Grandniece Jennifer Griffith said: "We're not going too much with the 'credible' sighting in Yate. The guy can't even confirm what day it was he thinks he saw Derek. We're concerned that the police move resources away from the area where he definitely last seen – on CCTV – into an area where he might not have even been."
Police issued further CCTV footage Tuesday that showed Mr Serpell-Morris walking into the Criterion Pub on Ashley Road, just five minutes' walk from his house, at 11.38pm on Friday 10 July. He is then seen leaving the premises at approximately 00.13am. He was previously seen in footage released last week leaving another pub in the centre around 20 minutes earlier.
DI Clare Hargreaves said late on 4 August: "Derek Serpell-Morris, known to many as DJ Derek, has now been missing for more than three weeks. Firstly, I would like to appeal directly to Derek to make contact with your family or call us now on 101 if you can. The reaction to your disappearance has been felt nationwide and so many people just want to know you are ok.
"We now have a credible sighting of Derek by old neighbours at Yate bus station at approximately midday on either July 16 or 17. As a result of this new information, we've re-focused our search efforts in the Yate area. We've also had sightings of Derek at Cribbs Causeway and Thornbury so we are looking into any potential link with bus routes in these areas."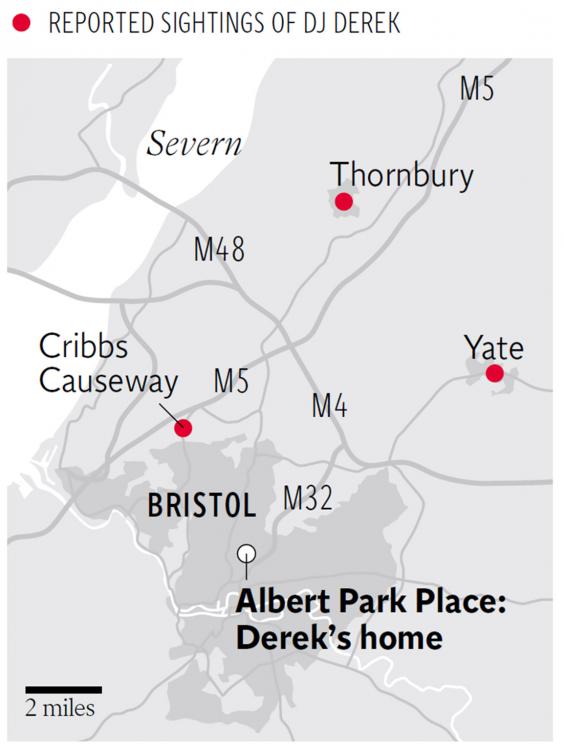 DI Hargreaves said since Derek was reported missing on 23 July the police investigation has been "thorough and wide-spread".
She said: "This has involved detailed CCTV examinations, house-to-house enquiries and physical searches across Bristol and the surrounding areas. We have also had a large number of reported sightings following our public appeal and we are working through all of these."
Despite DI Hargreaves's plea for Mr Serpell-Morris to get in touch Mrs Griffiths said: "Personally I'm not [hopeful]. I don't think he's alive. We would have thought he would have got in contact with us by now. Everything suggests that he's gone. I'm losing hope at the moment."
Reuse content