An open letter stating that Donald Trump would make "the most reckless president in American history" received an enthusiastic response at a literary event.
Signed by 50 former US national security officials including former deputy attorney general Donald Ayer and former secretary of homeland security Michael Chertoff, the letter said that although "many have doubts about Hilary Clinton... Donald Trump is not the answer to America's daunting challenges and to this crucial election."
Actor Stephen Mangan read out the letter at the Letters Live event at Freemasons' Hall, central London, which also said Republican White House hopeful Mr Trump "appears to lack basic knowledge about and belief in the US Constitution, US laws and US institutions, including religious tolerance, freedom of the press, and an independent judiciary".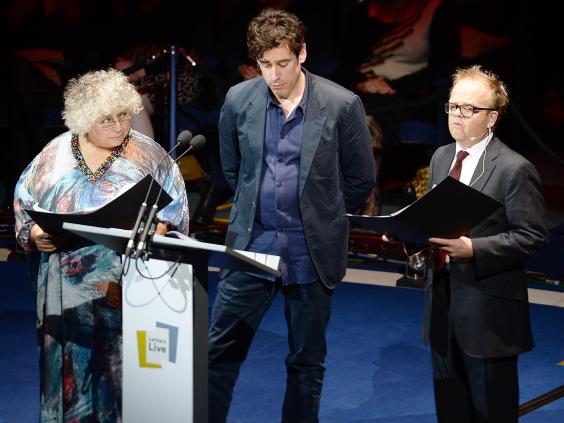 It added: "Unlike previous presidents who had limited experience in foreign affairs, Mr Trump has shown no interest in educating himself. He continues to display an alarming ignorance of basic facts of contemporary international politics."
Stranger Things actor Charlie Heaton took to the lectern to read a correspondence between a then-unknown budding 17-year-old actor to The Sting director George Roy Hill, asking to be made into a star.
The young actor in question was Tom Hanks - or Thomas J Hanks as he signed off the letter - and made such bold claims as "My looks are not stunning. I am not built like a Greek god, and I can't even grow a moustache, but I figure if people will pay to see certain films... they will pay to see me."
Mary Poppins actress Karen Dotrice made a rare appearance as she read a letter penned from producer Samuel Goldwyn to Walt Disney. Goldwyn had previously expressed an interest in making PL Travers' book into a film, but wrote his delight at Disney's reimagining of the literary work.
Dotrice read: "Once in a lifetime - and only once - a picture comes along which cannot be compared to any other and to which no other can be compared... You have made it - Mary Poppins."
The letter concluded: "I hope everyone in the world will see it - that is the nicest thing I can possibly wish them."
Musician Kelvin Jones opened and closed the show, while a lively performance also came courtesy of actors Toby Jones and Miriam Margolyes.
The pair gave a rousing recital of Napoleon Bonapate's letters to his wife Josephine - Jones reading enthusiastically while a silent Margolyes pulled a variety of bemused expressions. Their performance won the most rapturous applause of the evening from an elated audience.
Other stars taking to the stage included Sherlock actress Louise Brealey, activist Jack Monroe and Pulp frontman Jarvis Cocker, who declared "there's no way I can get my voice as deep as Iggy's, but I'll try", before reciting a letter sent by Iggy Pop to a fan.
Letters Live began in December 2013 to celebrate remarkable letters and the enduring power of correspondence. The event has attracted some of the biggest names to contribute and raise money for literacy charities.
This month the event runs from October 4-8, and past performers have included Benedict Cumberbatch, Jude Law, Dominic West and Gillian Anderson.
Press Association
Reuse content