A Natural History Museum curator has made the surprise discovery of a unique collection of insects gathered by Dr Livingstone, one of Britain's greatest explorers of Africa, which has remained unknown for 150 years. 
The "tatty old box" containing 20 pinned beetles was discovered in the museum's large entomology department, and is the only known insect collection from Dr Livingstone's expedition to the Zambezi River which ended in 1864.
Max Barclay, the museum's beetle curator, found the box among thousands of others containing uncategorised material as he sought to catalogue parts of the collection online. Inside was a label that said "Zambezi coll. by Dr. Livingstone".
"Nobody knows of any beetles ever being collected by Livingstone on the Zambezi expedition," he said. "This wasn't a case of being rediscovered, we didn't even know to look for it. There was no record it existed."
Livingstone had become a national hero in Britain after his missionary expedition in the 1850s in which he become the first European to cross the width of southern Africa.
He vastly improved the knowledge of the continent back home, discovered the Victoria Falls, and returned with examples of species never before seen in the UK.
His box of beetles recently discovered in the Natural History Museum were collected on a Government-backed expedition to see if the Zambezi could be opened up for commerce, setting off in 1858.
That trip was deemed a failure by the Government who ordered him back in 1864. Yet he brought back new species of mammals, reptiles and birds, that would be published to great acclaim in scientific journals upon his return.
Hitoshi Takano, an entomologist at the museum who has retraced some of Livingstone's steps on expeditions in Africa, said: "On the scientific front the discoveries were really very grand indeed; there were lots of new species discovered," adding: "They would have collected insects, but bizarrely nothing was ever published."
He added: "To find these now are just unbelievable. This place is full of secrets and you just have to turn over the stones to find them. I'm sure there are many more discoveries waiting to be made."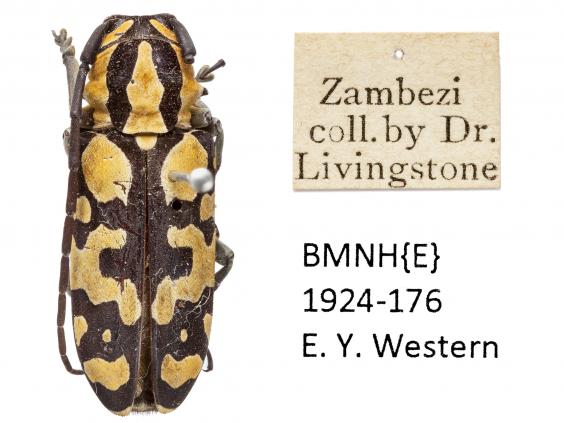 The Natural History Museum's comprehensive collection of beetles, numbering more than 10 million specimens, has been assembled over centuries. The discovery of this significant collection was made earlier this year, just a week off from the exact return of Livingstone's return to Britain 150 years ago.
The specimens were bequeathed by Edward Young Western, a lawyer and amateur entomologist, as part of a collection of 15,000 specimens, after his death in 1924.
The experts believed one of the other members of the expedition, possibly Livingstone's brother Charles, sold material found on the expedition in a natural history auction in the 1860s.
"It was probably done quietly because Livingstone wanted all of his material to be donated to the state," Mr Barclay said.
Of the 20 varieties of beetle in the Livingstone box, including the Giant Predatory Ground beetle and the Variegated Golden Longhorn beetle, the experts said 19 still live in the Zambezi. Only one is yet to be located, and may have died out.
Mr Barclay, who has worked in the department for more than a decade, said: "It was a complete surprise and incredibly exciting," adding: "These specimens are still valuable to science."
The beetles will be put on display next Friday for one night at the museum's Science Uncovered event.
Reuse content