Caroline Berens is preparing for Christmas, a brightly-lit tree standing in the window of her three-bedroom house in Worcester Park, south-west London. But after six years, this will be her last festive season in this home. Together with her partner and their two children, Ms Berens is on the verge of homelessness.
"I'm gutted. I can't believe that it's happening to us," she says. "The last four or five months I have been crying all the time." Ms Berens, 45, a carer, rents from a private landlord who has served her family with notice to leave. They will be evicted early next year. Theirs is just one of the tens of thousands of cases heard by the housing charity Shelter, which reports that imminent homelessness is now the main reason for people contacting its advice helpline.
Almost 600 British households are losing their homes every day as the housing crisis bites. The charity spoke to more than 51,000 callers on the brink of homelessness in 2014, a rise of 28 per cent since 2012. Calls to the helpline, part-funded by Marks & Spencer, have risen to a record high of 174,762 a year.
Although Ms Berens' partner earns £30,000 a year as a salesperson, local rents are too high for the couple to afford another private rented property without the support of housing benefit.
"We went looking to try and rent somewhere, but to rent a three-bed property is about £1,300-£1,500. We went to see one that was cheaper that I liked and they said they wouldn't take my earnings into account because I'm on a zero hours contract. If you tell a landlord you're on housing benefit they do not want to know you, it doesn't matter even if you're working."
After reporting their difficulties to the local council the family has been accepted onto the waiting list for social housing. But until they actually lose their current home they are unlikely to be offered a tenancy. This means they face starting the new year in emergency accommodation.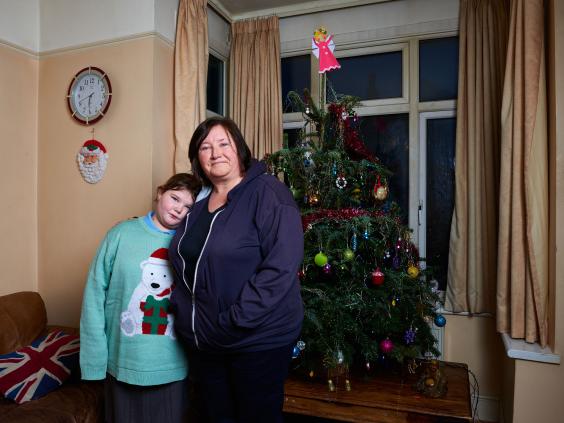 "I'm not a snob or anything. but you hear so many stories of drug dealers and people who have come out of prison. It's just frightening, the unknown," Ms Berens says.
Nadeem Khan, a Shelter helpline adviser, says the charity hears almost 1,000 similar stories every week. "More and more people are becoming homeless because of private renting. With private rent, the problem is that the tenancy can end quite easily," he says.
He also reports a rapid rise in "revenge evictions", when tenants are told to leave after they report a problem to their landlord or request a repair. "It all happens so quickly. For the person who isn't aware of how the process works, it can come as a surprise."
Samantha Simmons, a 36-year-old single mother, has already experienced the trauma of eviction. Supporting two children and pregnant with her third, she received the news that she was to be evicted from her property in Manor Park, east London.
"In June I was told the landlord wanted to take the property back and she issued me with a possession notice. I went straight down to the housing office and they told me there's nothing they can do until I'm actually evicted," she says.
Although she looked for another private tenancy, there was nothing she could afford in the area that was suitable for her growing family.
"It was impossible. Everything was way out of my price range. I was working at the time and I wasn't going to get full coverage by housing benefit and in addition I would have been affected by the [benefit] cap.
When she was evicted, the family was offered temporary accommodation in Birmingham. "I had just had a newborn baby, I had kids at school and a job to go back to, so I told them there's no way - that's just ridiculous," she says.
After turning down two hostels because they were unsafe for her children, Ms Simmons was homeless. "We were just sleeping all over the place. I ended up staying at my friend's house on the floor. My kids were at my mum's and my nan's. It was a crazy time, really upsetting."
After seeking advice from Shelter the charity wrote to her council, and she was found emergency accommodation in August. But now, learning that the property will be sold, she faces a similar situation   but with little money left to manage the process.
"I used up all the savings that I had; there was removal men, storage for my stuff and because we didn't have a kitchen we had to have takeaways. Everything became so expensive," she says. "I think it's just a really depressing and emotional time."
Both women have called for tenants to have more rights, and for housing support to be made available before eviction happens to prevent a cycle of homelessness. "Rents shouldn't be so high. Everybody I know is on housing benefit because wages are not high enough to pay for rent," Ms Berens adds.
Reuse content