The family of a decorated Second World War veteran with only a few days to live say he may miss "the last chance to say goodbye" to his grandson, due to delays at an outsourcing company paid millions by the Home Office to process travel visas.
The grandchildren of 92-year-old Anthony Eldridge, who earned the Distinguished Service Cross for his service with the Royal Navy, told The Independent that the Government's privatised visa process amounted to "profiteering from other's misery".
In March 2014 the Home Office awarded the French firm Teleperformance a five-year, £300m contract to take over UK visa processing services in 74 countries. But critics say the outsourcing move has led to "chaos and humiliation" for those hoping to travel to Britain.
Mr Eldridge is receiving palliative care at home in Watford, Hertfordshire after doctors informed him last week that cancer had spread throughout his body. His grandson Brendan Currie, who was born in South Africa but now lives in Norway, is desperate to be at his bedside but has been told he will have to wait weeks for a visa.
He completed an online visa application form on 5 April, paying an extra €142 (£103) for Teleperformance's "priority" service which, in certain circumstances, guarantees that an application is processed within five working days. But he said the first available biometrics appointment on the government's Visa4UK site was not until next week – by which time his grandfather may have passed away.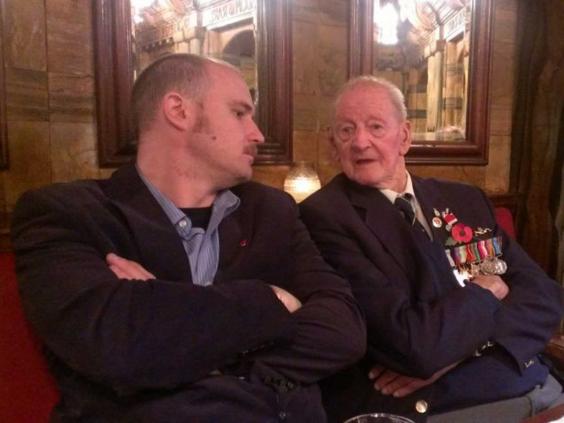 Desperate to contact the company, which does not give out its telephone number, he tried the British Embassy in Oslo only to be put through to a premium-rate line costing £1.72 a minute. An operator there told him the only way to "escalate" his case would be to email the visa centre – which may not reply for five working days.
Teleperformance is not responsible for making decisions on whether to grant visas, but manages the face-to-face interviews where photographs and fingerprints are collected from applicants.
Mr Currie said the UK visa process was "not good enough" and that he found it unbelievable that he had been unable to get through to a single "living person" at Teleperformance to tell them about the urgency of his case.
"There are certain times when people need an avenue to say, 'Listen guys, I need help here'," he added. "I need to go say goodbye to my grandfather. It's not a ruined holiday that we're dealing with here. It's my last chance to say goodbye."
Mr Eldridge was a member of an elite group of Royal Navy divers known as the "charioteers", who had the highly dangerous job of piloting torpedoes underneath enemy ships. His remarkable story featured in The Independent's Christmas charity appeal.
Phil Billingham, who is married to Mr Eldridge's granddaughter Shannon, described the visa process as "uncaring". He added: "I understand we have to have rules, but there must be some capacity to deal with the human side of things, and that seems to have been completely left out.
"All we're asking is for somebody with a brain to look at the paperwork. We're not looking for a freebie here, just some compassion and a brain."
When Mr Billingham contacted his local MP, Priti Patel, he was told by her office that the hotline used to enquire about visa applications had been shut down while Parliament was closed during the run-up to the general election on 7 May.
"It's a comedy of errors," he said. "In the real world outside Parliament, real life goes on. We don't just suspend our lives because MPs come up for re-election every five years."
A Home Office spokesperson said: "We are aware of the compassionate circumstances of this case and will prioritise consideration of this application accordingly."
In a reply to a parliamentary question about poor customer service at Teleperformance last summer, Home Office minister James Brokenshire said the firm's behaviour was "subject to close Home Office scrutiny" and added: "The Home Office is currently collating data on complaints."
A spokesman for Teleperformance said: "First and foremost, our thoughts and best wishes are certainly with this family. We are an outsource partner of UK Visas & Immigration and we aim to provide excellent customer service at all times.
"We are not able to comment on individual cases, but we have escalated this matter to UK Visas & Immigration and it is being resolved directly with the customer."
"Visa application processing and associated standards and rules can be quite complex and we did have some issues in the start-up phase of visa operations. We handle hundreds of thousands of visa applications around the world and most of the time, things go smoothly. 
"We also know there is always room to do better and so we are continuing to try and improve the customer experience while enforcing necessary and appropriate controls and guidelines."
Inflexible friend: Reaction to Visa service
Uzbekistan
In November, British Ambassador, George Edgar, wrote a blog about Teleperformance – and was inundated with angry comments from people trying to travel to the UK. "The service is appalling," one wrote. "How can they put non-existing phone number on the website, never respond to the queries and get away with that?"
Belarus
Last summer, the Belarus Digest website argued Teleperformance had created "chaos and humiliation". Some had to wait for a visa for up to two months, compared to between two and 10 days under the previous system, it said. "If the UK wants to sustain its good image it needs to change its current humiliating treatment of applicants," the author wrote.
South Africa
A travel company specialising in visas, said in July that some of its clients had been "reduced to tears" by Teleperformance's customer service. Calls were reportedly answered by an automated machine which warned callers they would be charged to speak to a "live" consultant.
Russia
The British Embassy in Moscow issued a statement shortly after Teleperformance took over warning of delays. The Russian Union of Travel Industry said many citizens faced waits of up to 12 weeks.
Reuse content