An actress with dwarfism who was unable to use the chip-and-pin machines in the Post Office because they were fixed on to the counter, has had her disability discrimination case settled, and resulted in the Post Office pledging to change 11,000 of its branches.
Kiruna Stamell, who has appeared in EastEnders, Cast Offs and Life's Too Short, is just over a metre tall. She successfully sued the Post Office after she was unable to get the company to put the machines, which she could not reach, on to flexible leads so that she could use them as normal.
She said: "The design was less flexible than in other shops. In places like Boots, Tesco and my bank the pin machines are held in a holster. They also have a broader range of movement because they are on a flexible tether, so can be handed to the customer.
"When I shop most places, I am usually handed the pin machine by shop staff, so I can privately enter my pin.
"Unfortunately, I had several negative experiences at post office counters and for many years I have had difficulty paying for their goods and services. After a couple of really upsetting experiences at various branches, I realised, something needed to change."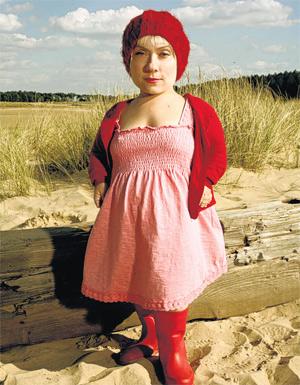 Ms Stamell said it was "humiliating" trying to use the chip and pin machines in the Post Office, which are bolted down to the counter top, after staff attempted to create make-shift steps for her to use out of cardboard boxes.
She told the BBC: "It was really embarrassing, because there was a very large queue of people behind me. I just wanted to be able to put my pin in like everybody else and post a letter and to withdraw cash, and I wasn't able to reach the machine and it wasn't able to be passed to me.
"So staff were improvising random steps out of cardboard boxes, and it was really quite humiliating."
The Post Office has thanked Ms Stamell for bringing the issue to her attention and in light of her case, has already changed the chip and pin machines in more than 300 of its largest branches, and is bringing in low-level counters to thousands of its branches.
Ms Stamell was able to claim disability discrimination after the Post Office failed to make reasonable adjustments to the machines that would accommodate her height.
A spokeswoman for the Post Office said: "We want to make it as easy as possible for the millions of people who visit our branches each week to access our services. We listen to our customers and are pleased to be making the improvements needed following the concerns raised by Kiruna Stamell.
"As a result we are now introducing these changes to pin pads in the over 300 of our biggest branches in high streets and city centre. Pin pads are being adapted by introducing a flex which allows them to be removed from their holder.
"In addition as part of a wider modernisation programme we are making it easier to access services, through new improved low level counters in thousands of branches and also over 1,000 branches now have flexible pin pads."
Reuse content