A second UK military health care worker has been flown back to England by the RAF, after likely exposure to Ebola in Sierra Leone.
The worker was pricked by a needle while treating a patient with the virus in the West African nation, and is being monitored at the specialist centre at London's Royal Free Hospital, Public Health England (PHE) said.
They have not been diagnosed with Ebola and do not have symptoms, Public Health England added.
Mark Francois, Minister for the Armed Forces, said the worker's return is "entirely a precautionary measure", and their family has been alerted.
In pictures: The village where Ebola started
In pictures: The village where Ebola started
1/5 Ebola outbreak

The village of Meliandou

2/5 Ebola outbreak

The burnt hollow tree where the first Ebola patient contracted the virus after playing with bats

3/5 Ebola outbreak

The burnt hollow tree where the first Ebola patient contracted the virus after playing with bats

4/5 Ebola outbreak

The arrow points at a stick, most probably left there by children

5/5 Ebola outbreak

Etienne Ouamouno sits holding baby Emile, who has been identified as the first traceable patient of the current Ebola outbreak

Unicef/YouTube
Professor Paul Cosford, PHE's director for health protection and medical director, confirmed that strict protocols were followed as the health care worker was transferred back to the UK.
"We would like to emphasise that there is no risk to the general public's health. Our thoughts are with both of the healthcare workers, and their families, affected at this time," he said.
On Saturday, another British military health worker was brought back to the UK following a similar incident, known in medical terms as a needlestick injury.
He or she were also admitted to the Royal Free Hospital for assessment and is being kept in isolation as a precaution.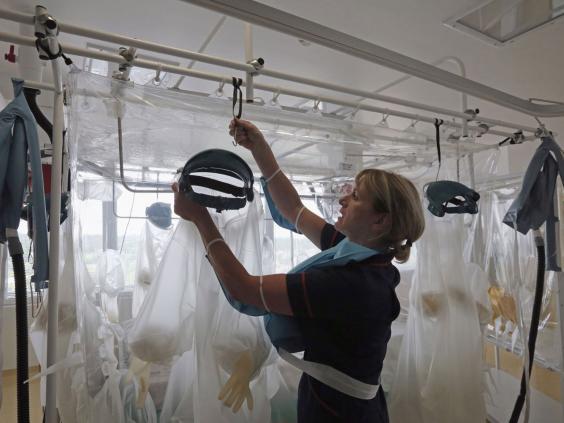 Mr Francois said the two incidents appear to be unrelated, adding: "Our personnel receive the highest standard of training and briefing prior to deployment, including on the use of the specialised Personal Protective Equipment."
The two workers will be monitored for the remainder of their 21 days incubation period, in line with standard procedures for returning health care workers.
Being pricked by a needle is a cause for concern, as the deadly virus is spread through contact with the blood and body fluids of an infected person.
There is one known case of a British person contracting Ebola in a needlestick accident. In November 1976, after the virus first emerged, Geoffrey Platt accidentally pricked his finger while taking a sample from an infected guinea pig while conducting research at Porton Down military research centre in Wiltshire.
The laboratory technician was kept in isolation for 40 days but made a full recovery.
Over 8,000 people have died of the virus since last year, mainly in the West African nations of Guinea, Liberia and Sierra Leone.
Symptoms of Ebola include a fever, headaches, joint and muscle pain, a sore throat and intense muscle weakness, according to the NHS. Patients typically develop these symptoms after five to seven days, but can appear between two and 21 days of a person becoming infected.
After these symptoms develop people experience diarrhoea, vomiting, a rash, and stomach pain before liver and kidney functions deteriorate.
If untreated, Ebola then causes internal bleeding and patients can bleed from their ears, eyes, nose or mouth.
Reuse content