Households could be "inundated" with unsolicited sales pitches from energy providers after the industry watchdog proposed forcing companies to open up their databases to rival suppliers.
The Competition & Markets Authority (CMA) announced a shake-up of the energy industry to drive down prices in a sector it says is collectively overcharging Britain's households by £1.7bn a year.
It proposed a price cap to stop Big Six suppliers, such as British Gas, from charging excessive amounts to the four million households on pre-payment meters. It also wants to force them to share information on those customers who have been on expensive default standard variable tariffs for three years or more, so that rivals can attempt to lure them away with lower prices.
Customers on standard variable tariffs, which account for 70 per cent of UK households, could save an average of £300 a year by switching to an alternative supplier. This is because after signing up to a relatively cheap fixed-term deal of one to three years when they first signed to the supplier, they have since been moved on to a higher-rate default standard-rate tariff.
But despite the good intention of the database proposal, financial advisers are concerned that it could mean households are bombarded with offers from rival energy suppliers that could leave them feeling even more confused.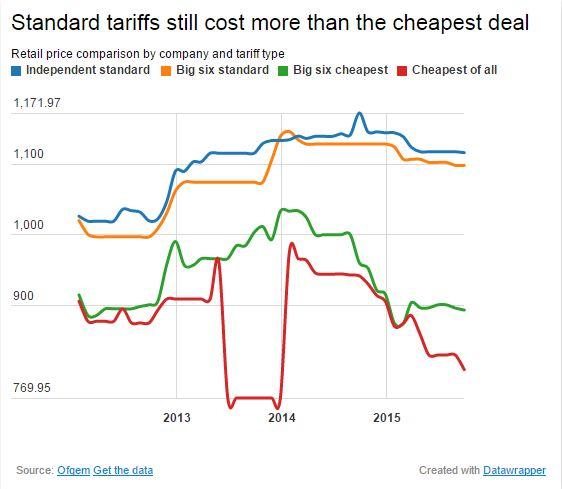 "There's almost a feeling that if you haven't switched to a new provider within three years you'll be punished with spam," said Martin Lewis, founder of the MoneySavingExpert.com price comparison website.
"I'm getting tweets from all over the place from people who are worried about this. The risk is that if everybody shouts at them, people will just put their fingers in their ears, he said.
Richard Neudegg, head of regulation at the uSwitch.com comparison site, said: "Proposals to share data between providers are well intentioned but could lead to consumers being inundated with unsolicited marketing material."
"This risks further confusion among customers, particularly the most vulnerable, and could also raise data privacy issues." 
UK news in pictures
UK news in pictures
1/30 1 July 2016

Demonstrators chant as they wave underwear and placards with the words "Liar Liar Pants On Fire" written on them outside the home of former London Mayor Boris Johnson

Getty Images

2/30 30 June 2016

Justice Secretary and leading Brexit campaigner Michael Gove leaves his home in Kensington before announcing his intention to run to be the next Conservative Party leader and UK prime minister

Getty Images

3/30 29 June 2016

Spectators with umbrellas struggle against strong wind as stormy weather delays play at Wimbledon

REUTERS

4/30 28 June 2016

A couple kiss outside the Houses of Parliament during a protest aimed at showing London's solidarity with the European Union following the recent EU referendum

REUTERS

5/30 28 June 2016

Queen Elizabeth II & Prince Philip, Duke Of Edinburgh attend the unveiling of the Robert Quigg VC memorial statue in Bushmills village, Northern Ireland

Getty Images

6/30 27 June 2016

Opposition Labour party leader Jeremy Corbyn leaves after addressing a gathering of supporters demonstrating in Parliament Square, in central London

REUTERS

7/30 26 June 2016

A man dressed as Boris Johnson and Donald Trump prepare to take part in a tomato fight at the Glastonbury Festival 2016 at Worthy Farm

Getty Images

8/30 26 June 2016

People walk over Westminster Bridge wrapped in Union flags in central London. Britain's opposition Labour party plunged into turmoil and the prospect of Scottish independence drew closer, ahead of a showdown with EU leaders over the country's seismic vote to leave the bloc

AFP/Getty Images

9/30 25 June 2016

People pay tribute to the victims of the Orlando nightclub shooting as they take part in the annual Pride London Parade which highlights issues of the gay, lesbian and transgender community, in London

REUTERS

10/30 25 June 2016

Scotland's First Minister and Leader of the Scottish National Party (SNP), Nicola Sturgeon, addresses the media after holding an emergency Cabinet meeting at Bute House in Edinburgh, following the pro-Brexit result of the UK's EU referendum vote

AFP/Getty Images

11/30 24 June 2016

A man carries a EU flag, after Britain voted to leave the European Union, outside Downing Street in London

12/30 23 June 2016

AFP/Getty Images

13/30 22 June 2016

British Prime Minister David Cameron poses for a photograph after addressing pro-EU "Vote Remain" supporters at rally in Bristol, whilst campaigning to avoid a Brexit, ahead of the 23 June EU referendum

AFP/Getty Images

14/30 21 June 2016

Scottish Conservative leader Ruth Davidson (left) and Mayor of London Sadiq Khan speak during the EU debate at Wembley Arena in London

Getty Images

15/30 20 June 2016

A full moon rises behind Glastonbury Tor as people gather to celebrate the summer solstice in Somerse

Getty Images

16/30 19 June 2016

Hot air balloons took to the air as part of the annual Lord Mayor's Hot Air Balloon Regatta, a charity event in aid of the Lord Mayor's Fund, in London

Getty Images

17/30 19 June 2016

Liberal Democrats leader Tim Farron (C) poses with supporters after arriving in the Liberal Democrat Vote Remain campaign bus, campaigning to avoid a Brexit in the EU referendum, during a launch event in east London

AFP/Getty Images

18/30 18 June 2016

A man lights a flare among pro-refugee activists rallying outside the French Embassy in central London, during a protest after most of an aid convoy of vehicles organised by campaign groups heading to northern France were turned back at the French frontier at the port of Dover

AFP/Getty Images

19/30 17 June 2016

Prime Minister David Cameron and Labour Leader Jeremy Corbyn arrive to pay their respects at the scene where Jo Cox was shot in Birstall

Getty Images

20/30 16 June 2016

Floral tributes and candles are placed by a picture of slain Labour MP Jo Cox at a vigil in Parliament square in London. Cox died after a shock daylight street attack, throwing campaigning for the referendum on Britain's membership of the European Union into disarray just a week before the crucial vote

AFP

21/30 15 June 2016

Boats from the 'Fishing for Leave' campaign group join a flotilla along the Thames River in London. The flotilla organised by members of the Fishing for Leave group, who are campaigning to leave the European Union ahead of the referendum on the 23 of June, was countered by boats representing the 'In' campaign

Getty Images

22/30 14 June 2016

A general view of the Tate Modern's new Switch House in London. The Tate Modern art gallery has unveiled its new Switch House building designed by architects Herzog & de Meuron

Getty

23/30 13 June 2016

Labour Leader Jeremy Corbyn (C) and Deputy Labour Leader Tom Watson (R) attend a vigil for the victims of the Orlando nightclub shooting, outside the Admiral Duncan pub on Old Compton Street in Soho, London

Getty Images

24/30 12 June 2016

A pigeon flies ahead of Britain's Queen Elizabeth and Prince Philip, and Princes William, Harry and Kate Duchess of Cambridge behind as they wave to guests attending the Patron's Lunch on the Mall, an event to mark her 90th birthday, in London

REUTERS

25/30 11 June 2016

A Guardsman faints at Horseguards Parade for the annual Trooping the Colour ceremony in central London

REUTERS

26/30 10 June 2016

The national service of thanksgiving for the 90th birthday of Britain's Queen Elizabeth II at St Paul's Cathedral in London, which is also the Duke of Edinburgh's 95th birthday

Getty Images

27/30 9 June 2016

Princess Anne, Princess Royal attends the Founders Day Parade at The Royal Hospital Chelsea in London

Getty Images

28/30 8 June 2016

Two women walk barefoot through heavy rain in Westminster in London. The Met Office has issued flood alerts for parts of the south east of England as torrential rain hit parts of the country

Getty Images

29/30 7 June 2016

An Osprey catches two Rainbow Trout at Rothiemurchus in Kincraig, Scotland. Ospreys migrate each spring from Africa and nest in tall pine trees around the Aviemore area, the raptor was hunted to the point of extinction in the Victorian era, their migratory habits eventually brought them back to Scotland with the first successful breeding pair being recorded in 1954

Getty

30/30 6 June 2016

David Cameron speaks at a Remain in the EU campaign event at the Oval cricket ground in London

Getty Images
The CMA has three months to iron out its proposals and experts say there could be ways to keep a lid on the marketing. A limit could be placed on how many messages a customer can receive or a rule could mean they can only be contacted through their existing supplier – which may, for example, include letters from rivals when sending out bills.
A CMA spokesman said the group is aware of concerns about the database and will take measures to deal with them, such as giving people the option to opt out.
"The database will be Ofgem-controlled, only licensed suppliers will have access and their continued access will depend on them complying with strictly controlled criteria on how they communicate with customers," he said. "This could mean suppliers offering to save you hundreds of pounds a year and we think that it's a worthwhile offer for customers to hear." 
The CMA report is the result of an 18-month investigation into the industry. It met with a mixed reception as some welcomed the decision to help the most vulnerable in society through a prepayment meter price cap – while others said the cap should also apply to those on standard tariffs.
"We have found that the six largest suppliers have learned to take many of their existing customer databases for granted, not just over prices, but with service and quality," said Roger Witcomb, head of the investigation.
"Yet in those parts of the retail markets where competition is working, customers are benefiting to the tune of hundreds of pounds a year by switching," he added.
Ofgem said it would work closely with the CMA on how to implement its proposals.
Reuse content