At least 10 people have been injured and around 20 homes evacuated following an explosion in a residential street in Essex.
Emergency services were called to Cloes Lane, Clacton just before 8.30am this morning, and arrived to find two houses "flattened" and a third badly damaged by flying debris.
An ambulance service spokesperson said two people had suffered serious injuries. A man in his 70s was airlifted to Broomfield Hospital in a "life-threatening" condition, and a woman in her 50s sustained burns described as "severe". 
Essex Police said some 19 properties were evacuated in the wake of the blast, while the fire service wrote on Twitter that "everyone has now been accounted for".
Resident Stuart Coe told Sky News: "We were sitting there having breakfast and the next thing we heard this almighty bang and literally everything shook in the house - the conservatory shook, it felt like the roof was shaking.
"Obviously, the kids were upset and crying, we didn't know what was going on. Within minutes of the explosion, we started hearing sirens coming down the road.
"It's like a bomb going off... It was a pretty nasty event," he said.
Essex County Fire and Rescue Service said a gas-fuelled fire in a house at the centre of the blast was being allowed to burn out under controlled conditions.
The incident commander said two semi-detached houses have been affected by the blast, while numerous other properties were impacted by flying debris.
The fire service later said on Twitter: "The evacuation of properties is now complete and the Gas Board are in attendance assessing the scene." It added that search dogs would continue to be used "to ensure no casualties remain buried".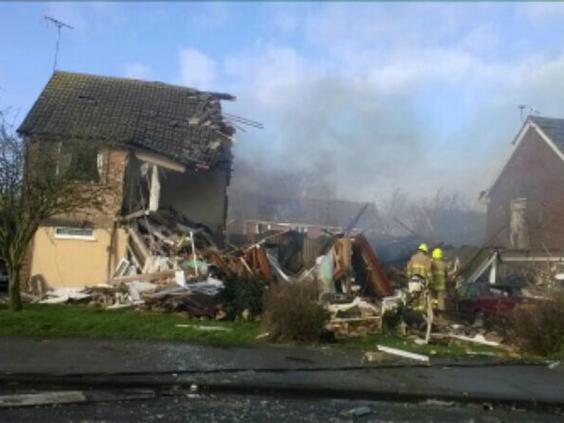 Reuse content