The "worrying" rise of Eurosceptic parties like Ukip across the continent represents a threat to international peace, the German foreign minister has suggested.
Appearing at a press conference alongside the UK Foreign Secretary William Hague, Frank-Walter Steinmeier said that with Europe in crisis countries should bear in mind the start of the First World War as the "background of foreign policy".
He said the centenary of the war should serve as a reminder of the "dangers" of a lack of European co-operation, and that "these dangers have to be forever banned".
But while suggesting Berlin could support David Cameron in looking at limited European treaty changes, Mr Steinmeier said it would be "exaggerating" to say that the UK and Germany were pulling in the same direction over the future of the EU.
Describing the success of parties like Ukip as "worrying", he said: "We have got Eurosceptics getting together in parties, getting more public attention and while Europe is in a crisis that doesn't make our work any easier.
"This European Union is one of the reasons for peace. Even though interests may have been different, even in spite of our different histories before agreeing on European co-operation, despite the wounds we have inflicted on each other we have managed to get together politically in this part of the world."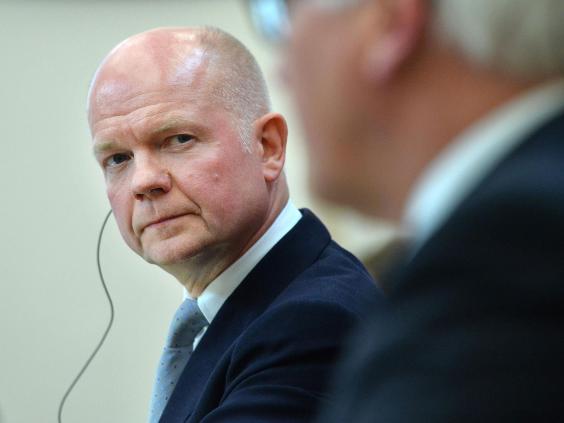 The Prime Minister has said he wants to renegotiate the UK's relationship with the EU before the end of 2017, with a view to having changes in place before a proposed in/out referendum.
But speaking through a translator, Mr Steinmeier warned Britain against "backtracking" over its relationship with the rest of Europe.
He said: "I think it would be exaggerating to say that the UK and Germany are pulling in exactly the same direction, that is obviously not the case. But it's not just to do with the UK and Germany that some things are stalling."
Asked if Mr Cameron's 2017 deadline was achievable, the minister said: "I can't make any predictions on this. The opinions vary that much that I really can't dare to predict anything."
Mr Hague said: "We come at some issues from a different perspective but the importance of seeing democratic accountability in the EU, the need to make Europe economically more flexible, more competitive in the future, not to be afraid to address these issues ... of decisions being made at the right level, there's a great deal to work on between the UK and Germany and a lot of opportunity to find a great deal of common ground."
But he acknowledged there were "many different opinions" around treaty change and "it will not be the top priority of every government across Europe".