The weekend weather took a more miserable turn overnight when more than a month's rain fell across parts of the UK, as ex-hurricane Bertha continued to make its approach.
Forecasters predict a brief reprieve on Saturday before the tropical storm's expected arrival, bringing with it more wet and stormy weather on Sunday.
Friday night saw the east of England blighted by heavy downpours and up to two inches of rainfall in a 24-hour period. Flash flooding left several streets underwater and residents evacuated from their homes in the Lincolnshire town of Louth, while downpours also led to waterlogged roads in Maidstone, Kent.
Met Office forecaster Helen Roberts said some towns saw more rainfall in one day than they normally would throughout the average August.
The remains of Hurricane Bertha, which has been travelling across the Atlantic after hitting the Caribbean islands with gusts of more than 90 mph and leaving thousands of homes without power, are expected to arrive tomorrow.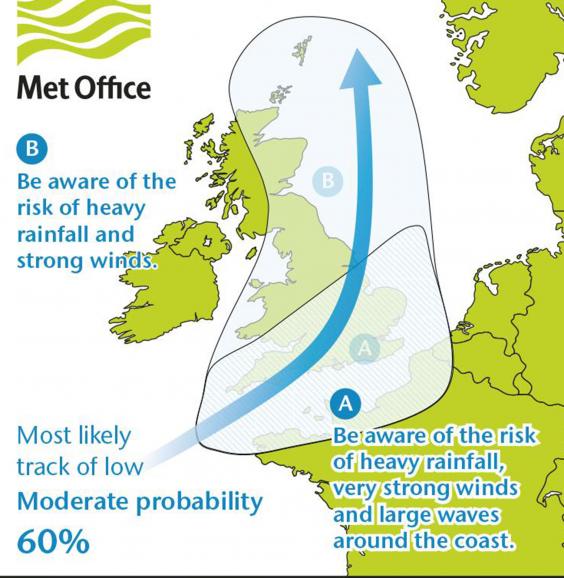 Forecasters say the tropical storm now has a 60 per cent chance of hitting the south of the UK, meaning southern parts of the country are most at risk from "heavy rainfall, strong coastal winds and large waves", followed by areas of north east Scotland on Monday.
The Environment Agency is warning heavy bouts of rain on Sunday could lead to possible flooding in some parts of England and Wales. Anyone thinking of travelling is advised to check flood risk warnings before setting off.
But there is also the possibility that the depression could instead move across northern France.
The Met Office's Chief Meteorologist, Paul Gundersen, said: "There is still some uncertainty surrounding this weekend's weather, with the potential for heavy rainfall, strong coastal winds and large waves on Sunday. However, there is still a chance that the system may pass to the south of the country giving the UK a brighter day.
"Rain and strong winds may well bring disruption, especially across southern parts of the UK, with the potential for more than 50 mm of rain and coastal gusts of over 60 mph. People should stay up to date with the latest Met Office warnings."
Reuse content