Facebook has removed an international abortion charity's page for "encouraging drug use", according to its sister organisation, Women on Waves.
Women on Web provides abortion pills to women in countries where the procedure is illegal, and offers advice on how to administer safe DIY abortions where a pregnancy is not advanced beyond nine weeks.
Women on Waves, which performs abortions on a boat in international waters, posted a screenshot to its Facebook page which appears to show the removal of Women on Web for violating community guidelines.
In a message apparently sent from Facebook to Women on Web, administrators said: "We remove any promotion or encouragement of drug use."
In a statement, Women on Web said: "Women on Web provides life-saving information to thousands of women worldwide.
"Its Facebook page publishes news, scientific information and the protocols of the World Health Organisation and Women on Web has answered over half a million emails with women who needed scientific, accurate information essential for their health and life.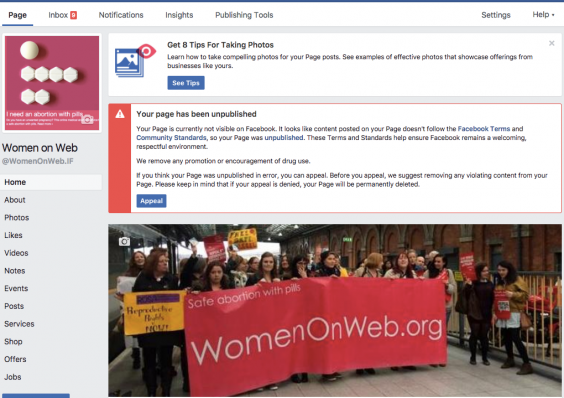 "We expect Facebook will undue [sic] this action soon enough, as access to information is a human right."
Women on Web receives more than 10,000 emails a month from women across the world who cannot access safe abortions.
The service is especially popular in the Republic of Ireland and Northern Ireland, where women are unable to access abortion apart from in extremely exceptional circumstances.
Demand for abortion pills has also recently soared among women in Latin American countries, after the outbreak of Zika virus led to fears about birth defects in children.
It is legal to receive abortion pills for personal use in most countries, according to Women on Web.
However, in Northern Ireland and the Republic of Ireland, it is illegal to induce a miscarriage, an offence punishable by up to 14 years in prison.
Women on Web's Facebook page was republished on Friday. 
A spokesperson for the social media giant said: "Facebook is a place for people and organisations to campaign for the things that matter to them, and Women on Web is an example of that. In this instance, the account was disabled in error and has now been restored. We apologise for this and any inconvenience caused."
Reuse content