A new garden city with an initial 15,000 homes will be built in Ebbsfleet, Kent, George Osborne has announced ahead of his Budget on Wednesday.
The Chancellor declared it was time for Britain to "get building" and said that the flagship coalition policy Help to Buy would be extended to 2020, supporting 120,000 new-build homeowners.
Speaking on BBC1's Andrew Marr Show, Mr Osborne said the Ebbsfleet development would draw on the planning examples of Letchworth, Welwyn Garden City and Milton Keynes. It will be the first development designated as a garden city since Welwyn was built in 1920.
Ebbsfleet is already included as a stop on the cross-channel high-speed rail network linking London with the continent.
"There is the land available. There is fantastic infrastructure with a high speed line, it is on the river, it is in the south east of England where a lot of the housing pressure has been," Mr Osborne said.
"It will be a proper garden city. It is not something this country has attempted for decades. That is one of the messages of my Budget. Britain has to up its ambition, Britain has to up its game, Britain has to earn its way in the world. Yes, the economy is recovering but that is not enough. We have got to finish the job."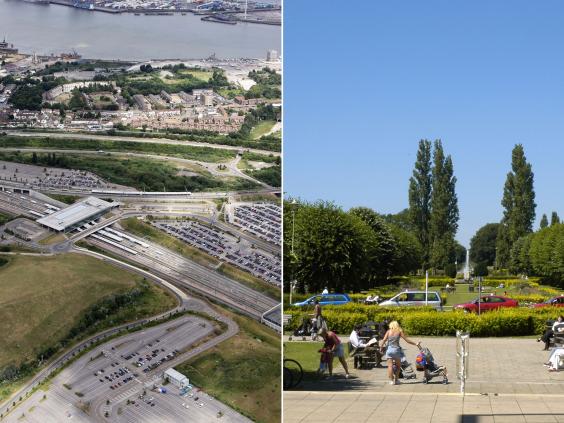 Speaking about the decision to extend Help to Buy, the shadow Chancellor Ed Balls described the announcement as a "damp squib".
He told BBC Radio 5 Live: "We've got the lowest level of house-building since the 20s.
"The Government is not doing enough to invest in affordable homes and the economics of this is if you boost demand with Help to Buy and don't do enough on supply, the price goes up, it's harder to get into the housing market, the economy becomes more unbalanced and the cost of living crisis gets deeper.
"If George Osborne really wants to make a difference he would have been much more radical on house-building in the last three years and today - and he's not been, it's a damp squib."
On the Budget in general, Mr Osborne said that Tories who have been pressing for him to reverse the middle-earner impact of the higher 40p rate of tax will be disappointed.
The Chancellor said that it was still his priority to lift more people out of taxation altogether through raising the personal allowance - which is widely expected to see a further rise to £10,500 on Wednesday.
He made clear his irritation at Liberal Democrat attempts to claim the credit for the policy, which he said had been fully supported by the Conservatives in the coalition, and which benefited those on middle incomes as well as those at the bottom of the income scale.
"My priority has been to increase the personal allowance. That is what I have done in budget after budget. What that means is, yes, you are taking the low paid out of tax - which has been a long-standing Conservative ambition - but you are also helping those on middle incomes," he said.
"It is only people right at the top, people on incomes of over £100,000 who don't get the benefit. I think it is a very effective instrument for making sure that hard-working people keep more of their money and I am very proud to be part of a Government that has delivered that."
Reuse content