A charity entrepreneur has come up with a revolutionary solution to tackle food poverty in Britain. Every time a "Foodinate" branded meal is bought in a participating restaurant, another meal will be donated to those in need.
The innovative social enterprise is currently being piloted at restaurants in Manchester, Nottingham and Birmingham.
Caroline Stevenson, 23, from Manchester, started developing the programme shortly after graduating from university. Once the trial scheme is finished, she plans to expand the idea nationwide – and thinks it has potential to work on a global scale.
Ms Stevenson said: "It's all about giving the consumer the choice. In the UK, we are already choosing to go out to eat 1.4 billion times per year so why not make the choice to eat at a Foodinate-partnered restaurant, knowing that every delicious meal we enjoy will provide another meal for a local person in need? If everyone made that choice, just think of the impact we could have."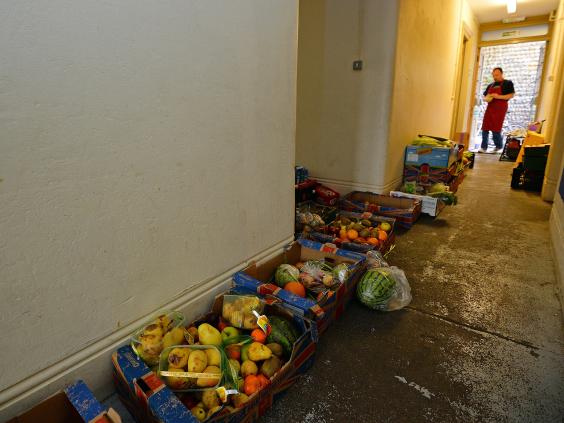 Money for the donated food is given by the participating restaurant to a pre-selected local charity and covers the cost of a hot, nutritious meal. Restaurants choose around three high-value dishes on their menus to flag as "Foodinate", so that customers can make an active choice to participate. The pilot includes Rub Smokehouses in Nottingham and Birmingham and the Blue Pig and the Odd Bar in Manchester. 
Cleo Farman, managing director of the Odd group, which has three of its restaurants signed up, said: "We've noticed a big impact on the sales of the items with the Foodinate stickers. We've put them on a big sharing board, a steak and one of our burgers. Homelessness is a really big problem in Manchester, yet we see all these bars and restaurants around. I really liked the idea that we could take part."
She says the concept has proved more successful than another charity scheme where a £1 donation to was automatically added to customers' bills. "People don't like having a quid added to their bill because they feel it's intrusive and they're put on the spot, whereas this works because they're making a choice and no one is hassling them."
The Booth Centre in Manchester, which provides hot food for homeless people, is one of the places that will serve meals that have been funded via the scheme. Amy Hinks, the centre's development manager, said: "What's nice about this concept is it means restaurants are supporting the local community. People are more in need of support than ever – we have more than 220 people coming each week for breakfasts and lunches, which is up 30 per cent from a year ago. I think it's the impact of cuts as well as welfare reforms and more people having their benefits sanctioned."
Ms Stevenson said she came up with the idea because she could see the level of need had increased. "Growing-up in Manchester, every time I walked from Piccadilly station down towards Market Street, I felt so angry seeing the growing number of people sleeping by the sides of the road, begging for money and food," she said.
"With more than 13 million people in the UK living below the poverty line, I know this is just the tip of the iceberg and I want, more than anything, to create a sustainable impact on this enormous issue … Now, when I walk down that street from Piccadilly, I think to myself: 'Just wait for me – I am working on it and I am coming back for you.'"
Reuse content