Councillors have been under "intolerable pressure" to decide whether fracking for shale gas can go ahead in Lancashire, a public meeting has heard.
The 15 members of Lancashire County Council's development control committee are debating the proposals by energy firm Cuadrilla ahead of making an expected final decision today.
Cuadrilla wants to develop two new sites between Preston and Blackpool to explore for shale gas by drilling, fracking and testing the flow of gas.
A report from officials recommended that one of the sites - at Preston New Road near Little Plumpton - be passed subject to a number of conditions being met such as hours of working, control of noise and highway matters.
Fracking was suspended in the UK in 2011 following earth tremors in Blackpool where Cuadrilla previously drilled.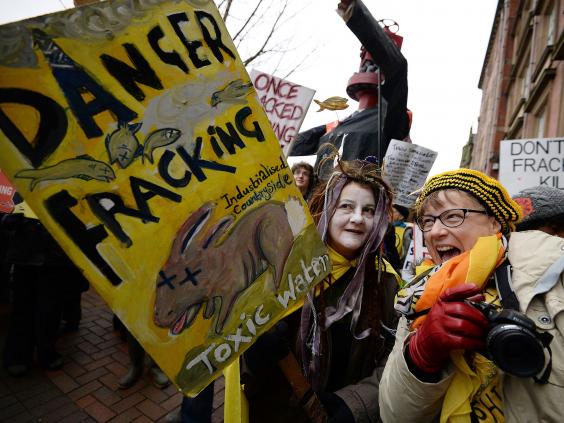 Discussing the matter at County Hall, Preston, the committee's deputy chairman, county councillor Kevin Ellard (Labour) moved a proposal to reject the Preston New Road application on the grounds it did not meet various local planning guidelines, such as visual impact and landscape.
He said: "As a matter of principle, my own view on fracking is neither for or against.
"What concerns me is that the process must be operated to world class standards of safety and there must be a guarantee of no harm to our climate. I am aware that is a very big ask.
"We owe it to ourselves and future generations to get this right for the future. We cannot afford to gamble with the environment."
County councillor Chris Henig (Labour) said she backed refusal on the grounds it would have a "major impact" on the local community, quality of life and confidence in the democratic process.
Commenting on various reports submitted to the committee that fracking was safe, county councillor Paul Hayhurst (Independent) said: "The experts get things wrong and badly wrong on occasions.
"Although we have had various agencies saying chapter and verse how happy they are with the arrangements, these are Government agencies. A Government that has committed itself to shale gas."
County councillor Marcus Johnstone (Labour) warned though that the reasons to reject had to be sustainable or they would lose the decision on appeal.
He said: "Ultimately we must make the decision in accordance with planning law.
"It needs to be made very clear that it is council taxpayers' money that will be committed if is not sustainable."
He added: "This is one of the biggest planning applications that ourselves and any other authority has ever been asked to meet on.
"I think it is fair to say that members have been under intolerable pressure.
"I, for one, did not have a very good sleep last night."
Planning officer Stuart Perigo said: "The strong advice has been, is that there are no sustainable reasons for refusal.
"It is the prerogative for members not to share those recommendations but the concerns must be sustainable."
Pictures that show we are killing our planet
Pictures that show we are killing our planet
1/21 Pollution

Getty

2/21 Plastic pollution

Getty

3/21 Melting icebergs

Getty

4/21 Human overpopulation

Getty

5/21 Sea level rise

Getty

6/21 Severe drought

Getty

7/21 Mudslides

Getty

8/21 Lake shrinking

Getty

9/21 Food and water crisis caused by drought

Getty

10/21 Water crisis

Getty

11/21 Rainforest logging

Getty

12/21 Habitat destruction

Getty

13/21 Fracking

Getty

14/21 Wildfires

Getty

15/21 Rubbish dump

Pope Francis said a 'throwaway culture' was damaging the environment and the world's social fabric

Getty

16/21 Hunger

Getty

17/21 Illegal poaching

Getty

18/21 Unsafe water

Getty

19/21 Scrap and metal waste

Getty

20/21 Smog

Getty

21/21 Oil spill

Getty
Passing the application would enable fracking at the site following drilling at up to four exploration wells but a separate application would be required if Cuadrilla wished to progress to commercial fracking.
Committee members are also due to meet tomorrow and Friday to rule on plans by Cuadrilla for a second site at Roseacre Wood, Roseacre.
Planning officials recommended that application be turned down because of the increase in traffic which would result in "an unacceptable impact" on rural roads and reduce road safety.
The Government is pushing for the development of a shale gas industry in the UK, claiming it would create jobs and growth, reduce energy prices and cut the country's reliance on gas imports.
Opponents have raised fears that the process causes earthquakes, can pollute water supplies, and could lead to inappropriate development in the countryside and damage house prices.
Hydraulic fracturing - or fracking - involves pumping water, chemicals and sand at high pressure underground to fracture shale rock and release the gas trapped in it.
Press Association
Reuse content