Forget athletics, rowing and cycling, next week a team of competitive young Britons will descend on Sao Paulo to compete to be crowned the world's best brickies, cabinet makers, joiners, gardeners, IT support staff and chefs.
Among the 40 young British apprentices in Team UK travelling to Brazil to compete in World Skills 2015, the so-called Skills Olympics, are a female car painter from County Down, a London chef you learnt his trade at his family's Chinese restaurant and a hairdresser who hopes her scissors will being gold back to Cardiff.
The four-day World Skills competition, which dates back to 1950, will see 1,200 competitors from 65 countries facing 1,100 expert judges in front of up to 250,000 spectators.
Britain is well placed to bring home a big medal haul after Team UK came away from the 2013 competition in Germany with 23 awards in total, including medals in welding, car painting, joinery and floristry.
For Sao Paulo, the UK team has been in training for more than two years and even spent a week at Loughborough University with the same sports psychologists that Team GB used before the London Olympics.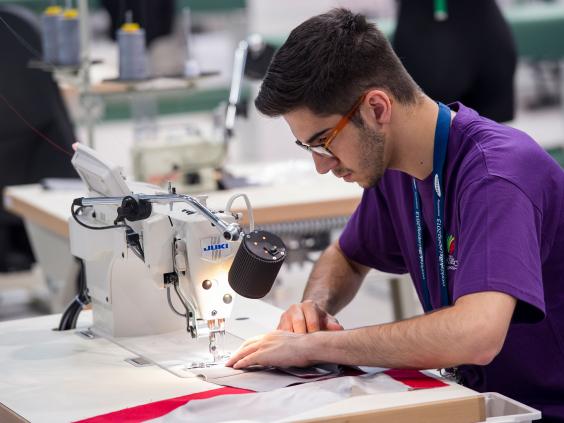 Speaking in London as Team UK flew to Brazil last night, Simon Barley, and President of World Skills, said: "The idea of World Skills is demonstrate to young people, their teachers and government that there is an alternative to running an economy solely built on people who have degrees, masters and PhDs."
Rebecca Wilson, 22 from County Down, is representing the UK in the car painting category, after she developed a passion for cars watching her father run a taxi business and race Sierra Cosworths sports cars.
She told the Independent: "Panel painting is far more complicated and technical than people think. I have to repair scratches, spray panels and fix dents all within 1mm tolerance. It's very precise and is getting more and more technical. It's not just point and aim with a spray gun."
Famously painting (of the non-automotive variety) was an official Olympic sport until 1948 and like the Olympics World Skills has regular debates over which disciplines should be included. Mr Barley said: "Like the Olympics a new skill can only be introduced with the removal of an old skill. For example, there's always a large debate around automobile engineering and exactly how different the skills are looking at diesel and petrol engines. That's a big topic of discussion again this year."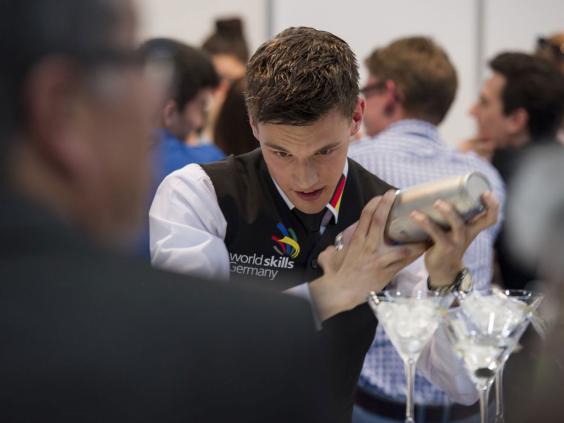 Mr Barkley says "sniffy" attitudes over trades and apprenticeships are increasingly a thing of the past, as government has increasingly realised the power of vocational training.
Also representing the UK is Danny Hoang, 21, from Erith in south east London. He is competing in the cookery challenge and praised his employers at Le Colette restaurant at the Grove Hotel in north London and his lecturers at Westminster Kingsway College, where he studied French cuisine.
"I started cooking at my family Chinese restaurant and quickly realised I love food and am addicted to the craft of cooking," he said, before his mother Xuan interrupted. She said: "He's followed his dream, all the competitors had. It's wonderful, but it does mean he has less time to help with family business."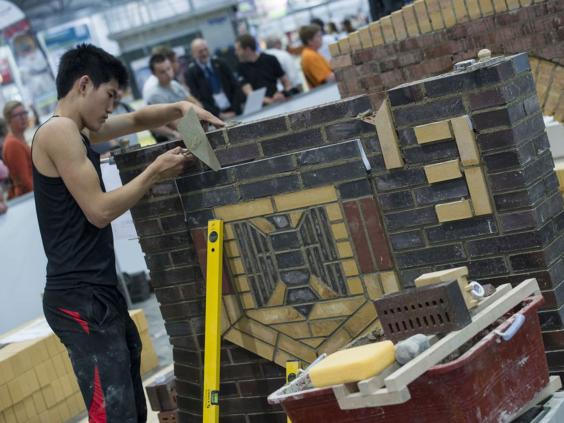 Theo Paphitis, retail magnet and patron of World Skills UK, who awarded the team its special Sao Paulo 2015 medallions yesterday, said: "We should always celebrate youngsters who are competitive and want to be the best in their chosen careers.
"Sadly we recently went through a cycle of blue collar parents sacrificing everything to send their kids to university, because university meant they would get a fantastic job at the end of it. Now we all know that is rubbish. Getting a university degree means nothing, it doesn't guarantee you anything."