British flowers are blooming. Demand for home-grown favourites such as peonies, stocks and hyacinths is soaring thanks to consumers' desire for locally sourced goods and a trend towards less formal wedding arrangements.
FloraBritain, a group of 14 growers in Lincolnshire and Norfolk who have joined forces to sell and supply British flowers to florists across the UK, launched last week. Next month, the third annual British Flowers Week, an event set up by New Covent Garden Flower Market, will fly the flag at events held around the UK.
Tracey Griffin, a florist and co-founder of FloriSmart, an online marketplace supplying flowers mainly sourced from Dutch exporters, helped to set up FloraBritain. "We realised that there was a huge void for florists who wanted to get their hands on British flowers," she told The Independent on Sunday. "There were so few routes to get the flowers to the florists. Now, there will be all these different varieties in one place. Florists will be able to fill their boots as they've never done before."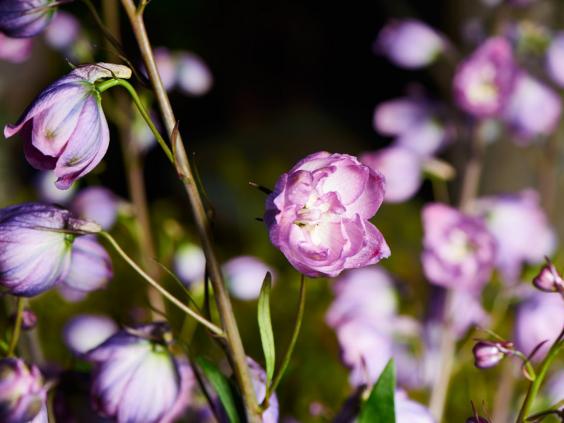 The supermarkets currently have a 60 per cent share of the cut-flower market, according to Mintel, with 70 per cent of customers buying flowers as a gift rather than for themselves. FloraBritain says that the majority of the 750 million British flower stems grown each year are sold in supermarkets.
Marks & Spencer says sales of home-grown flowers are up 10 per cent on last year, and it expects to sell more than 150 million British stems from more than 45 growers this year.
The retailer will celebrate the revival of British flowers and plants with a garden called Blooms of the British Isles at the RHS Chelsea Flower Show, which opens this week. 
"Britain's passion for flowers goes back centuries, but since the 1960s home-grown blooms have fallen out of favour as the nation opted for more exotic varieties," said M&S flower expert Simon Richards. "But events such as the Olympics, the Royal wedding and the birth of Prince George and now Princess Charlotte of Cambridge have ignited a new sense of national pride."
The most incredible flowers in the world
The most incredible flowers in the world
1/9 Most poisonous

Most flowers are known for their beauty or fragrance – but some obtain their notoriety by shadier means. With an unassuming nickname like 'Lily of the Valley', you might think that Convallaria Majalis was harmless – it certainly looks it, with its charming bell-shaped droops – but this flower, native to Europe, North America and parts of Asia, is incredibly dangerous, secreting poisonous toxins which can be fatal. Common symptoms following exposure to Convallaria Majalis include nausea, vomiting, severe headaches and a slowed heart beat – so it's no surprise that this deadly plant made its way into the public's consciousness when arch-villain Walter White used it to poison a child in the hit show Breaking Bad. Mark this flower under 'one to avoid'!

2/9 The rarest

The 'Ghost Orchid' is actually less harmful than it sounds. This delicate flower was believed to be extinct until it was re-discovered in recent years and can only be pollinated by one species of insect indigenous to the local area, making it one of the rarest flowers in the world. Finding this flower might prove difficult – it's mainly found in remote Cuban forests, and only for two months of the year – but it has recently been discovered in the Everglades, so if you're willing to make a detour while sunning yourself on the beaches of east-coast USA, this flower is well worth the journey thanks to its stunning appearance and gorgeous, sweet fragrance.

3/9 Most carnivorous

Plenty of flowers across the world have been known to catch prey – there are many water-based plants which feed off small insects and fish – but the Nepenthes, also known as the Monkey Cup, takes things to the next level. This large plant is native to China, India, Australia, Borneo and Malaysia among other locations (if you're feeling brave, the most tourist-friendly places to see it are the Seychelles and the Philippines, where it grows freely), can grow up to 15m tall and contains a sticky fluid which can drown its prey. Unbelievably, this genus has been known to trap and digest rats and other small mammals – making it a shoe-in for the top spot in this category.

4/9 The largest

If you want to see some serious flower power, you might want to travel to the south of India to see the Talipot palm. With its gigantic size (these monsters can grow up to more than 25ft) and tree-like appearance, you could be forgiven for thinking that this isn't a flower at all – but it is technically a flower, albeit one that blooms off of tiny branches rather the main stalk. This stunning genus towers above everything around it, so it shouldn't be easy to spot if you find yourself in India.

5/9 Most terrifying

OK, so we've established that there are plenty of species of flower that can deliver lethal doses of poison, and a couple that can catch and kill small mammals – but the Devil's Breath might just top them all when it comes to the fear factor. These modest-looking blooms grow openly in the streets of Bogota, the capital of Colombia, so you might think they are innocent enough – don't be fooled. The list of effects this flower has been known to induce include hallucinations, seizures, anaphylactic shock, arrhythmia and, most terrifyingly of all, a zombie-like effect rendering the affected person entirely compliant and unable to retain memories – leading to criminal gangs dosing unsuspected stooges with this flower and using them as surrogate criminals to do their bidding.

6/9 Foulest-smelling

Murder detectives often say that the worst part of their job is the smell of a de-composing body, claiming that the stench hits the nostrils and never leaves. With that in mind, consider the Corpse Flower. Found in much of south-east Asia, this rare flower's name comes from its horrendous odour, similar to that of rotting flesh. The Corpse Flower is unusual in that it has no body, stem, leaves or roots, surviving entirely on its vines, so if you get the chance to see one, it will certainly be worth it – just as long as you make sure to keep your distance! If you do want to track this bewitching beast down, your best bet is probably making your way to Surat Thani in the south of Thailand – you can enjoy the dubious charms of this flower in the wild, not too far from popular nightlife hotspots Ko Samui and Ko Pha Ngan.

7/9 Strangest looking

There are many beautiful flowers in the world, but what about those that are somehow entrancing without necessarily being attractive in a conventional sense? You can't help but love the Dracula Simia, native to parts of South America. Take one look at this loveable chap and you won't be surprised to hear that it is commonly known as the Monkey Orchid. We've no idea how bearing a resemblance to a cartoon chimp provides an evolutionary benefit, but if you're ever in the forests of south-eastern Peru, this little charmer has to go on the itinerary.

8/9 The ugliest

We're not sure why you'd travel the globe to see the world's most unfortunate looking flower, but whatever your floats your boat – the Welwitschia Mirabilis, indigenous to Namibia, is the ugly duckling of the flora kingdom, with an appearance that is somewhere between 'burning embers' and 'alien reptile' – but that really is the flower in full bloom! This flower's personality isn't much better than its appearance – it's a carnivore which traps insects in its leaves – so you'll need plenty of other attractions on your to-do list to make this one worth seeing.

9/9 Most beautiful

Possibly the most hotly-contested award is that of most beautiful flower – we all have our favourites, from the gorgeous fuchsia that grows in your garden with its beautiful ballet dancer droplets to the exotic flame lilies of Africa. But surely the most stunning of all flowers is the unforgettable Bleeding Heart. Native to East Asia (if you want to see this captivating species we'd recommend making it part of your itinerary on trips to China and Japan – it's also found in Siberia and North Korea, but that might prove somewhat tricky!), these spectacular pink and white, heart-shaped flowers are almost too perfect to be true, as if they've been designed by a card company to perk up sales around Valentine's Day!
Waitrose, which has also long championed British flowers, says sales are up 22 per cent compared with the same time last year.
"British flowers are not only beautiful to look at, but they also provide seasonal scents that remind shoppers of an English country garden," says Waitrose flower buyer Allison Burdett.
"Daffodils are the most popular British flower at Waitrose; we love them because they signal the arrival of spring, adding a welcome splash of yellow across the UK."
Liz Anderson, of New Covent Garden Market, said the trend towards British flowers was part of the move towards more sustainable, ethical food. "It ties in with the Slow Food movement: there is now an international Slow Flowers movement," she said. "But vintage weddings are also in fashion now so it is also about style."
Vic Brotherson, the florist to the fashion set and owner of London florist Scarlet & Violet, who created the very British flower arrangements for Kate Moss's wedding, agreed that customers "want to feel good" by purchasing indigenous blooms.
"They feel it's the right thing to do," she said. "They feel they are home-grown. Especially in the city, it's nice to have the feeling they are handpicked and not super-grown."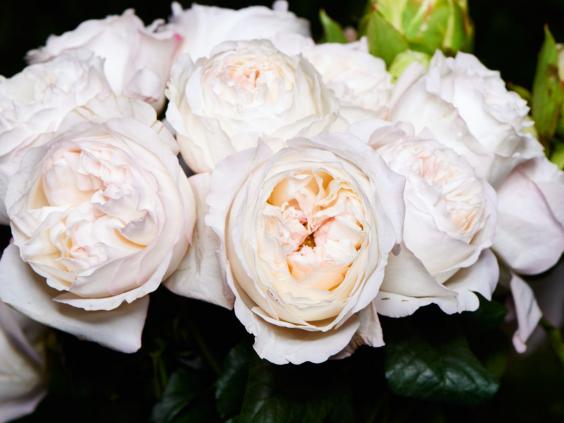 But because her business is so busy, it is not possible to use British flowers exclusively.
"It's difficult to have them only supplied by British growers, so we have to beef them up to make it feel more seasonal and gardeny," she says. "It's really hard from October to March as there's nothing apart from foliage. There is not a long-lasting supply and it's not as guaranteed. The Dutch have an extraordinary way with growing flowers that have given us high quality. People now have such high expectations; they expect flowers to last."
Jane Macfarlane Duckworth from the Flower Union, a collective of British growers within 50 miles of London, which set up last year, said: "People are becoming more aware of the flower industry as a whole and how they are transported, and becoming increasingly aware of the different options available in the UK. They don't need flowers from further afield as there is a huge range available in Britain."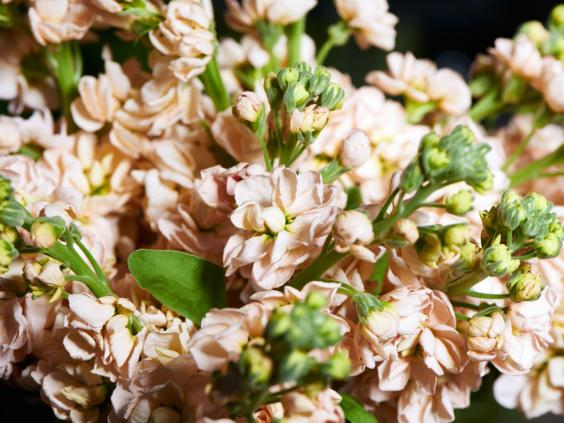 Best of British
Garden roses: Romantic, blowsy flowers with delicious, evocative scents. Hand a person a rose and they will automatically put it to their nose close to smell it. Mass-produced roses often lack perfume.
Sweet peas: A soft, papery texture coupled with a delicate, fruity fragrance belies a tough, resilient nature. Florists say British-grown sweet peas are the best – for quality, scents and a long flowering season.
Delphiniums: Many flower heads are carried on long, elegant stems, and colours range from rich, deep blue to hot pinks and pure white. Lighter on fragrance, but heavy on drama.
Sweet Williams: Part of the Dianthus family, they have been a popular British garden plant since the 16th century. The palette ranges from pure white to rich, dark reds.
Stocks: One of the most widely grown British cut flowers; the tall stocks – in white, cream, pink, red, yellow, lilac and purple – have a strong, spicy, sweet clove scent that can fill a room.
Source: New Covent Garden Market
Reuse content