The tragic bin lorry crash in Glasgow that killed six just days before Christmas could have been avoided if the driver told the truth about his previous blackouts in his job application to the city council.
Harry Clarke, the driver of the bin lorry, careered into a crowd of Christmas shoppers after witnesses reported that he appeared to lose consciousness at the wheel.
Last week, the inquiry heard that Mr Clarke had collapsed while driving a bus in a previous job in April 2010.
Now, the inquiry has heard that he had failed to disclose this incident during three medical assessments he underwent when applying for jobs at Glasgow City Council at later dates.
Glasgow lorry crash
Glasgow lorry crash
1/17 Glasgow lorry crash

First minister Nicola Sturgeon at the scene

Getty

2/17 Glasgow lorry crash

Laying flowers

Getty

3/17 Glasgow lorry crash

Another tribute to the six people who lost their lives

PA

4/17 Glasgow lorry crash

Tributes paid to the victims

Getty

5/17 Glasgow lorry crash

A police officer carries flowers

Getty

6/17 Glasgow lorry crash

Emergency services comfort an onlooker

PA

7/17 Glasgow lorry crash

Six people are believed to have died in the crash

Stephen Gibson

8/17 Glasgow lorry crash

Emergency services rush to George Sq, Glasgow, amid confusing reports

9/17 Glasgow lorry crash

The scene in George Square in Glasgow Scotland after it is understood a garbage truck, rear right, crashed into a group of pedestrians

AP Photo/Danny Lawson/PA

10/17 Glasgow lorry crash

Image taken of the scene in George Sq by an onlooker

Georgina Paton

11/17 Glasgow lorry crash

Firemen survey the damage as evening falls

EPA

12/17 Glasgow lorry crash

The driver is also believed to have died, but police are not labelling the incident as "suspicious"

PA

13/17 Glasgow lorry crash

Emergency services examine the vehicle

AP

14/17 Glasgow lorry crash

A tent is erected in George Sq

GETTY

15/17 Glasgow lorry crash

Overlooking the tragedy the Christmas lights of Gloasgow's central shopping district shine on

EPA

16/17 Glasgow lorry crash

Late last night a police officer remains on the scene

EPA

17/17 Glasgow lorry crash

Tributes for the victims have already started to pour in

getty
One of these assessments was a DVLA license check he took in 2011, which has to be completed by LGV drivers every five years once they turn 45.
On this form, next to the question: "Is there a history of blackout or impaired consciousness within the last five years?", the "No" box had been ticked.
Dr Joanna Willox, who completed the form with Mr Clarke, said that if she had known about the 2010 bus incident, she would have informed the DVLA and the council, making him 'temporarily unfit for duty'.
Dorothy Bain QC, who is representing the family of crash victim Jacqueline Morton, told witnesses in the inquiry that he had reported a faint or a blackout in 1989, had felt "dizzy behind the wheel" in 1994, and was told not to drive after a 2003 incident.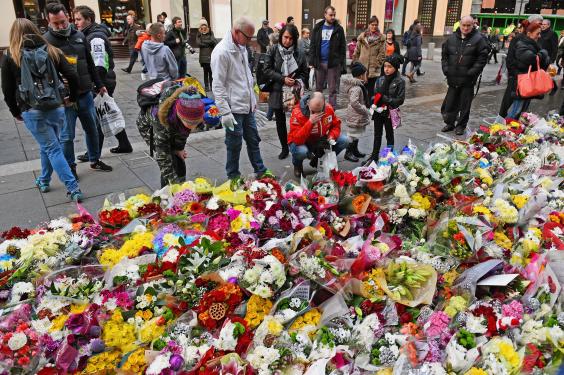 Douglas Gellan, cleaning services waste manager at the council, said he had never heard anything about Mr Clarke's medical history until the inquiry.
Speaking to Mr Gellan, Ms Bain asked: "If he had told the truth in his form to the council in 2010 and 2011 this all might have been prevented and we would not be here today."
Mr Gellan agreed with this statement, and said Mr Clarke would not have been employed in the job if his medical history was known.
18-year-old Erin McQuade and her grandparents Jack and Lorraine Sweeney were killed in the crash on 22 December last year.
Stephenie Tait, 29, and Ms Morton, 51, both from Glasgow, and Gillian Ewing, 52, from Edinburgh, also died.
Reuse content