A pensioner couple and their teenage granddaughter have been named as three of the six victims of the Glasgow bin lorry crash by a relative on social media.
John Sweeney, known as Jack, 68, from Dumbarton and Helen Sweeney, known as Lorraine, 69, and their 18-year-old granddaughter Erin McQuade were among six who died in the disaster.
The other three victims were named by Police Scotland as Gillian Ewing, 52, from Edinburgh, Stephenie Tait, 29, from Glasgow and Jacqueline Morton, 51, from Glasgow.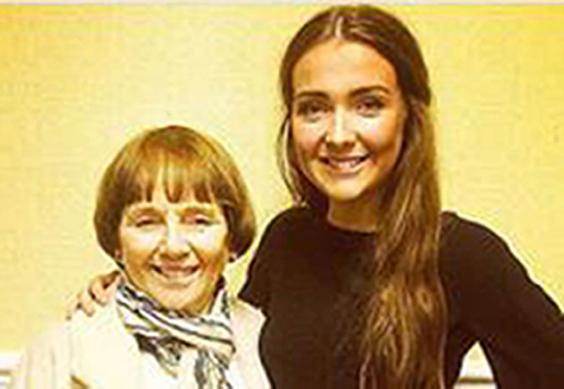 John Sweeney, a relative of Mr and Mrs Sweeney, posted on Facebook: "No words can describe the pain. R.I.P. Jack, Lorraine and Erin. Thoughts and prayers go out to the other families that lost loved ones as well."
The Record reports that all three were out Christmas shopping when they were hit by the vehicle. Police Scotland confirmed this morning that five women and one man were killed in the collision on Monday.
Cameron House Hotel at Loch Lomond, where Ms McQuade was a housekeeper, said it was "saddened" at the loss of "one of our brightest and dedicated members of housekeeping staff".
The hotel said in statement: "We want to offer our deepest condolences and sympathies to the family of Erin and to all those who have been affected by the tragic events at George Square yesterday."
The Bramalea Celtic Club in Ontario, where it appears Mr Sweeney was once president, also paid tribute.
The crash took place in George Square which was packed with Christmas shoppers and families at the annual winter carnival when the lorry mounted the pavement in the busy city centre before crashing into the Millennium Hotel, next to Queen Street Station.
A Glasgow City Council spokeswoman said there were two other crew members on the lorry at the time of the crash, but said the condition of the two men was not known.
Glasgow lorry crash
Glasgow lorry crash
1/17 Glasgow lorry crash

First minister Nicola Sturgeon at the scene

Getty

2/17 Glasgow lorry crash

Laying flowers

Getty

3/17 Glasgow lorry crash

Another tribute to the six people who lost their lives

PA

4/17 Glasgow lorry crash

Tributes paid to the victims

Getty

5/17 Glasgow lorry crash

A police officer carries flowers

Getty

6/17 Glasgow lorry crash

Emergency services comfort an onlooker

PA

7/17 Glasgow lorry crash

Six people are believed to have died in the crash

Stephen Gibson

8/17 Glasgow lorry crash

Emergency services rush to George Sq, Glasgow, amid confusing reports

9/17 Glasgow lorry crash

The scene in George Square in Glasgow Scotland after it is understood a garbage truck, rear right, crashed into a group of pedestrians

AP Photo/Danny Lawson/PA

10/17 Glasgow lorry crash

Image taken of the scene in George Sq by an onlooker

Georgina Paton

11/17 Glasgow lorry crash

Firemen survey the damage as evening falls

EPA

12/17 Glasgow lorry crash

The driver is also believed to have died, but police are not labelling the incident as "suspicious"

PA

13/17 Glasgow lorry crash

Emergency services examine the vehicle

AP

14/17 Glasgow lorry crash

A tent is erected in George Sq

GETTY

15/17 Glasgow lorry crash

Overlooking the tragedy the Christmas lights of Gloasgow's central shopping district shine on

EPA

16/17 Glasgow lorry crash

Late last night a police officer remains on the scene

EPA

17/17 Glasgow lorry crash

Tributes for the victims have already started to pour in

getty
The Queen said she was "saddened" by the event and said she and the Duke of Edinburgh sent their "thoughts and prayers" to the families affected by the tragedy.
"This sad event is made even more difficult as it comes at Christmas time. I send my condolences to all the people of Glasgow."
A fleet of private ambulances carrying the dead left the area earlier this morning.
The Christmas lights have been switched off in George Square and flags on public buildings in the city are flying at half-mast.
Scotland's First Minister Nicola Sturgeon said the city was waking up with a "broken heart".
She told BBC Radio Scotland: "As the city wakes up this morning, the sheer sense of horror and grief that happened yesterday will be very, very raw for people." Prayers will be said for the victims at a special church service later.
The Reverend Alastair Duncan will lead the service at the nearby St George's Tron.
Reuse content