Detainees at Harmondsworth detention centre started refusing food on Sunday and said they planned to continue their protest until the "indefinite deprivation of liberty and human rights" there was brought to an end. Aerial cameras filmed around 100 people protesting in the exercise yard.
"We are writing to draw your attention to the miserable plight and condition of the detainees of asylum cases," the protesters said in a handwritten letter seen by The Independent. "Everyone here is burning in the fire of uncertainty, that is the worst form of mental and physical torture, without any offence or crime and without any punishment decided by the court."
Asylum seekers are being held in overcrowded, prison-like conditions "comparable to animal cages" for unacceptably long periods of time while their cases are processed, the letter continued.
"All have decided to go on hunger strike till they are set free to contest their cases properly without any confinement," the detainees wrote.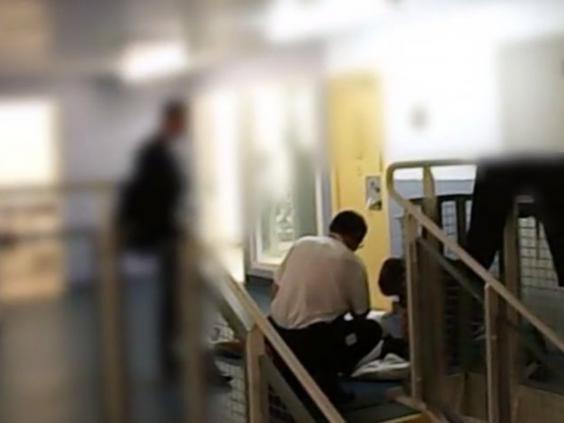 One protester said: "It's like we are animals. They are not giving us help. If anyone came inside and saw conditions here, they would release us." Another added that the process of prolonged detention at Harmondsworth was "mentally torturing" them.
The centre, in West Drayton near Heathrow Airport, holds 615 men awaiting removal or deportation from the UK. It was at the centre of controversy last week when footage obtained by Channel 4 News lifted the lid on conditions inside, raising concerns about the lack of medical treatment available to detainees and their mental health.
In the recordings, shot using a hidden camera, Home Office staff admitted that conditions in Harmondsworth are "shit" and that detainees are not allowed to show what goes on inside the detention centre because the Government "doesn't want the bad publicity that would entail".
The footage was broadcast only a few days after the same programme aired similar material shot inside Bedfordshire's Yarl's Wood immigration removal centre, which showed a guard referring to inmates as "animals".
The Labour MP Keith Vaz, chairman of the Home Affairs Select Committee, visited Harmondsworth on Saturday while protesters gathered outside. He said later he had spoken to a number of detainees, who told him they were worried about the lack of medical support. Others said the uncertainty of not knowing when they would be released or sent back to their original country was difficult to bear.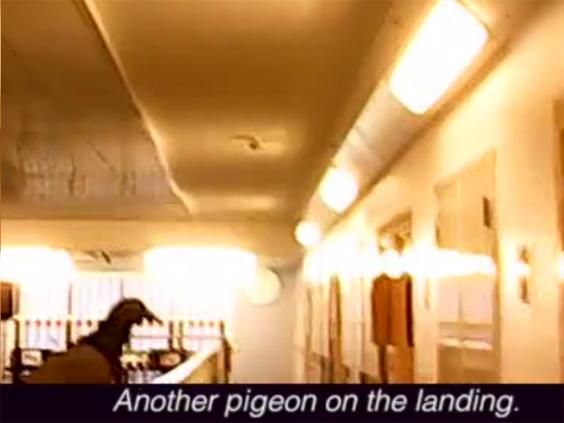 A spokesman for Mitie, the private company that took over the running of Harmondsworth in September last year, said there were "a few people who are peacefully protesting on the site".
A Home Office spokesperson said: "Detention and removal are essential parts of effective immigration controls. It is vital these are carried out with dignity and respect and we take the welfare of our detainees very seriously. That's why the Home Secretary last month commissioned an independent review of detainees' welfare to be conducted by the former prisons ombudsman Stephen Shaw.
"Detention is only ever used as a last resort after all attempts to encourage individuals to leave voluntarily have failed."
It is not the first time that Harmondsworth has been at the centre of protests over the UK's asylum policy. In 2006, riot police had to be brought in to quell significant unrest after a damning report by the then Chief Inspector of Prisons, Anne Owers. Staff were criticised for being "aggressive", "intimidating", "rude" and "unhelpful".
Reuse content