Confused about whether to bail or backside? Don't know your Five-0 from your 50-50 grind? Think a half-pipe needs more tobacco? Then you're too old to loiter around a skate park. Or are you? Once the exclusive preserve of the young, skateboarding enthusiasts say a change of image for the sport is increasingly attracting a more mature crowd, from architects to tax officers, and even a school chaplain.
Businesses are reporting a rise in adults, particularly those in their thirties and forties, returning to the typically teenage hobby or taking it up for the first time.
Simon Chapman, chaplain at Aldenham school in Elstree, Hertfordshire, is learning to ride a longboard (a skateboard variant) while his five-year-old daughter, Beatrix, tackles a skateboard. "I started just after the school holidays began, so I'm waiting to see what the reaction of 600 students will be as they return to see the chaplain skating around the site," said Padre Chapman, 39. "I think it will be a source of much amusement."
When Skates & Ladders launched in London three years ago, it was children taking its skateboarding lessons; now between 60 and 65 per cent of students are over 25. Founder Josh Ward-Brickett, 21, said the number of adults skateboarding had "gone up dramatically" in the past year, with many doing so for exercise, as a way of commuting, or just to spend time with their children.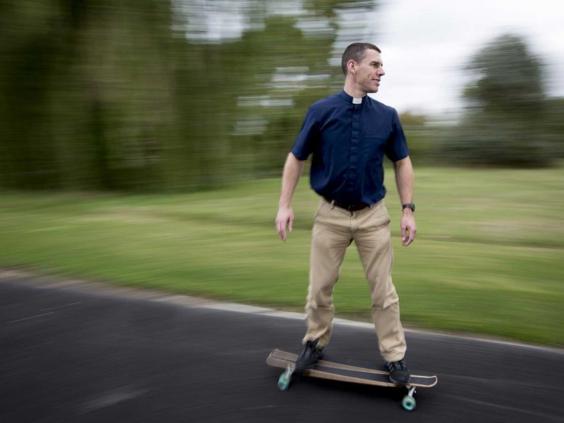 "You finish work and see a colleague jump on a child's scooter while others wrestle with fold-up bicycles," said Mr Ward-Brickett, who taught musician Kate Nash to skate for her 2013 video for "I Hate You This Christmas".
"When someone flies past on a skateboard, it's hard to resist seeing how fun it is," he added.
"Older" boarders who started in their childhoods, in the 1970s, 1980s and 1990s, and never gave up are being joined by returners such as tax director Stephanie Glucina, 37, of Hammersmith, west London, who got on a skateboard for the first time since her young teens earlier this year because she relishes the change from her desk job.
Self-employed window cleaner Stuart McGregor, 41, of Edinburgh, started skateboarding last year after a 25-year gap when his then six-year-old daughter Bethany, who has since given up, wanted to learn. After practising on nearby Portobello promenade "under the cover of darkness", Stuart went to Transgression Park skatepark, where younger boarders teach him new tricks.
There has been significant growth in skateparks in recent years: Scotland had only two outdoor facilities in the early 1990s and now has about 50, says Ali Menzies, chairman of governing body Skateboard Scotland.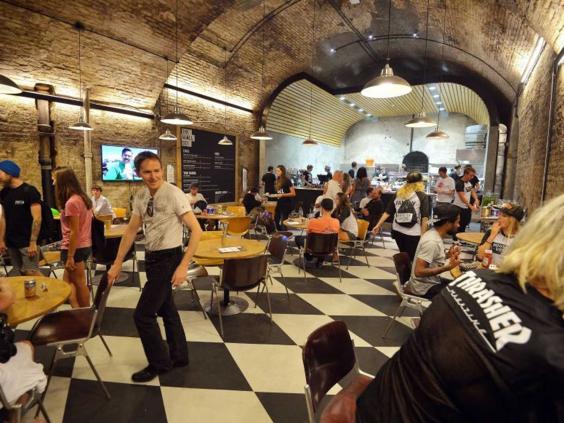 Jeremy Donaldson, 41, an architect and designer at Bristol-based Wheelscape Skateparks, which has built about 100 skateparks in the UK in the past seven years, said the new wave of skateparks was a catalyst for some lapsed boarders to start again because they realised that they would not have to hang out in supermarket car parks and underpasses. Now Mr Donaldson's company has more than doubled its workforce in the past year to cope with demand.
Toms Skate Shop in Stoke Newington, London, hopes to run "skate yoga" classes again this winter – that's yoga with emphasis on legs, ankles and knees targeted at the "slightly older guy".
Leon Walton, 34, shop manager at Slam City Skates in Covent Garden, said that while skateboarding used to be "quite underground" and "frowned on", it was now part of popular culture, with famous fans such as rapper Lil Wayne raising its profile through social media. "Now it's cool, it's in every music video, magazine, even on the catwalk," he said.
In March, Selfridges explored the influence of board sports on fashion, selling limited-edition decks by such designers as Stella McCartney and hosting a skatepark. And House of Vans London, a 3,000sq m cultural venue including the city's first permanent indoor skatepark, opened in the Old Vic Tunnels under Waterloo station last month.
Reuse content