Residents of southern England will be forgiven for thinking that Santa was making his annual rounds early this year, when the International Space Station appeared as a sparkling dot in sky on Christmas Eve.
Southerners enjoyed the best view of the man-made satellite, which looks like a small ball of light moving across the sky when viewed from earth.
It crossed the sky at about 5.20pm and was visible for about three minutes.
In London, people were advised to look at 35 degrees from the horizon and look to the west, and people further north at a slightly lower angle.
A spokesman for the Met Office said: "The space station will be passing over – and it might look like santa's sleigh."
Twitter was quickly flooded with images of the passing space station, including a festive snap posted by astronaut Sam Cristoforetti from inside the craft itself.
Father Christmas aka international space station flying over on Xmas eve! pic.twitter.com/jlvJ0TYtAq

— Kevin Ladhams (@KevinLadhams) December 24, 2014
In Europe you can see us #ISS tonight at 18:20 CET/17:20 GMT.Look up & you might see Santa as well: we are prepared:) pic.twitter.com/lwOK3ufzOW

— Sam Cristoforetti (@AstroSamantha) December 24, 2014
Kids, I just saw Santa flying over Winchester at 5.22pm!!! (Adults: it was the International Space Station) pic.twitter.com/VBf52yRBRy

— Elena Haste (@elsbells78) December 24, 2014
Just watched Santa fly over and by Santa I mean the international space station but the nieces absolutely loved it. #santa #Christmas

— Josh Moss (@MossMan800) December 24, 2014
The platform looks very different close up, with six astronauts currently on board performing experiments in zero gravity as part of its 42nd crew rotation.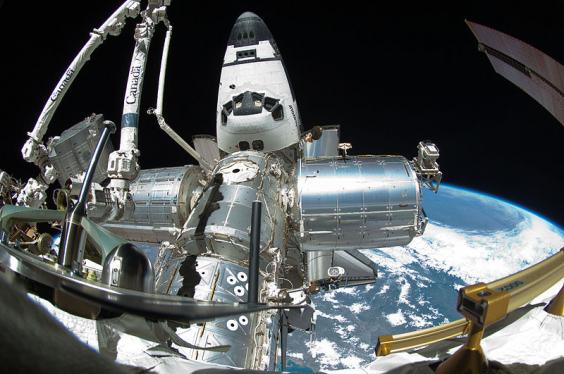 It is made up of a series of interconnected modules for habitation and banks of solar panels for power.
The space station is maintained by a number of countries including the European Space Agency, NASA, and the Russian Federal Space Agency.
The station's crew reportedly took delivery of tins of caviar last month, which will be consumed as a New Year feast.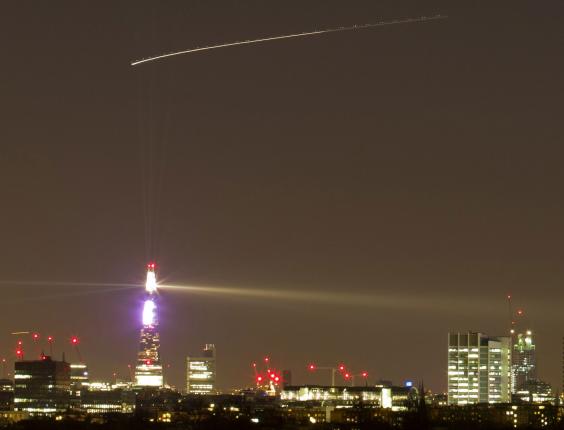 The station was in danger of running into supply shortages in late October after a resupply mission attempt by a private company went disastrously wrong when an unmanned rocket exploded on lift off.
A later resupply attempt was ultimately successful.
Reuse content