Set among the rolling hills of west Herefordshire, the Golden Valley is one of the most arresting landscapes in Britain.
But proposals to build two giant broiler-chicken sheds on a farm in the rural parish of Dorstone have raised fears that the valley could soon become dotted with industrial-sized bird factories.
These would ruin the idyllic scenery that draws tourists in droves and provides the county's biggest source of income, opponents of the project contend.
Furthermore, locals say the proposal is dividing a community which has traditionally been friendly and unified.
The proposed chicken sheds at Bage Court Farm would each be 90 metres long – almost the length of a football pitch. If granted planning permission, they would be the latest in a new generation of US-style mega chicken farms sweeping across the west of England, Powys and the north of Herefordshire – but not, yet, the Golden Valley in the west of the county. These chicken giants dwarf traditional bird-producing facilities.
Each of the proposed sheds would produce about 40,000 birds every six weeks. It is an intensive industrial cycle in which the chickens are reared, dispatched and cleaned up after, before the next intake arrives and the process begins again.
"I was just stunned when I found out about the proposal. I didn't say anything to anyone for 24 hours as I digested the information – I was so shocked," said Marion Wilding-Jones, a horticulturist who lives in the hills overlooking the site. "This is a unique place. It is a privilege to live here and this would upset the apple cart. The sheer scale of it – it would feel like we're being invaded," she said.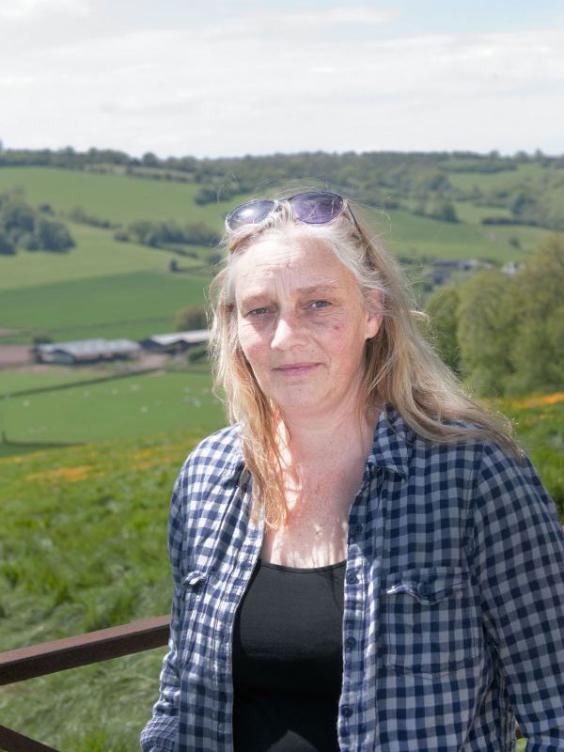 More than 200 people have voiced their objections to the proposals, with about 50 people in support – the vast majority of them being other farmers or farm contractors.
The opponents say the new chicken sheds – known as "broiler units" – will be noisy, smelly and polluting as well as ruining the view.
They are particularly concerned about the huge volumes of faeces that would be produced by so many chickens. If it is not properly managed, they fear it could get washed on to the surrounding land, where it could harm crops, and into the rivers, where it can acidify the water and feed algal blooms, which suck the oxygen out of the water and kill fish and insects when they rot.
Charlie Westhead is one half of the husband-and-wife team behind Neal's Yard Creamery which supplies Harrods, Selfridges, Harvey Nichols and the Neal's Yard outlets from its sole premises a mile upwind from the proposed site. Standing outside the dairy looking over the hills on a gloriously clear, sunny day, he says: "People here are very, very disappointed that their area is going to be defaced – which will also hit tourists and tourist businesses.
Best large holiday homes in the UK
Best large holiday homes in the UK
1/21 Eco House, Lincolnshire Wolds

Providing cutting-edge accommodation for the ultimate hen or stag do – or a fabulous group weekend away - this has 11 stunning ensuite bedrooms, sleeping up to 24. Stand-out points include mesmerising views, floor and ceiling glass walls for lots of natural light, huge reception areas with beautiful contemporary décor and a 26' high atrium over the living room. Facilities include a cinema room, hot tub, games room, bar and lifts to cater for disabled guests. The landscaped gardens are gorgeous and sandy beaches are 10 miles away. From £4,950 for 2 nights, £6,995 per week http://www.housepartysolutions.co.uk/property/eco-house

2/21 Alexander House, Bath

If you want somewhere atypical (think fishtanks as walls and city-themed sinks), but utterly luxurious and very practical for hen/stag visits or multi-generational family getaways, this contemporary house with private landscaped gardens is fabulous. Located just 10 minutes walk from Bath, it boasts 7 unusual and gorgeous bedrooms, sleeping up to 16. The leisure facilities include indoor heated pool, sauna room and steam room, along with a gym, games room, bar and cinema room – all of which have their own individual twist when it comes to the décor and design. From £2,800 for 2 nights, £5,600 per week http://www.holidaylettings.co.uk/rentals/bath/5540313

3/21 Oat Hill Cottage, Cotswolds

This stunning 17th century farmhouse has oodles of charm and character throughout the 7 bedrooms. Located in Snowshill, a quintessential Cotswold village, it's just 3 miles from the well-known and beautiful village of Broadway and 15mins from Chipping Campden. Despite the refurbishment that was done in 2012, this is the kind of place you can really feel at home the moment you arrive. So whether you're there on a pre-wedding celebration or away with family or friends, you can properly relax into country living. From £2,263 for 3 nights, £3,526 per week http://www.ruralretreats.co.uk/England/Cotswolds-Holiday-Cottages/Oat-Hill-Farmhouse_CO232

4/21 Blencowe Hall, Lake District

This Grade 1 listed fortified manor house dates from the 1400s and boasts an English Heritage Construction Conservation Award, along with architectural awards for restoration of the two towers that incorporate contemporary floor to ceiling glass windows. The hall sleeps 24 in 12 gorgeous bedrooms and there's five star service with high quality catering on request, as well as original stonemasonry, panelling, beams and stone staircases intact. It's 4 miles from Lake District National Park and 7 miles from Lake Ullswater. Many brides-to-be visit for hen weekends. From £3,254 for 3 nights, £5,261.50 per week www.ruralretreats.co.uk/England/Cumbria-Holiday-Cottages/Blencowe-Hall_CU037

5/21 Bruisyard Hall, Suffolk

Situated in the heart of the Suffolk countryside within a 700 acre estate, this is an elegant but relaxed country estate for parties of up to 24, for weekend house parties, sensible hen or stag do's, family parties and even intimate weddings. Dating back 700 years, it has been in the same family for over 400 years. It has a genuine country feel, with many original features including oak staircases and a 'sweet-toned bell' which, although ancient, still works. It sleeps 20 people across 10 bedrooms, with 6 bathrooms and a dining room to comfortably fit everyone. From £4,000 for 3 nights, £5,000 per week http://www.thebigdomain.com/large-houses/bruisyard-hall

6/21 Wortham Manor, Devon

The Landmark Trust has some of the most unusual and striking properties to rent in the UK. We love this 8 bedroom pad, some of which dates back to around 1500. It sleeps 15 friends of family, or hen/stag parties. It's a remote location, with huge grounds, so perfect for adventures. Inside, it's a treasure trove of Tudor features, full of open fires and real atmosphere. There's a large farmhouse style kitchen for lazy breakfasts and long dinner parties, and they accept dogs. Don't miss the Jamaica Inn nearby, which also has a smugglers museum. From £1,867 for 3 nights, £2,196 per week http://www.landmarktrust.org.uk/search-and-book/properties/wortham-manor-13309

7/21 Cliff House, Peak District

This Victorian residence for up to 32 people has one of the best positions in the Peak District, with 360 degree panoramic views and fabulous walks right on the doorstep, along with nearby picture postcard villages with great pubs, such as Great Longstone and Ashford in the Water. Inside, expect a feeling of grandeur, thanks to high ceilings, chandeliers and top-notch décor. 10 large bedrooms are in the main house, with a further three in the cottage on site, which doubles up as a games room with pool table. Perfect for hen do's or group weekends away. From £3,500 for 3 nights, £6,000 per week http://www.peakvenues.co.uk/venues/6/cliff-house/

8/21 Beach Boutique, Brighton

This place has "hen do" written all over it. Perfect for a group weekend away, it sleeps 26 comfortably and is like having your own central funky boutique hotel. As for location, it's just a five-minute walk to Brighton Beach, close to nightlife, restaurants and shops. The wall mounted LCD TVs in the bedrooms will be good for nursing those hangovers and there's a vibrant, modern colour scheme throughout. You'll need to get on well though as the beds are spread across just four bedrooms, along with some sofa beds in the sitting room. From £1,895 for 3 nights and £1,995 per week http://www.brightonholidayhomes.co.uk/properties/beach-boutique/

9/21 Tan Llan, North Wales

Thiis Grade II listed property set in the spectacular Snowdonia National Park is ideal for friends and family (no stag or hen do's). Set over 3 spacious floors, expect bright, contemporary accommodation, luxurious décor and original 18th century features including large sash windows and shutters, cast iron radiators and a bespoke slate fireplace. There are 8 ensuite bedrooms, sleeping 16 – 6 in the main house and 2 in the adjacent coach house. The area itself boasts towering mountains and glorious valleys – ideal for walkers, mountain bikers and outdoor enthusiasts. From £1,635 for 3 nights, £1,985 per week http://www.sykescottages.co.uk/cottage/Mid-Wales-Cardigan-Bay-Llanelltyd/Tan-Llan-921373.html

10/21 Meadowgate, Welcombe, Devon

Sleeping 14, this impressive Devon holiday rental belongs to TV personality Kirstie Allsopp. Nestled in the National Trust-protected Welcombe Valley, it's close to the stunning Welcombe Mouth beach and is great for groups of family and friends, including children (no hens or stag do's). Expect Vanessa Arbuthnott fabrics, Kirstie's own gold and black wallpaper, an eclectic mix of furniture, and a second sitting room filled with Kirstie's homemade crafts. The kitchen-dining room is the heart of the house, with a welcoming Aga and large dining table. There's a bunk room for up to 4 children and a games room with table-tennis and table-football. From £1,914 per week www.classic.co.uk/holiday-cottage/desc-2356.html

11/21 Blue Bay, Mawgan Porth, Cornwall

This two-story, 8 bedroom beach house, which is situated on a peaceful seaside lane in North Cornwall, sleeps up to 22 people, including young children and babies. Perched on the cliffs above unspoilt Mawgan Porth beach, the location is hard to beat and the big, open plan living space overlooks the ocean, along with garden rooms that are situated around the courtyard garden, that doubles up as a real sun trap. The sea is just 400m down a coastal path, or you can hang out on the sea-view facing decking area surrounded by lawns. From £1,159 for 3 nights, £1,545 per week www.beachretreats.co.uk/self-catering/cornwall/mawgan-porth/blue-bay

12/21 Swansea Valley Holiday Cottages, Swansea, Wales

Sleeping up to 20 across four units, you can rent all of the farm cottages together or hire them individually. Set in a beautiful, quiet and secluded country estate, with comfortable furnishings and attention to detail. Don't forget to visit Swansea beaches, voted 10th best in the world, and there's also Bluebell woodland. It's not only the countryside that's green – all the cottages use a renewable bio-mass energy source. Swansea also boasts the Gower Peninsula, which was named the UK's first ever Area of Outstanding Natural Beauty back in 1956. Great for outdoorsy types (no hen or stag do's). From £759 for 2 nights, £1,816 per week http://www.visitswanseabay.com/listings/swansea-valley-holiday-cottages/

13/21 The Hen House, Edinburgh

Many hens and stags want to be in the heart of a city with the best nightlife on their doorstep, which makes this central Edinburgh accommodation ideal. Sleeping up to 21, it's near the city centre features, yet with all the comforts of home, including a 26ft drawing room with 50" plasma TV, leather sofas and open coal fire, along with a gothic style dining room, ornate super-king sized 4 poster and huge dining kitchen. Built in the 1820s in the classic Georgian style, it boasts grand high windows, a sweeping staircase and large rooms. From £895 per weekend, £1,395 per week http://www.henpartyvenues.co.uk/cottage/fth3967/Edinburgh/Edinburgh-Luxury-Townhouse

14/21 Far Moor End, Ennerdale, Lake District

Sleeping 16 in a renovated farmhouse and barn conversion in generously sized bedrooms with plenty of bathrooms, this is a particularly good house for families with young children, thanks to the games room with two full sized football tables. It's also great for large gatherings, due to the impressive sitting room, or walkers, looking to tackle some of the outstanding fells in Ennerdale. The house offers superb views and the grounds of the house extend to 22 acres, featuring 15 acres of woodland, two paddocks, a wildflower meadow and three ponds. From £1,575 for 3 nights, £1,965 per week www.sallyscottages.co.uk/far-moor-end

15/21 Bolstone Court, Bolstone, Herefordshire

This magnificent 17th century timbered conversion sleeps 15 (including hen and stags) across 6 bedrooms and bathrooms. It's got many lovely original features, including Inglenook fireplaces and an unused, feature bread oven. Choose from 2 large sitting rooms and a dining room that can seat 15. There's also an external games room in the converted 13th century church next door, with table tennis, table football and darts, as well as spacious front and rear gardens for outdoor games, barbecues and alfresco dining – not to mention unspoilt views of the Herefordshire countryside. From £899 per week www.sykescottages.co.uk/cottage/Cotswolds-Gloucestershire-Bolstone/Bolstone-Court-28256.html

16/21 YHA Beverley Friary, East Yorkshire

Hiring out an entire youth hostel is a great way of housing big groups, whether it's lots of families holidaying together or a hen or stag do. And forget the traveller images of no mod cons and paper thin mattresses as many are homely, tastefully decorated and well thought out. This 13th century former Dominican friary was refurbished in 2012, and is full of history, with evidence of many of the original mural, painted by the monks, still on the walls. Sleeping a whopping 30 people from under £60 a night for a week, nobody need feel left out. From £342 for 2 nights, £1197 per week http://exclusive-hire.yha.org.uk/properties/england/yha-beverley-friary

17/21 Golden Hill, Bamburgh, Northumbria

Sleeping 12 in total (8 in the main house and a further 4 in the adjoining annexe), this spacious home is located just 3 miles inland from the village of Bamburgh, with its majestic castle and gorgeous stretches of unspoilt golden sands. It's 2 miles to the nearest pub and eateries and it's well equipped and furnished including an Aga style cooker, log burner and wifi. The garden area is nice and big, along with a large rear landscaped courtyard and parking for plenty of vehicles. From £315 per 4 nights, £998 per week http://www.staynorthumbria.co.uk/northumberland-holiday-cottages-golden-hill-63893

18/21 Fort Clonque, Alderney, Channel Islands

Sleeping 13, Fort Clonque sits on top of a group of rocks off the south-west tip of the island of Alderney and is reached by causeway leading to a drawbridge. Originally designed for ten guns, manned by two officers and 50 men, it's got a magic of all its own and incredible marine views. (Be warned, you can get cut off from the mainland at high tide.) It's open to hen or stag visits as well as groups, with an open fire and 19ft thick walls on the East Flank Battery. Don't forget to explore Alderney, and enjoy the fabulous beaches at the north end of the island. All this and it's cheaper than staying at a budget hotel! From £688 for 4 nights, £1,116 per week http://www.landmarktrust.org.uk/search-and-book/properties/fort-clonque-7423/

19/21 YHA Ennerdale, Lake District

Forget wifi, TV and phones… YHA Ennerdale is a real away-from-it-all location, deep in the amazing Ennerdale Valley, known as the wildest corner of Cumbria. Originally two adjoining cottages and recently refurbished, it's set in its own grounds in a wooded valley surrounded by fells and ridges. The combined dining room/lounge has great views, with a wood-burning stove for cosy evenings. The hostel will also appeal to ecowarriors as it has an environmentally friendly power supply and even generates its own drinking water. Sleeps 24 across three four-bed rooms and two six-bed rooms and it welcomes hens and stags. It's a bargain too – the cheapest in our round-up. From £99 for 2 nights and £693 per week http://exclusive-hire.yha.org.uk/properties/england/yha-ennerdale

20/21 Buckland House, South Devon

Two miles from Slapton in south Devon in a sheltered wooded valley is this Grade II listed Georgian manor house, sleeping 14 in 7 bedrooms, dogs also welcome. Inside it's a combination of period charm and modern comfort, including two living rooms, one with an open fire, a large kitchen/diner, huge conservatory and a slate-floored den. Outside, there's a large garden with mature trees and flowering shrubs to the front and an orchard at the back. Plenty of nearby pubs and shops in pretty Slapton village. A little further on is Slapton Ley nature reserve, which is great for bird watching. From £932 per week www.helpfulholidays.com/property.asp?ref=L40&year=2015

21/21 Deepdale Granary Group Hostel, North Norfolk

Sleeping 19 in 4 bedrooms, this is a great place to stay for ramblers, cyclists, or family get-togethers (no hen or stag dos). Not only is the hostel really flexible, offering two rooms of six, a room of four and a triple room, but this is in an area of outstanding natural beauty, with sailing and birdwatching among the many local activities. There are 40+ rums at The Jolly Sailors, award winning food at the White Horse opposite and more micro-breweries than anywhere else in the country. Bring your bedding and towels, as they're not provided, and don't panic if you're more than 19 people as you can take additional rooms in the stables or hire the whole 44 bed Deepdale Old Stables. From £300 for 2 nights and £1050 per week http://www.deepdalefarm.co.uk/grouphostel/index.asp
"For me, a major concern is all the crap that gets thrown up from the roof-mounted fans of these sheds which we are vulnerable to. This will contain fungal spores that could blow over here and cause problems for our cheeses."
The two sheds would have 28 chimneys between them, pumping out dust from inside the units at such a rate that the entire atmosphere inside would change every five minutes, experts say.
But while the locals are concerned about the impact of the two proposed units they believe they are fighting a much bigger battle to protect the wider area.
They are convinced that if this project proposal – the first in the valley – is approved, it will open the floodgates to the industrialisation of the local landscape. "There is no question that if this gets through, it will be the first of many in the valley. I wouldn't be surprised to see a cluster of 30, 40 even 50 crop up in the area in the coming years," he said.
The Golden Valley is best known as home to the English Heritage Arthur's Stone Neolithic burial chamber site, 300yd down the road from the Neal's Yard Creamery. Merbach Hill, from where you would be able to see the proposed broiler units, is another landmark.
"Broiler units would completely traduce this area of country as they spread through the valley. Who would want to stay among industrial sheds?" asked Tim Rogers, a retired resident who worked for 30 years in the Church of England's legal department. He also lives in the hills overlooking the proposed site.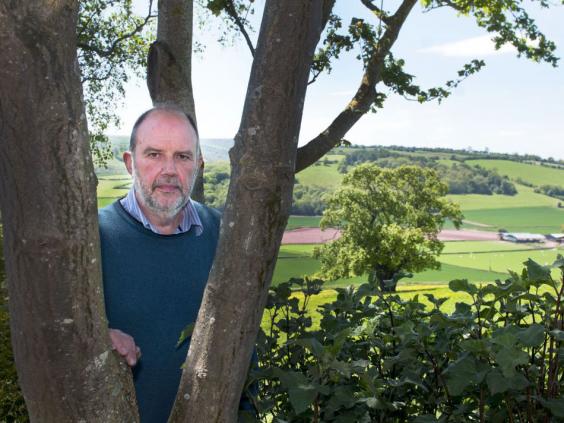 "It is literally at the source of the river Dore, which feeds into the Wye. So if it gets polluted here, it will pollute all the way down," he said.
Mr Rogers said the proposal has caused divisions within the community between the "hard core" of farmers and their contractors, who are in the minority – and the residents.
"A good number of farmers are privately against it and concerned that it is giving farming a bad name," he said, adding that they choose to keep quiet about their concerns to minimise tensions in the agricultural community.
Mr Rogers is particularly concerned about the threat of avian flu posed by massive chicken farms because of their sheer size and concentration of birds.
Dr Michael Hession has lived in Dorstone for the last 37 years. "The upper Golden Valley is an area of outstanding landscape significance which is recognised as such both nationally and internationally," he said in his objection to the planning application.
"It cannot be emphasised too strongly how commercial and industrial development in the form of chicken-rearing sheds would spoil, more likely sabotage, this wonderful landscape for our own and future generations, who would never forgive us."
He is concerned about the potential noise from additional HGV traffic as well as from the site itself. He also worries about large quantities of toxic dust blowing onto the surrounding land, into the village and into the waterways, especially the nearby river Dore which runs along the Golden Valley, and which is already polluted, according to some locals. Others disagree and say a recent environment agency inspection showed that the river is in good shape.
The dust could include particles of avian flu virus, mites, bacteria, moulds and faeces – such as ammonia-rich chicken waste which pollutes rivers, Dr Hession says.
A date has not been set for the planning committee of Herefordshire Council to meet and decide whether  to approve or oppose the application – although it is expected to be around the middle of June.
John Morgan, the farmer behind the proposal, referred The Independent to the National Farmers Union (NFU) for comment on his plans. NFU poultry board chairman Duncan Priestner said: "Planning issues can sometimes stir up passionate arguments from both sides but it is important that this issue is dealt with by looking at the facts. Applications for chicken units of any size are subject to strict planning procedures which include tests on the environment, including any issues with sound and odours."
Reuse content