It was the Royal Navy submarine that struck fear into its foes as they battled beneath the surface of the Mediterranean – and finally, last week, it was found, 72 years after being scuttled.
HMS Saracen had a crew of 48 officers and men. Arthur Melling, now 91, is thought to be the sole remaining survivor. He had not heard of the amazing discovery until The Independent on Sunday met him at the Bolton care home where he lives with wife, Doris.
"Bloody hell, that's some years waiting for that," he said upon hearing the news. "I never thought they'd find the Saracen. I thought it would be undiscovered in the ocean forever."
An intensive two-year search ended last week when Guido Gay, an Italian engineer, located the 990-ton S-class submarine in 1,400 feet of water off the coast of Corsica. He said the wreck was "beautifully adorned by white corals".
Experts at the Royal Navy Submarine Museum in Hampshire confirmed the "exciting discovery". But because two sailors died aboard the vessel, it will remain underwater as an official war memorial.
Arthur was a teenager when the submarine was launched on 16 February 1942. It started its Second World War career in British waters a few months later, sinking the German U-335 off the Faroe Islands before being sent to the Royal Navy base on Malta.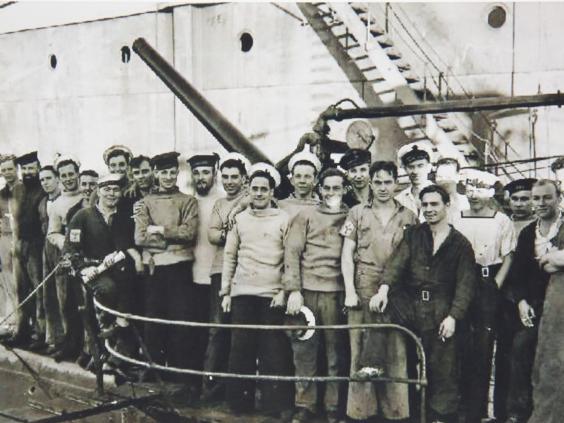 Reflecting on his time on board HMS Saracen, Arthur said: "In a submarine you have very close friends, you know, very close friends indeed. You couldn't have a closer friend than a friend in a submarine – a submariner – and that was it. Everyone trusted each other. You never gave a thought to anything else. There was no such thing as danger. It was just a job. I suppose some people would be frightened of being under the water. It didn't take long to get used to, though."
The Saracen's reputation grew quickly when it sank the Italian submarine Granito, then destroyed a number of other Italian and German naval and merchant vessels, as well as Vichy French ships collaborating with the Nazis.
The crew were unaware of the fear the Saracen instilled in the enemy. "No, we didn't know about this reputation," Arthur said. "No matter what submarine you were on you always thought you were the best."
French Resistance fighters revered the Saracen, best known in France for landing three spies on Corsica – two Corsicans and a British MI6 agent – to liaise with a resistance network providing information on Italian forces from the island.
On 13 August 1943 Saracen was spotted by two Italian corvettes while on patrol off the north east coast of Corsica. They attacked with depth charges and the British submarine was severely damaged. Its captain, Lieutenant Michael Lumby, decided to scuttle the ship, but Arthur believes luck was still on their side.
Britain during WWII - in pictures
Britain during WWII - in pictures
1/30 WWII

1939: A squadron of Spitfires took part in mimic 'air alarms', during a speed demonstration at Duxford Aerodrome

2/30 WWII

1939: British railway workers fit floodgates below river level at Underground Stations

3/30 WWII

1939: A patient on a stretcher is loaded into a Green-Line coach ambulance when being evacuated from Guy's Hospital in London

4/30 WWII

1939: Metropolitan Police Constables wearing gas masks line up to enter a mobile gas chamber at East Ham Police Station, London

5/30 WWII

1939: A young female British Navy officer sitting astride a minesweeper's cannon and lighting a cigarette whilst two officers look on

6/30 WWII

1939: Schoolchildren crowd Ealing Broadway Station in London, some of the first youngsters to be evacuated to the country during World War II

7/30 WWII

1940: Bells rescued from the belfry of St Giles in Cripplegate, London, which was bombed during a night raid

8/30 WWII

1940: A projector, operating from its sunken sandbagged emplacement, at a searchlight station in the London area

9/30 WWII

1940: Auxiliary Territorial Services personnel sealing and preparing a Churchill tank for export to the Soviet Union

10/30 WWII

1940: An Australian soldier leaps from a tank during training exercises in Britain

11/30 WWII

1940: A man flies a Union Jack on a bomb site. The area was bombed twice, and the second time it tore the flag in two

12/30 WWII

1941: A policeman coaxing his pony to leave an area which is being evacuated due to the discovery of an unexploded bomb

13/30 WWII

1941: Charles de Gaulle (C), Chief of the French Free Forces, inspects the French colonial troops during during his visit of a military base in Great Britain

14/30 WWII

1941: US politician Wendell Willkie viewing the bomb damage to the Guildhall during the Blitz, London

15/30 WWII

1941: Men, women and children stand with their belongings on a pavement in Clydeside, in the aftermath of a severe bombing raid

16/30 WWII

1941: The famous American 'Eagle' Volunteer Air Squadron, formed during WWI, takes its place in the ranks of the RAF

17/30 WWII

1942: Work in progress of the decks of almost completed ships, being built for the merchant navy

18/30 WWII

1942: Two London buses passing through thick smoke screens during Civil Defence Service training operations

19/30 WWII

1942: A British ship (either the Cathay or the Karanja) on fire in Bougie Harbour (Bejaia), during the North African 'torch' landings. The Luftwaffe bombed three of the Allied ships as they attempted to reach shore

20/30 WWII

1943: American soldiers viewing some of London's raid damage during a tour

21/30 WWII

1943: A crashed German Messerschmitt is towed past the Houses of Parliament in London

22/30 WWII

1943: The wreckage of Sandhurst Road School in Catford, south London, the day after it was partially destroyed in a German bombing raid

23/30 WWII

1944: Extensive manoeuvres for invasion being carried out by American Sherman tank units in Britain

24/30 WWII

1944: Rescue workers searching through the rubble of a block of flats destroyed by German raids in London

25/30 WWII

1944: Bomb damaged buildings in London's Pall Mall after an air raid

26/30 WWII

1945: British officers liberated by the 9th Army from Brunswick Oflag 79, the largest British officers' camp in Germany

27/30 WWII

1945: Essex-class fleet carrier USS Franklin after suffering a hit by a Japanese dive-bomber off Japan, during war in the Pacific

28/30 WWII

1945: The scene in Farringdon Road, London, after a V-2 rocket had fallen in daylight on the Central Markets

29/30 WWII

1945: VE day, held to commemorate the official end of Britain's involvement in World War II, is celebrated by crowds at Trafalgar Square in London

30/30 WWII

1945: Soldiers from the Women's Royal Army Corps in their service vehicle, driving through Trafalgar Square during the VE Day celebrations in London
"When you're in a submarine and get hit you don't expect to survive. So we were very fortunate."
Lieutenant Lumby waited until the early hours of Saturday morning before scuttling the Saracen because he did not want to do so on "unlucky" Friday the 13th.
The surviving members of the crew made their way through the escape hatch and into enemy water. Arthur was taken on board one of the corvettes, the Minerva, and was transferred to a PoW camp in Sabina in central Italy. He managed to escape, only to be recaptured and sent on a PoW train to a camp in Germany alongside other men from Saracen.
Worse was to come. On 28 January 1944, American B-26 bombers targeted a bridge near Allerona, Italy, while the PoW train was stationary on it. About 400 prisoners died in the raid – one of the worst cases of friendly fire in the entire Second World War.
The Pows' German guards fled the carriages leaving any remaining prisoners locked inside. Despite being warned that anyone caught escaping would be shot, Arthur spotted his chance and fled in his bare feet, squeezing through a bomb hole in his carriage.
"All hell was let loose," he told Janet Kinrade Dethick for her book The Bridge at Allerona. "A large boulder came through the roof. I saw a chance to get out … and jumped up to the roof. A sergeant-major pulled me down. He said I would be shot. I told him I would take my chance of a bullet rather than a bomb.
"I was on my way down the bank. I ran for about three strides then I found myself at the bottom and close to a bomb crater. I scrambled into this to save myself from shrapnel. I saw another guy inside. I told him I was going to get to the other side of the river as we had a better chance if we did this … I made it to the other side."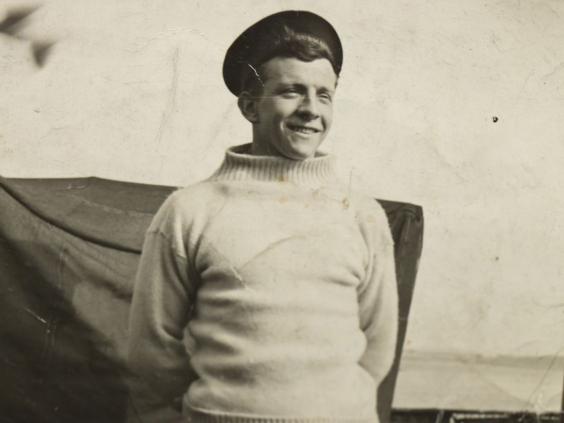 Arthur remembers reaching a farmyard where he was eventually rescued by British troops and returned home to Bolton, Lancashire. After the war, he became a butcher before turning his hand to the building trade. He met his first wife, Prudence Joan Sharples, at her 21st birthday party and they had six children. They divorced after 23 years and Arthur later married Doris. They have been together for more than 40 years.
Arthur, now a grandfather of 13, with his extended family living in the UK, Australia and Cyprus, remains modest about his extraordinary achievements.
"You have to be lucky to survive the war, there's no doubt about it," he said. "It's just a question of toughness, although you do need that to survive. You definitely have to be lucky too. I was just proud to be a member of the submarine service – and then glad, very glad, to get out of the war and that it had finished. That was it."