Boris Johnson has called for the removal of "stupid" spikes installed outside a London housing development as a deterrent to homeless people – prompting immediate criticism of his own record on people sleeping rough in the capital.
The spikes have been compared to similar measures used to keep pigeons off roofs and statues across London, and criticised in an online petition as "sending [homeless people] the message that they are pests that need to be warded off".
The Mayor's interjection came after the petition on change.org, signed by more than 6,000 people, called for him to "do more to help these people instead of isolating them further" and "support the silent population".
Yet in condemning the actions of the developers, Mr Johnson faced accusations that he is dodging the blame for the root cause of the problem.
Despite the Mayor's pledge when he came to power to eradicate homelessness in the capital altogether by 2012, Government figures released in December 2013 showed that the number of rough sleepers in London was actually up 60 per cent over the previous two years.
Mr Johnson tweeted today: "Spikes outside Southwark housing development to deter rough sleeping are ugly, self defeating and stupid. Developer should remove them ASAP."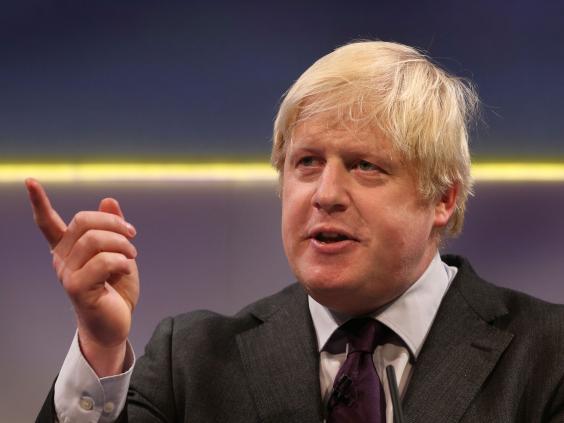 But the Mayor's followers responded by calling for him to come up with his own "solution to the problem" and "make a real plan to help homeless people in London".
Spikes to deter homeless people are not a new phenomenon in the capital – and 20 years ago pressure was put on officials to "make adequate response to the increasing problem".
One blogger who said she works with homeless services said that while the spikes were "not a nice thing" they at least encouraged people to get help.
"If you're worried about the spikes maybe instead you could worry about the housing shortage, or the lack of good mental health and drug and alcohol services in your area," the anonymous student nurse wrote.
"Worry about how your local area is dealing with antisocial behaviour. Worry about children's services, worry about decent homeless liaison teams in hospitals. Worry about the lack of shelters. Worry about the benefit cuts."
Spikes outside Southwark housing development to deter rough sleeping are ugly, self defeating & stupid. Developer should remove them ASAP.

— Boris Johnson (@MayorofLondon) June 9, 2014
Katherine Sacks-Jones, the head of policy and campaigns at homelessness charity Crisis, condemned the spikes but called on more to be done to deal with the "cause" of the problem.
She said: "It is a scandal that anyone should sleep on the streets in 21st century Britain. Yet over the last three years rough sleeping has risen steeply across the country and by a massive 75 per cent in London.
"Behind these numbers are real people struggling with a lack of housing, cuts to benefits and cuts to homelessness services to help them rebuild their lives.
"They might have suffered a relationship breakdown, a bereavement or domestic abuse. They deserve better than to be moved on to the next doorway along the street. We will never tackle rough sleeping with studs in the pavement. Instead we must deal with the causes."
A spokesperson for Southwark Council said it had not implemented the studs, and had never used such a system to deter homeless people from sleeping in similar areas.
On Twitter, Southwark Council leader Peter John said: "All homeless people in Southwark should be treated with respect and compassion – not spikes. I hope they will be removed from Southwark Bridge Road."
A statement from the Mayor's office said: "The Mayor has invested over £34 million in schemes to tackle the issue, like No Second Night Out, resulting in three-quarters of rough sleepers only spending one night on the streets. He will continue to work alongside the government, boroughs and key agencies to reach people in need of support."
Reuse content