A third of young women in the UK have experienced a form of domestic abuse that could be on the rise with the spread of mobile technology.
Research by Women's Aid found that almost 40 per cent of 16 to 24-year-olds interviewed said they had been subjected to "controlling behaviour", mainly including having their phone, messages, emails and social media accounts checked.
But only a tiny fraction of those recognised the behaviour as a type of "coercive control", which is now illegal under a law passed last year.
Polly Neate, the charity's CEO, said that many girls and young women are abused in their first relationships, when they have nothing to compare it to.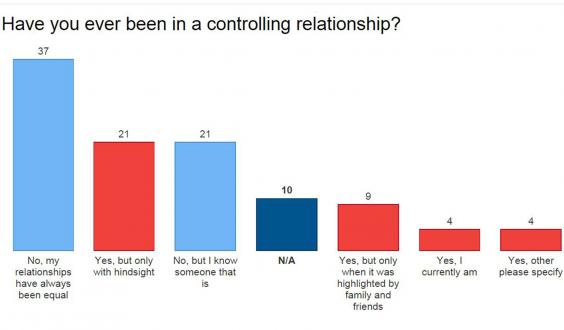 "Domestic abuse is so much more than just physical abuse, and in our experience coercive control underpins the vast majority of all abusive relationships," she added.
The Serious Crime Act 2015 made "controlling or coercive behaviour in an intimate or family relationship" illegal and punishable with up to five years in prison and hefty fines.
But many of the people interviewed by Women's Aid were not aware of the recent law and considered some of the behaviour it encompasses normal.
One in 20 think that being scared of your partner was part of a "normal relationship", the research found, while 10 per cent thought having their phone repeatedly checked was acceptable and only one in three knew what coercive control was.
Some blamed the abuse on themselves for not making their boyfriend or husband trust them and others took it as a sign they "care".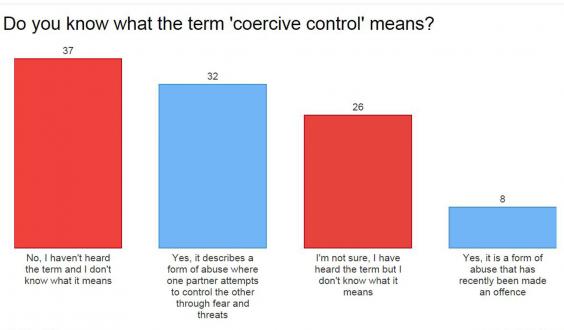 The rise of mobile technology is making methods of control ever easier and more varied, from instant messaging services showing when communications have been read, to popular apps that track a person's whereabouts.
"The research also showed that for many women, being able to see the situation at the time is almost impossible," a spokesperson for Women's Aid said. 
"While over a third of those questioned consider themselves as having been in controlling relationships, 37 per cent only knew this in hindsight and 10 per cent when it was highlighted to them by their friends and family."
Charities who work with domestic violence victims say psychological abuse almost always either precedes or continues alongside physical attacks.
Chloe, an 18-year-old survivor, described her experience with her ex-boyfriend, who was her first relationship.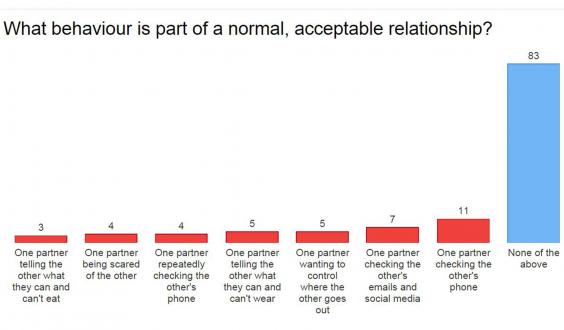 "I think it's often the case that young people don't have the experience of healthy relationships to know that what's happening isn't normal," she said.
"It's so easy just to think 'all couples argue', especially when someone is telling you that you provoked them all the time. 
"And once they start wearing down your self-esteem and isolating you, it spirals to a point that you can't see a way out.
"Having experienced coercive control I know it's very easy not to recognise those early signs of abuse, and end up staying in a relationship that's dangerous and takes over every aspect of your life.
"Raising awareness with young people is so important because it'll empower them to recognise signs of control early on and know what they are experiencing isn't normal or their fault."
The world's 15 most powerful women in 2015
The world's 15 most powerful women in 2015
1/15 Angela Merkel - German Chancellor

German Chancellor Angela Merkel has retained her number one ranking for topping this year's Forbes list for the fifth consecutive year and ten times in total.

2/15 Hillary Clinton - Presidential candidate, United States

Clinton, who could become the world's most powerful leader in 2016, has been featured on the list every year since it launched in 2014.

3/15 Melinda Gates - Cochair, Bill & Melinda Gates Foundation

Melinda Gates has cemented her dominance in philanthropy and global development to the tune of $3.9 billion in giving in 2014 and more than $33 billion in grant payments since she founded the Bill & Melinda Gates Foundation with her husband in 2000.

4/15 Janet Yellen - Chair, Federal Reserve, Washington, United States

Janet Yellen made history in 2014 when she became the first female head of the Federal Reserve.

5/15 Marry Barra - CEO of General Motors

Mary Barra made history by becoming the first female CEO of General Motors.

6/15 Christina Lagarde - Managing director, International Monetary Fund

Christine Lagarde is entering the last year of her first term heading the International Monetary Fund (IMF), the organisation which serves as economic advisor and backstop for 188 countries. Under Lagarde the IMF has supported efforts to increase female labor force participation as way to reduce poverty and inequality. The UK, Germany, China, France and Korea have endorsed Christine Lagarde for another term as the head of the IMF.

7/15 Dilma Rousseff - President, Brazil

Dilma Rousseff, who has been elected in 2010, is Brazil's first female president.

8/15 Sheryl Sandberg - COO of Facebook

Sheryl Sandberg, Facebook COO and author of bestseller "Lean In," joined the company in 2008 and became the first woman on its board four years later. Sandberg helped the social network go public and expand digital revenue.

9/15 Susan Wojcicki - CEO of Youtube

Susan Wojcicki is CEO of YouTube, the world's most popular digital video platform used by over a billion people across the globe. She oversees YouTube's content and business operations, engineering, and product development.

10/15 Michelle Obama - First lady, United States

Michelle Obama, the 44th first lady of the United States has focused her attention on issues such as the support of military families, helping working women balance career and family and encouraging national service.

11/15 Park Geun-hye - President, South Korea

Park Geun-hye is the first female leader of a country that has the highest level of gender inequality in the developed world. In her inauguration speech, she promised to prioritise both national security and economic revitalisation.

12/15 Oprah Winfrey - Actress, Director/Producer, Entrepreneur, Personality, Philanthropist

Oprah Winfrey, a former queen of daytime TV has proven she can thrive without a talkshow. Her 'The Life You Want' tour sold out stadiums from Newark to Seattle in 2014.

13/15 Ginni Rometty - CEO of IBM

Ginni Rometty joined IBM in 1981 and later became the first woman to lead the company.

14/15 Meg Whitman - CEO of Hewlett-Packard

Meg Whitman is the only woman to have headed two large U.S. public companies: eBay and Hewlett-Packard.Until Marissa Mayer's arrival at Yahoo, she was the only female head of a leading Internet-based company.

15/15 Indra Nooyi - CEO of PepsiCo

Indra Nooyi is Chairman and Chief Executive Officer of PepsiCo. Mrs. Nooyi leads one of the world's largest convenient food and beverage companies, with 2008 annual revenues of more than $43 billion.
Women's Aid research also revealed a lack of awareness about where to seek help on the issue, with many women saying they would be too embarrassed to ask or were worried about getting their partner in trouble.
At the same time, those not affected by coercive control said that if they suspected a friend or family member was being abused, they would not know what to do, would be "worried about making the situation worse" or feel unsure how to bring it up.
The charity has launched a campaign called Love Don't Feel Bad with Avon and Women's Aid to raise awareness around Valentine's Day.
Anyone affected by domestic abuse can go to www.womensaid.org.uk for more information and support, or call the free national domestic violence helpline on 0808 2000 247.
Reuse content