Two decades ago, Clerkenwell in north London was as famed for its printing as it was for jewellery. But as technology has overtaken traditional methods, and rents have soared throughout the capital, those who painstakingly lay pigment have left the area. 
Except one. Dave Brett, 51, from Hackney, is the last traditional screen printer in Clerkenwell. He has worked in the ara for two decades, and prints his designs from a basement studio beneath his brother's poster shop on Leather Lane, home to the oldest street market in the country. Paint fumes linger in the air, while splodges of colour adorn the floor surrounding his tools: a t-shirt carousel and squeegees and screen frames to make acetate templates.
Brett, who is completely self-taught, prints work for Noel Fielding, street artist Ben Eine, art bookshop Magma and psychedelic artist Nigel Waymouth, who designed album covers for 60s artists and opened the boutique London store Granny Takes a Trip. While many screen printers now combine digital printing with traditional methods, Brett, whose business is called T-Shirt Dave, continues to design by hand. "We're the last ones left. Everyone's moved out," he said. "Digital has killed the industry - but there's no way you can get the vibrant colours from digital printing. Anything that can't be put in a machine, I print," he says.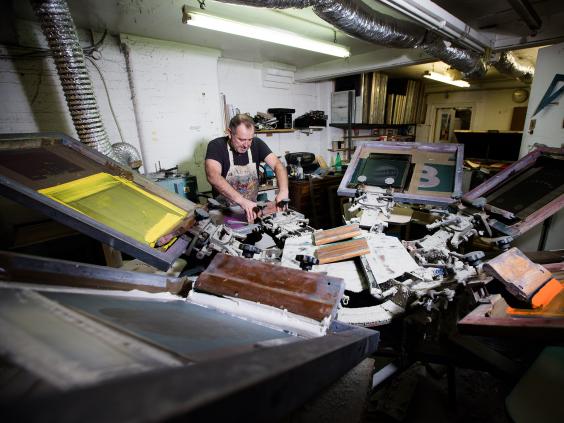 David Brown, guide for the Clerkenwell and Islington guiding association, says printing is the fabric of the area: "The first magazine in the country – The Gentleman's Magazine - was printed in the area, by Edmund Cave in the 1731. At the Marx Memorial Library on Clerkenwell Green, between 1902 to 1903, the exiled Lenin printed his newspaper Spark. It's home to the radical press. Type founding also comes from the area, with William Caslon setting up his type foundry in 1730s in Clerkenwell, where it operated for two centuries. But printers need big buildings and it can be done over the internet in industrial parks – or abroad. 
"Computer typesetting caused the revolution for the printing industry, and that's when all printers started to move out. But I can imagine that in the future people who buy books will be buying quality products from craft printers for hundreds of pounds." 
Last year, K2, then the penultimate screen printing business in the area, which works with artists including Peter Blake, Gary Hume and David Bailey, left Clerkenwell for south London. Mark Jenkins, who combines traditional screen printing with digital methods, said: "We'd been in the area for 23 years when we were served notice last May. I was absolutely disappointed – it was all I knew. It's been traumatic to up sticks with a short amount of notice to live and survive." Their previous building was being redeveloped. "Back in the day, Clerkenwell was the heart of the creative industry - now it's being replaced with technology companies," he says. "Printers need a lot of square footage because we've got a lot of kit – it's not a hot desk situation." 
Peter Kiddell, director of the Federation of European Screen Printing Associations, said the printing industry is changing too: "Digital printing has taken over in the vast majority of graphics printing. It is photographic in quality. Poster, sticker and display work moved to digital 10 years ago."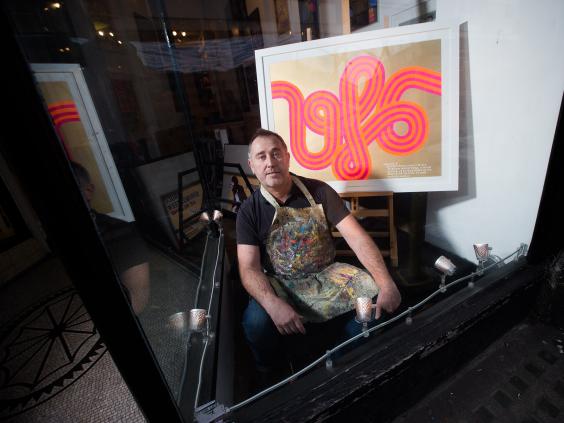 He said there is still a place for screen printing – a 4,000 old process - for graphics and artwork in high quality limited editions. "Screen printing needs more skill, and is more expensive to buy."
While two decades ago there would have been 10,000 screen printers across the country, there are now closer to 5,000 companies - and most will print digitally to some extent. "There would only be a few hundred left in Britain manually screen printing," Kiddell said. 
Surprisingly, screen printing is still used extensively for engineering, although many people are unaware how much it is relied on. "The circuitry behind touchscreen phones and flat screen televisions is all screen printed," he said. 
And while commercial screen printing is being replaced by digital technology, Kiddell has noticed a current rise in independent artists using traditional screen printing methods. As a craft movement, it is gaining popularity and at venues such as The Print Club in London people pay a weekly sum to work on their designs. 
Brett believes his days in Clerkenwell may be numbered. "We cannot compete on pricing with out-of-town companies and digital printing options." But he's happy to be the last man standing for a little longer: he believes the art market will never die out completely, and will start his own screen printing club for designers this year. 
To enquire about screen prints or Dave Brett's upcoming print club, please contact  dave@tshirtdave.com or via his website www.tshirtdave.com

Reuse content