The £50bn High Speed Two railway is being battered by an "emerging storm" of problems, damaging Chancellor George Osborne's plans to wean Britain's economy from its dependence on London. 
The Independent on Sunday can reveal that HS2, which will take commuters from London to Birmingham in 49 minutes when the first phase opens in 2026, before heading north to Leeds and Manchester, is suffering because: 
• HS2 executives have been "spooked" by an unexpectedly early National Audit Office (NAO) probe.
• There are fears the 1,300-person project team, HS2 Ltd, isn't ready to oversee such a massive project, as a long delayed Cabinet Office review begins.
• Many senior staff have refused to relocate from London as the project shifts headquarters to Birmingham – and many staying put will commute on the very line HS2 is supposed to relieve of congestion.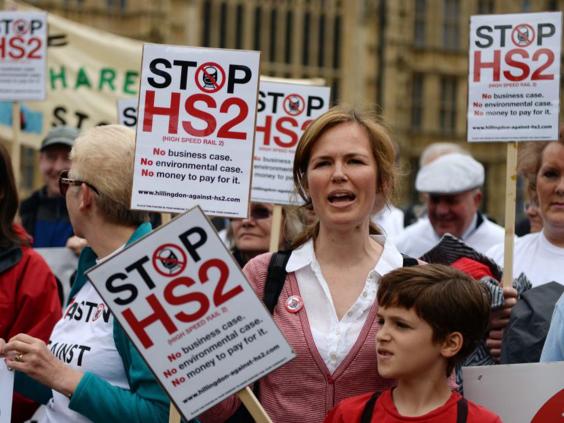 • Ministers believe the project will become bogged down in the House of Lords when the HS2 bill reaches the upper house.
• The appointment of the private sector partner to run the project has been delayed twice in the past few weeks.
The NAO is looking at the "latest position on costs, schedule and programme scope", but HS2 executives had not expected this scrutiny until later this year. 
The project's business case was already criticised by the NAO in 2013, and a year later the public spending watchdog questioned HS2's economic rationale. Mr Osborne believes HS2 will help northern and Midlands' businesses grow to compete with those in the affluent south-east. 
The latest NAO probe comes after tens of millions was added to the price, because of changes such as a longer tunnel in the Chilterns agreed by a committee of MPs last month. An industry source said executives were "spooked" by the NAO inquiry coming "so soon". 
"It's an emerging storm," said the source. "They're concerned the NAO report is coming at the same time as the Cabinet Office review."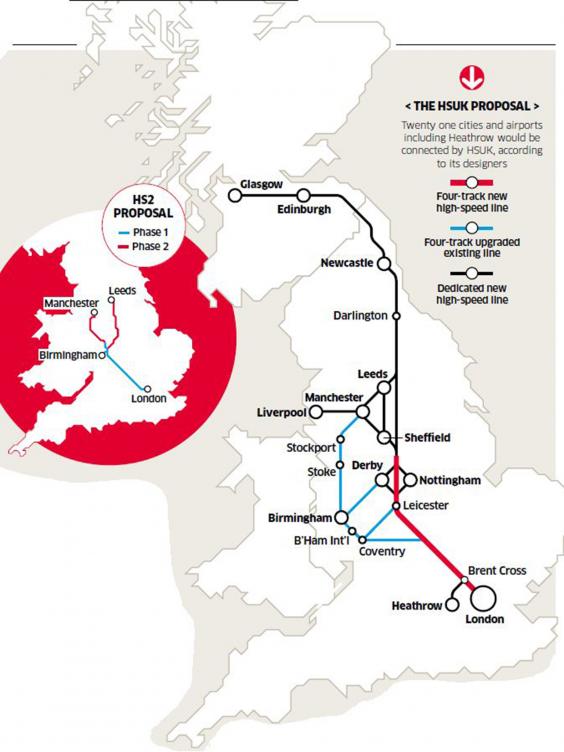 The Cabinet Office's Review Point One should have started last autumn, but was delayed because of fears HS2 Ltd could fail crucial tests. The four-person review will begin later this month. A source close to HS2 said the organisation, led by chairman Sir David Higgins and chief executive Simon Kirby, might not be "fully mature" enough to pass. "Every day of delay adds to the risk of the project," said another source. There are concerns HS2 Ltd has grown too big. A source said  its size is "out of control" at 1,300 staff; officials are worried it is "far bigger in terms of numbers than the team that built the London 2012 Olympics". 
The HS2 Bill is undergoing line-by-line scrutiny in the House of Commons and will move to the Lords later this year. A Government source said getting royal assent by the end of 2016, as planned, was unlikely because it was "up in the air" how long rebellious Conservative peers will try to bog down the Bill. 
HS2 Ltd was due to select its engineering delivery partner, the private sector consortium that will help manage the project, last month. Three consortiums led by US firms (Bechtel, CH2M Hill, and Parsons Brinckerhoff) are shortlisted for the £350m job. This had been delayed until tomorrow; now it is understood to have been moved to later this week, following an intervention from No 10 for media management reasons. 
UK news in pictures
UK news in pictures
1/18 23 June 2017

British Prime Minister Theresa May addresses a news conference at the EU summit in Brussels, Belgium, June 23, 2017

Reuters

2/18 22 June 2017

Cosplay fans (L-R) George Massingham, Abbey Forbes and Karolina Goralik travel by tube dressed in Harry Potter themed costumes, after a visit to one the literary franchise's movie filming locations at Leadenhall Market in London, Britain

Reuters

3/18 22 June 2017

Racegoers cheer on their horse on Ladies Day at the Royal Ascot horse racing meet, in Ascot, west of London

Getty

4/18 21 June 2017

A reveller walks among the tipi tents at the Glastonbury Festival of Music and Performing Arts on Worthy Farm near the village of Pilton in Somerset, South West England

Getty

5/18 20 June 2017

A police officer lays some flowers passed over by a member of the public, close to Finsbury Park Mosque in north London, after one man died and eight people were taken to hospital and a person arrested after a rental van struck pedestrian

PA

6/18

The Borough Market bell is seen in Borough Market in central London following its re-opening after the June 3 terror attack

Getty Images

7/18

Two women embrace in Borough Market, which officially re-opens today following the recent attack, in central London

REUTERS/Hannah McKay

8/18

Mayor of London Sadiq Khan attends the re-opening of Borough market in central London following the June 3 terror attack

Getty Images

9/18

People walk through Borough Market in central London following its re-opening after the June 3 terror attack

Getty Images

10/18

News Corp CEO Rupert Murdoch, with one of his daughters, visit Borough Market, which officially re-opened today following the recent attack

REUTERS

11/18

A woman reacts in front of a wall of messages in Borough Market, which officially re-opened today following the recent attack, in central London

REUTERS/Hannah Mckay

12/18

Vivenne Westwood walks the runway at the Vivenne Westwood show during the London Fashion Week Men's June 2017 collections

Getty Images

13/18

Millwall fan and London Bridge hero Roy Larner on 'Good Morning Britain'

Rex

14/18

Richard Arnold, Roy Larner, Piers Morgan and Susanna Reid on 'Good Morning Britain'

Rex

15/18 11 June 2017

England players celebrate after defeating Venezuela 1-0 to win the final of the FIFA U-20 World Cup Korea 2017 at Suwon World Cup Stadium in Suwon, South Korea

AP

16/18 11 June 2017

England players celebrate with the trophy after the final match of the FIFA U-20 World Cup 2017 between Venezuela and England at Suwon World Cup Stadium in Suwon, South Korea

EPA

17/18 11 June 2017

Great Britain's Alistair Brownlee celebrates winning the Elite Men Columbia Threadneedle World Triathlon Leeds

Danny Lawson/PA Wire

18/18 11 June 2017

Two men drink beer outside the Southwark Tavern which reopened for business today next to an entrance to Borough Market which remains closed in London

Getty Images
HS2's HQ is moving from London to Birmingham, which has upset staff who don't want to live in the West Midlands. Some will commute by rail, an irony given HS2 is to supposed to ease train congestion between London and Birmingham. 
Joe Rukin, campaign manager at Stop HS2, said: "It is completely unprecedented for the NAO to be working on a third report on a project at such an early stage. Previously the NAO said there was a 'lack of clarity' regarding HS2 and the Government has been unrealistic about the project, but these serious concerns were brushed aside, so it is no real surprise that the NAO is investigating again. All the independent reports about HS2 have shown it is a disaster waiting to happen. 
"The fact HS2 Ltd staff refuse to relocate to Birmingham is the ultimate hypocrisy from overpaid bureaucrats who are only interested in running their own gravy train." 
An HS2 spokesman said: "We welcome the NAO scrutiny as part of a process to ensure we deliver this vital project in the most effective way. We have been pleased to co-operate and work with Government as we approach our first Review Point … 
"HS2 Ltd and Government committed to moving our HQ… two years ago. This is not only practical (as Birmingham lies at the heart of HS2) it is also cost efficient in terms of, for example, office rent. Inevitably, there will be a mix of new recruitment, relocation and redundancy."
Reuse content