A city council has taken down posters which read "Beggars can be choosers" after a storm of complaints.
The Labour-controlled Hull council had the posters put up in areas of the city that had large numbers of homeless people.
Matt Downie, director of policy at charity Crisis, told Buzzfeed News that the posters would not help the homeless situation in Hull.
"Whether or not people give money to beggars is a personal decision, but people in desperate circumstances deserve better than to be treated as a nuisance," he said.
"Instead of posters like this, we need politicians to review the help that single homeless people get under the law."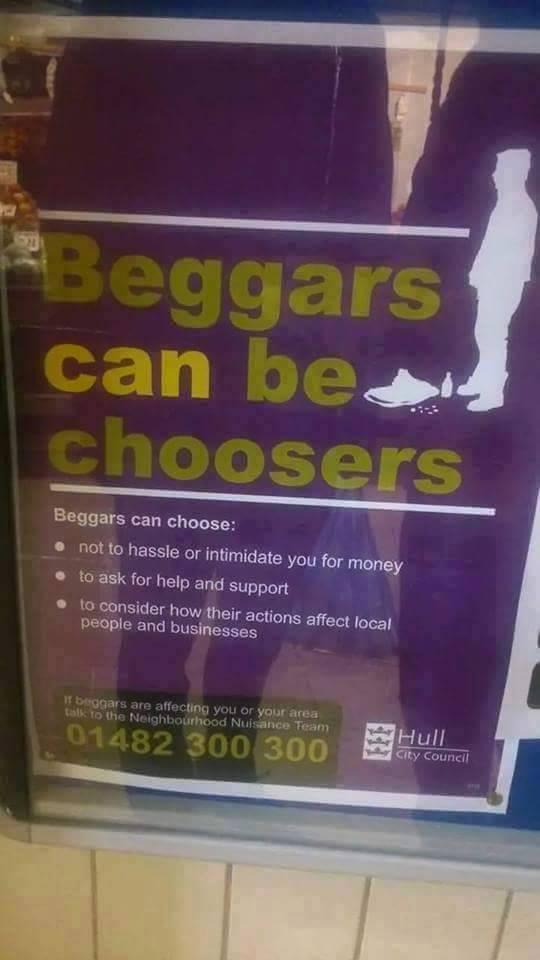 A spokesperson for the council said a decision had been taken to remove the posters following a number of complaints, and that they were "not intended to cause offence or harm".
"Having listened to the feedback we've received from some members of the public, we have taken the decision to remove them," said the spokesperson. "The posters were developed three years ago as a response to a specific issue that had been raised by communities themselves."
He added: "During the past three years no issues or comments have been raised by any members of the public."
Norway's government recently provoked controversy after it proposed a law that would make it illegal to help beggars on the streets.
Those offering money, food or shelter to beggars could face between six months to a year in prison if the rules came into practise, and it would criminalise organised begging.
The government sent the bill out for consultation with a deadline of 15 February.
Reuse content