The remains of ex-hurricane Bertha now have a 40 per cent chance of hitting the southeast of England after barrelling through the Caribbean, the Met Office has warned.
The remains of Bertha, which has now weakened in to an Atlantic storm, will travel steadily towards the UK during the coming few days, bringing with it downpours of rain and wind.
Forecasters now predict it is expected to pass over, or close to, the UK from early on Sunday despite initially believing Britain was "likely" to stay out of its path as it headed towards Northern France.
While the south of England is most at risk, there is now a 30 per cent chance the storm could pass across the north of France and just miss the UK or an even lower probability it could hit Wales and northern UK.
Last weekend, Bertha left thousands of homes without power as it swirled over Puerto Rico and into the eastern region of the Dominican Republic with gusts of more than 90mph.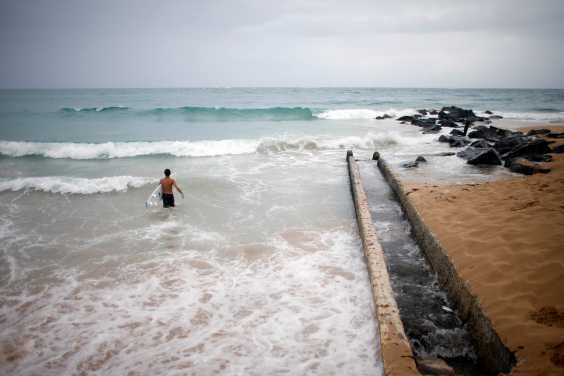 The Met Office's chief forecaster, Eddy Carroll warned there is still "considerable uncertainty" surrounding the weather this weekend, with Bertha's presence meaning outdoor plans could be blighted by rainy spells and strong winds.
"However, there is a chance that the system may pass to the south of the country, or spread heavy rain even further north," he added. "Rain and strong winds may well bring disruption, especially in the south, and people should stay up to date with the latest Met Office warnings."
On Thursday, the Met Office predicted a 60 per cent chance Bertha could hit the UK, with a ten per cent chance of heading towards the North.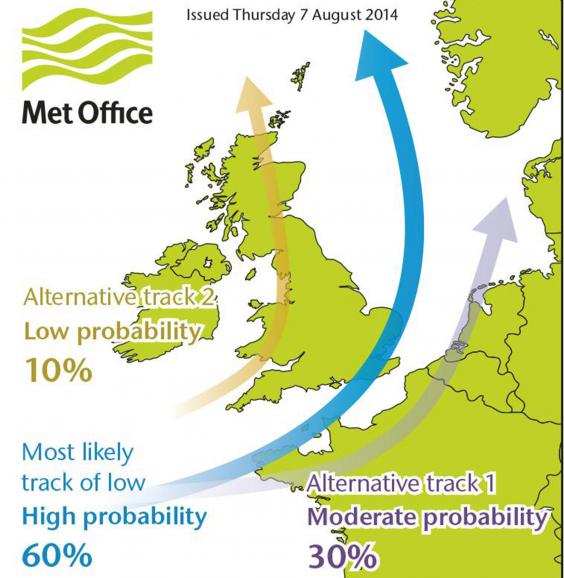 Craig Woolhouse, Environment Agency Flood Risk Manager, said the potential heavy downpours bring with them the risk of localised surface water flooding to parts of the Midlands, the north-west and eastern areas of England on Friday.
"On Sunday and Monday a combination of high spring tides and strong westerly winds brings a possible risk of flooding to the south-west coast of England and along the Severn Estuary while heavy rain may also lead to localised surface water flooding in parts of southern and central parts of England," he said.
"However, the forecast remains uncertain so we advise people to regularly check the flood risk situation over the next 48 hours."
Reuse content