The First Minister of Northern Ireland, Peter Robinson, has threatened to quit over being "kept in the dark" about secret letters given to more than 180 IRA suspects.
Mr Robinson said he was not prepared to lead the power-sharing administration unless he received answers, and demanded a judicial review into the collapse of the case against Hyde Park bombing suspect John Downey.
The 62-year-old was among 187 IRA suspects who were sent letters granting them immunity from prosecution in what the chairman of the Northern Ireland Police Federation earlier called a "grubby secret deal".
The letter sent by the Northern Ireland Office to Mr Downey was described in the High Court yesterday as a "catastrophic failure" on the part of police and officials, who had missed the fact that a 30-year-old arrest warrant was still outstanding for the 1982 IRA attack.
Mr Downey was arrested at Gatwick Airport in May last year despite receiving a written assurance from the Government in 2007 that he was not wanted for prosecution under a deal, struck as part of the Northern Ireland peace process, which gave protection to 187 "On The Run" wanted IRA suspects.
Mr Robinson said: Mr Robinson said: "I am not prepared to be the First Minister of a government that has found itself having salient facts relevant to matters that are devolved hidden from them. That is not acceptable to me.
"I want to have a full judicial inquiry into who knew what, when they knew it and exactly what they did know at the time. I also want to ensure that the letters that have been sent out are rescinded."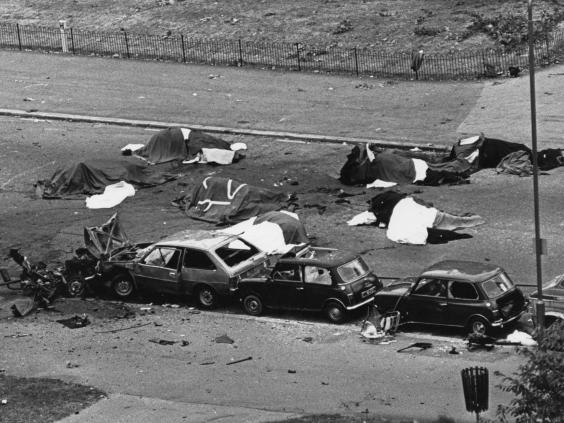 Speaking to the Commons today, David Cameron called the actions that led to the collapse of the case against Mr Downey a "dreadful mistake".
He said: "We should be absolutely clear - the man should never have received the letter that he received, Downey.
"It was a dreadful mistake and a mistake that we now need to have a rapid factual review to make sure that this cannot happen again.
"But, whatever happens, we have to stick to the principle that we are a country and a government under the rule of law."
NI Police Federation chair Terry Spence today blamed the Government for what he called a "grubby, secret deal" that was offered despite the fact officers in Northern Ireland were aware of the Old Bailey arrest warrant.
He told the BBC: "None of us knew of the existence of this administrative scheme or what it entailed or the number of on-the-runs involved. There is a crying need for clarity as well as some honesty and decency.
"The government owes it to Police families to tell them, without any double-speak, that there is now no chance of them ever seeing justice being done in cases involving their relatives.
"There were 211 unsolved murders of RUC officers prior to the Good Friday Agreement and it looks from this grubby, secret deal that they are to remain unsolved."
The four victims of the Hyde Park bombing - Lieutenant Anthony Daly, Corporal Roy Bright, Lance Corporal Jeffrey Young and Trooper Simon Tipper - were killed when a car bomb exploded as 16 members of the Household Cavalry Blues and Royals were passing for a Changing of the Guard ceremony. The blast also killed seven horses and injured 31 people. Mr Downey has always denied involvement in the Hyde Park Bombing.
---
Attorney General on Downey charge

Reuse content