A youth homelessness charity has ingeniously pitched up outside an Apple store in London so that it can sell the prime location to an iPhone fanatic.
Depaul UK, headquartered in London Bridge, is auctioning its spot "near the front of the queue" at the shop on Regent Street as fever builds for the impending release of the iPhone 6.
"All proceeds will help young people forced to sleep on the streets," a cardboard box has scrawled on it, while the person tasked with keeping the space can be seen in the advert holding a sign saying "Bid for this spot on eBay".
The iPhone 6 goes on general sale in retail stores tomorrow at 8am. Depaul's spot is about fifth in the queue.
As usual in these circumstances, lines begin to form come rain or shine outside popular Apple stores, with one technophile last year claiming to have been offered £200 for his first-place spot.
In Pictures: Apple's iPhone 6 and iPhone 6 Plus
In Pictures: Apple's iPhone 6 and iPhone 6 Plus
1/17 iPhone 6

Apple CEO Tim Cook announces the iPhone 6 during an Apple special event at the Flint Center for the Performing Arts on September 9, 2014 in Cupertino, California.

Justin Sullivan/Getty Images

2/17 iPhone 6

Apple Senior Vice President of Worldwide Marketing Phil Schiller talks about the new iPhone 6

3/17 iPhone 6

iPhone 6

4/17 iPhone 6

iPhone 6 and iPhone 6 plus

5/17 iPhone 6

iPhone 6

Apple

6/17 iPhone 6

iPhone 6 and iPhone 6 plus

7/17 iPhone 6

iPhone 6 and iPhone 6 plus

8/17 iPhone 6

iPhone 6

9/17 iPhone 6

The back of the iPhone 6

10/17 iPhone 6

The internal layers of Apple's newest device

11/17 iPhone 6

iPhone 6 and iPhone 6 plus

12/17 iPhone 6

iPhone 6

13/17 iPhone 6

The new iPhone's layout

14/17 iPhone 6

The thickness of the iPhone 6 and Phone 6 Plus compared to the iPhone 5S

15/17 iPhone 6

What the new messaging app looks like

16/17 iPhone 6

The new fitness app

17/17 iPhone 6

Mint: A money managing app
So far the Depaul auction has generated bids up to £105, with the winner also receiving a Depaul t-shirt but "not the iPhone 6" itself, the charity clarified.
Joe Howes, Director of Fundraising and Development at Depaul told The Independent that they were spurred on by last year's mammoth queues, in which die-hard Apple fans slept rough for an iPhone yet "there are hundreds of young people that sleep out every single night".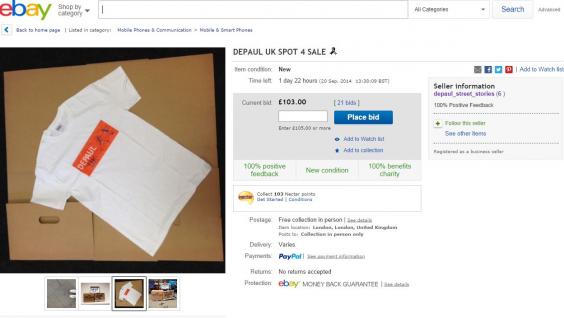 He added that he would be heading down there to do his bit and is looking forward to speaking with people.
"There's a bit of camaraderie," he said about the queuers.
The Depaul team joined the queue yesterday afternoon and will be there until the auction closes at 6am tomorrow morning, where the winning bidder will have to make their own way there armed with proof of ID and eBay username before the shop opens.
"Don't miss your chance to be one of the first in the UK to get your hands on the latest Apple iPhone 6 without having to queue yourself," the advert states.
Mr Howes also said that the charity likes to come up with interesting fundraising ideas, which includes its box company.
Video: First person to get their hands on new iPhone 6...drops it 
Moving house? Order a bunch of boxes with packing tape and a marker pen from Depaul – the profits from which go directly to helping "a young person move off the street".