The wife of a war veteran who slipped out of his care home to attend D-Day Remembrance events in northern France had died days after her partner.
Irene Joran, 88, died on Tuesday evening, only seven days after her husband Bernard Jordan.
Mr Jordan was nicknamed "the Great Escaper" by the press after he left his carers and took a ferry to Normandy. He smuggled his war medals inside his grey raincoat.
The veteran had hoped to return once again to France in June 2015. Brittany Ferries, the ferry line he took last summer, had offered him free crossings to D-Day events for the rest of his life.
He ultimately passed away age 90.
A statement from Gracewell Healthcare, which runs The Pines care home in Hove, where the couple lived, confirmed Ms Jordan's death.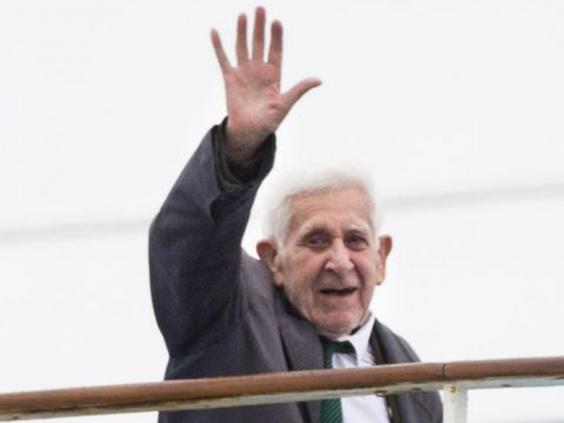 "Irene and Bernie will both be much missed by everyone at the home and our thoughts and prayers go out to their friends and family at this sad time," the company's managing director Amanda Scott said.
Brighton and Hove mayor Brian Fitch paid tribute to the couple and said he believed Ms Jordan had given up the will.
"They were a very close couple who will both be sadly missed," he said. "Irene went into the care home first after Bernie had looked after her at home, so it came as a bit of a shock that he died first.
"They had been married for more than 50 years and were a devoted couple. After he had gone, she probably gave up the will. They were religious people who are now reunited together."
D-Day veterans
D-Day veterans
1/7 The Landing Craft Commander

Chief Coxswain Douglas Turtle DSM, 90, was a Royal Navy petty officer who commanded eight landing craft full of US Rangers. They were among the first troops to land on Omaha, the bloodiest of the five D-Day beaches

2/7 The Officer

Roy Dixon MC, 89, was a lieutenant and troop leader in the 5th Royal Tank regiment

3/7 The Gunner

Ernie Brewer, Driver/Operator G Battery 5th Regiment Royal Horse Artillery, landed on Gold Beach. He fought all the way to Germany and was one of the first British soldiers to enter the Belsen concentration camp in 1945. Mr Brewer, from Radlett in Hertfordshire, died last week, aged 89. His funeral will be held on Monday

4/7 The Infantryman

Jack Webb, 90, was a private in D Company of the 5th Battalion of the Royal Berkshire Regiment. He was one of the first British soldiers to step ashore on Juno, the Canadian-British beach

5/7 The Airman

Michael Gibbons DFM, 89, was Flight Engineer on a Halifax bomber with 138 (Special Duties) Squadron which dropped agents near Bayeux in the early hours of D-Day

6/7 The Tank Crewman

Eric Gower, 90, a trooper in the East Riding Yeomanry, landed in a Sherman tank on 6 June 1944 on Sword, one of the two beaches where British forces landed

7/7 The Seaman

Peter Thompson, 88, was born on 6 June. He spent his 19th birthday as a Leading Seaman on a landing craft which brought British troops to Sword beach
Brighton and Hove city council will hold a minutes silence to remember the couple, and a remembrance service to celebrate the couple's lives will be held at All Saints Church in Hove on 30 January.
Mr Jordan was made an honourary alderman of Brighton after his story came to light.