A decade ago, the world's first private manned space launch took place deep in New Mexico's Mojave desert, just outside the well-named town of Truth or Consequences. Sir Richard Branson founded Virgin Galactic the same year, and he quickly signed a contract to send passengers into space from the same site. Sir Richard was so excited that he declared he would be launching his first commercial spaceplanes there within two or three years.
Spaceport America – to use its full, gung-ho title – cost $200m to build. Boasting a sinuous 4,300-square metre hangar designed by Norman Foster, a 12,000-foot runway, and the infrastructure to play host to another 59 space-age companies alongside Branson's, it was a confident bet on a dream that had seemed tangible at least since 1968, when Pan Am first opened a waiting list for trips to the moon: space travel you could buy a ticket for. But 10 years later, the world is still waiting for that first commercial flight beyond the Earth's atmosphere. Sir Richard and his colleagues have declared the spaceport open for business at least three times. "We should be up, up and away by the end of the year," he said back in August. "The spaceport's ready."
Even the stutters seemed a part of the romance, and falling short, just the corollary of the ludicrous scale of the ambition. And then, last week – just as this magazine went to press – SpaceShipTwo, the vessel that it was hoped would one day take excited passengers into orbit, exploded over California on a test flight, killing at least one of the pilots. As the debris rained down on the desert, a great dream seemed to die with it.
They know about disaster in Stornoway, on the Isle of Lewis. They know how it punishes the brave. In 1919, the Iolaire, a ship carrying sailors back home to the Hebridean island after the first world war, went down with 280 sailors aboard, 205 of whom died. When I visited a few weeks ago, Bert Thomson, a retired fireman, told me how resonant an event it still was. "Everyone knows about it here," he said. "Things like that stay with a community."
But it's hard to associate Stornoway with the space age. When my flight touches down at the local airport, I'm reading an article about Sir Richard's plans. It refers to the 340 sunny days a year that make the Mojave such an ideal site for space travel. I peer through the rain-streaked cabin window at the flinty landscape and low grey sky beyond, and then underline '340 sunny days' twice. We disembark and shuffle into the squat, beige terminal, which Norman Foster did not design, but which does now open on Sundays.
In pictures: Virgin Galactic space rocket crash
In pictures: Virgin Galactic space rocket crash
1/8 Virgin Galactic space rocket

A three-image combination shows the Virgin Galactic SpaceShipTwo rocket separating from the carrier aircraft, left, before it exploded, right, during a test flight on 31 October 2014

AP Photo/Kenneth Brown

2/8 Virgin Galactic space rocket

Sir Richard Branson, founder of Virgin Galactic, with a scale model of the Spaceship Two attached to the White Knight carrier aircraft in this January 2008 photograph

STAN HONDA/AFP/Getty Images

3/8 Virgin Galactic space rocket

The Virgin Galactic SpaceShipTwo rocket explodes in the air during a test flight

AP

4/8 Virgin Galactic space rocket

Wreckage from Virgin Galactic's SpaceShipTwo

Reuters

5/8

A piece of debris after the crash of Virgin Galactic's SpaceShipTwo near Cantil, California

REUTERS/Lucy Nicholson

6/8 Virgin Galactic space rocket

The suborbital passenger spaceship being developed by Richard Branson's Virgin Galactic crashed during a test flight on Friday at the Mojave Air and Space Port in California

Reuters

7/8 Virgin Galactic space rocket

Police officers stand near wreckage from Virgin Galactic's SpaceShipTwo

Reuters

8/8 Virgin Galactic space rocket

The wreckage of what is believed to be SpaceShipTwo in Southern California's Mojave Desert

AP
When I've got my bag, I ask one of the airport staff what he thinks of the proposal that has prompted my visit: that Stornoway, population 6,000, become Britain's answer to Truth or Consequences, by hosting what it is hoped will be the European centre for sub-orbital spaceflight. The Government has identified the space economy as one of eight key growth sectors, and it wants to establish its status as a front-runner in an industry that could be worth £40bn to the UK economy within 15 years. Stornoway, I tell the guard, could be sending billionaires to infinity, if not beyond, by 2018. Spaceport UK, you might call it. "Oh, aye, I heard something about that," he says vaguely, peering over my shoulder at a small boy who is shouting something in Gaelic as he pilots his mother's suitcase around the baggage carousel. "That'd be fun. Maybe they'll send Neil Armstrong."
Maybe they will, maybe they won't; the consequences of the Virgin > disaster for the wider ambition of space tourism aren't clear yet, but 2018 looks more optimistic a deadline than ever. Even without that appalling setback, it was clear that Stornoway had some way to go. Eight candidate airports around the UK (six in Scotland) have been identified by a Government consultation, which closed last month. No clues have been given to the timing of a final announcement, but a response to the consultation is expected this year. Whichever site gets the nod, the contest won't end there: internationally, the competition is ferocious, with at least 20 countries (and several more US states) making a play for the same business, from the UAE to Sweden. Many of them have plans that are significantly further advanced than the UK's, and so – even if the SpaceShipTwo calamity slows things down – time is of the essence.
Even a cursory read of the consultation document shows that Stornoway is facing some big challenges. It's difficult to get to, for example – arguably the most remote place on the shortlist – and it rains a lot. You can't take off when it's cloudy, and anyway no gazillionaire worth his salt wants to go to space without a crystal-clear view of the ground below. On the other hand, Stornoway is in good stead on several more fundamental criteria: runway capacity, available airspace, and – a point more resonant than ever – low population density, lest the worst should happen.
Even before Virgin's crisis, the import of that final point was emphasised last week by the explosion upon launch of the unmanned Antares rocket in Virginia. It's striking that all of these advantages are the by-product of the Outer Hebrides' remoteness, a characteristic that runs through this land and these independently-minded people like a stick of rock, and one which you might imagine a spaceport would put at risk. "We do not live in the back of beyond," Kevin MacNeil wrote in his acclaimed novel The Stornoway Way. "We live in the very heart of beyond... the kind of place where the birds wake up to the sound of drunks singing."
And so, as well as competition from around the country, the dream of Spaceport UK faces some doughty local opposition, too, some of it motivated by the fact that, while the Government has consulted the airport's Inverness-based operator Highlands and Islands Airports Limited, it has not yet seen fit to put the prospect to anyone who actually lives locally. "I'm not interested in it happening in Stornoway," says council audit and scrutiny committee chair Angus McCormack. "I'm all in favour of bringing more business here, but this is quite alien to the kind of development we require. We want to embrace change, but we want to retain the character of the island."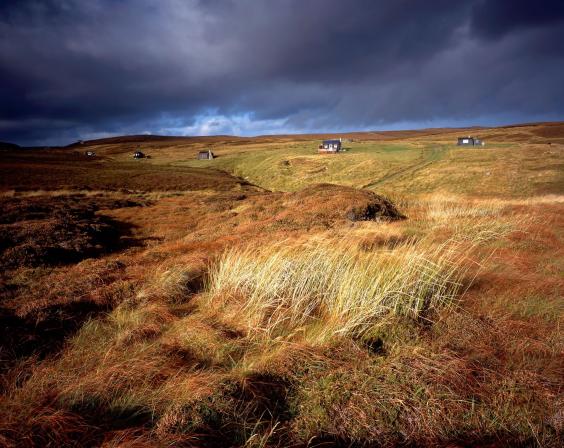 To others, though, the excitement that the arrival of a spaceport would bring with it is entirely in keeping with the spirit of the place. The capital is all souvenirs and tweed and fish, and lovely for it, but somewhere in its granite streets there's a self-possession that feels in keeping with the wilderness, the cliffs and eagles and standing stones. Why should that be earthbound? At the Stornoway Port Authority's quayside offices, chief executive Jane Maciver says that the Hebridean identity is stronger round here than the Scottish one. "And we have always felt very European. Nordic, too – the island owed fealty to Norway once."
That makes sense: psychologically at least, it feels much closer to Iceland, another former Norwegian territory, than it does to the British mainland. Essential to what it is to be Hebridean, Maciver says, is "throndness" – a stubborn streak that comes with the territory when you live on islands where sheep outnumber humans by 10 to one. "But that's why we've been pioneers for generations," she adds. "We're not given the credit for it, but we're outward-looking. We're adventurous. And space is the next frontier."
But Angus McCormack isn't buying it, understandably finding his pioneering mood dampened by the Civil Aviation Authority's technical report on the subject. In words which now read like an eerie premonition, it warns that "sub-orbital spaceplanes cannot be expected to operate to the levels of safety required by commercial aviation" and speaks darkly of the consequences of "catastrophic failure". "I'm very concerned about safety," McCormack says, expressing a view that can only now have hardened. "There are villages very near to the airport, and there are quite serious dangers associated with these craft. No one is giving us any information." Happily, he has a plan to fill the information gap. "I'll be asking some questions of my own," he says. "I have an indirect contact with an American astronaut."
If there are still questions that need to be answered, though, McCormack's objections are outweighed for others by the scale of the economic opportunity that a spaceport would present for an area that could do with a boost. "I can only see it as a good thing," says Donald Macarthur, a businessman and local representative of the Outer Hebrides Trade Association. "It'd mean massive investment in the local area. We'd become a luxury destination, a five-star experience." Macarthur, whose gentle, unassuming manner makes you want to move to the middle of nowhere immediately, runs a guesthouse and two luxury self-catering lodges. He hopes the spaceport would be exciting enough to keep the young people who leave in such droves in search of careers that are hard to find on the island. "The profile would be the most important part," he says. "It'd be a huge story. You'd have big names. Who's coming, who's going, the preparations, pictures of them in a space suit..." He trails off, a faraway look in his eyes, and then smiles. "We'd be on Sky News."
In one important aspect, of course – the one that involves the successful carriage of tourists into space – the British space industry is nascent at best. But in other ways, it's been around for ages. "We do very well, I think," says Professor Richard Brook, former chairman of UK Space. "OK, we've stayed mostly out of launch vehicles for the past couple of decades, but the innovation is very high, and the goal of increasing our share of the market is a very good one."
Ultimately, that means that satellite launches will be a far more significant part of the mix than space tourism. But even if tourism is a slightly eccentric sideline, Sir Richard Branson is not Britain's only adventurer with his eye on the infinite. There's Reaction Engines, for instance, which aims to be taking cargo to space by 2022, and which eventually wants to carry passengers as well. Reaction was founded by Alan Bond, a mechanical engineer also notable for a self-published book that claimed to have made sense of an ancient Assyrian clay tablet describing the destruction of Sodom and Gomorrah by an asteroid.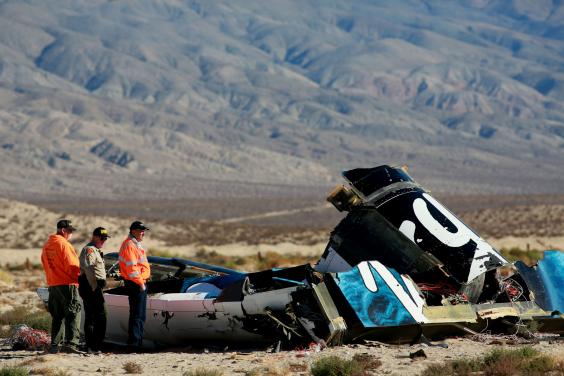 Then there's Bristol Spaceplanes, founded in 1991 by aviation industry veteran David Ashford, who had just written an optimistic book entitled Your Spaceflight Manual: How You Could Be a Tourist in Space Within Twenty Years. Ashford has run some successful tests at Spaceport America, but for a sense of the nature of the operation, imagine cold calling the number on the Virgin Galactic website and hearing a voice on the other end of the line saying: "Hello, Richard here".
Despite the wide differences in scale, all of these companies are pursuing the same mad idea: journeys to space available, if not quite to the general public, then to people slightly below the category of plutocrat currently able to pay their way on to Government trips. Ashford's ambition is for tickets for under £20,000 within 15 years. Key to that aim is the idea of flights that can land on Earth again – one of SpaceShipTwo's key strengths, before everything went wrong. "If you can only travel one way, you can only use each craft once," he points out. "Obviously that gets very expensive."
That's why a proper airport is so important: you need to think horizontally, not vertically. And that's where one of Stornoway's key problems lies. To get up to speed for a launch that escapes the atmosphere, you have to have a runway of 3,000 metres. At the moment, Stornoway's is just 2,315, and while that could be extended, even some supporters of the spaceport fear that might be tricky. "You're hemmed in by the main road at one end and the sea at the other," says Macarthur. "That's a problem. When you read the report, your pessimistic side thinks there's no chance."
On the plus side, the other sites in contention also have problems, and at least some of the other communities in question seem to be divided. Wherever you go, local representatives are piqued that they haven't yet been consulted. In Newquay, councillors have sparred over whether the long-term economic benefit would outweigh the noise pollution and costs of a bid; in Snowdonia, environmentalists worry that spaceplanes might rather undermine the present bucolic idyll. The stars might be within reach, but not everyone is ready to grasp them just yet.
If spaceports do remain a fashionable idea despite this tragedy, and if Stornoway does emerge triumphant, probably nobody will feel the impact more than the 527 residents of Tong, a small village just out of town. At the moment, its chief claim to fame is as the birthplace of Donald Trump's mum; if the spaceport is built here, though, it will be the first settlement in the flight path of departing spaceplanes. The Civil Aviation Authority's reminder that "to protect the uninvolved general public, spaceports should be located away from densely populated areas" is a sensible precaution, but may be of fairly limited comfort to those members of the uninvolved general public who happen to live right in the sparsely populated areas where the spaceplanes might be taking off.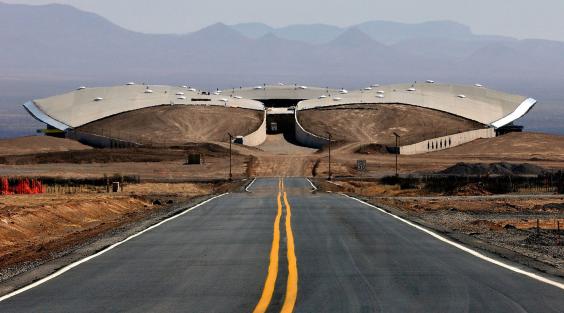 Since spaceplanes are so far from being able to comply with the CAA's normal standards, the body came up with a handy workaround: label them as "experimental", instead. Couple that with the news about SpaceShipTwo and you have a veryhard sell. But Professor Brooks – who, it should be pointed out, was speaking before the Virgin crash – is quick to soothe such concerns, pointing out that PR may do what regulation can't: "The operators are desperate for them to be as safe as can be so people buy tickets," he says. "So I think they will be extremely safe." Those words feel savagely ironic now. But did the Tongians take the same view? I hired a car and set off for the village to ask.
Lewis is so crime-free that when I arrive at the car hire depot, the door is open with half a dozen keys on the counter, number plates clearly marked, while the assistant pops out for a cup of tea. I'm in Tong within 20 minutes, and wind my way down to the beach nearest the runway just across the bay. The few small flights that go in and out at the moment roar disconcertingly low overhead.
Melissa Scott lives in the house farthest out along the point towards the runway. Is she worried? Actually, she's with Brooks: the danger hasn't crossed her mind. (That may have changed now.) What she is worried about is the sound. "It can be really noisy as it is," she says. "When we had military training back in March, I remember her [Scott's daughter] running in screaming because they had gone over so fast. I think it'd be better if they built it in the middle of nowhere, to be honest. When it's touristy we deal with it, but this would make it touristy more often."
Just up the road, Bert Thomson, the aforementioned former fireman and local historical expert, who moved over with his wife from the mainland to enjoy his retirement, has heard about the whole idea. He is steadfastly unimpressed, a position he maintains over a cup of tea. "It'll never bother us," he says derisively. "I'll be long gone by the time they get here. When it comes it'll just be accepted, it's the future. You just get used to things, y'know?"
With that, Bert finishes his tea and sees me out, and I head for the airport. It's raining heavily again as we take off. All the same, as I try to imagine what it would be like to be whooshing into space, instead of towards Glasgow, my stomach does a little flip. Lucky old Sir Richard, I think, heading off any day now.
It's hard to feel the same way today. A few days after I returned, he admitted that he wouldn't be going to space until New Year at the earliest. Now, who knows? Perhaps the whole adventure is over. Perhaps no-one will want to buy a ticket after seeing how terribly dangerous it can be to fulfil your wildest dreams.
The strange thing is, though, I don't think so. I think, after a suitable period of mourning, it will live again. For if going to space now comes with a more visible edge of danger, didn't that danger always live alongside the joys of life on the edge of human experience? Did anyone ever take off without wondering if they would land?
Reuse content