The driver who was caught on camera threatening to kill a cyclist during an aggressive and foul-mouthed tirade in the middle of a road in London has issued an apology after the video went viral.
Jason Wells, a local business owner in south west London, was filmed as he stopped his car in the centre of a road, blocking traffic, and stormed up and down the tarmac, shouting and screaming, while threatening and swearing at the cyclist who he had accused of "thumbing" his car. He is heard saying to the cyclist that if a witness were not present, he would "break your f*cking neck".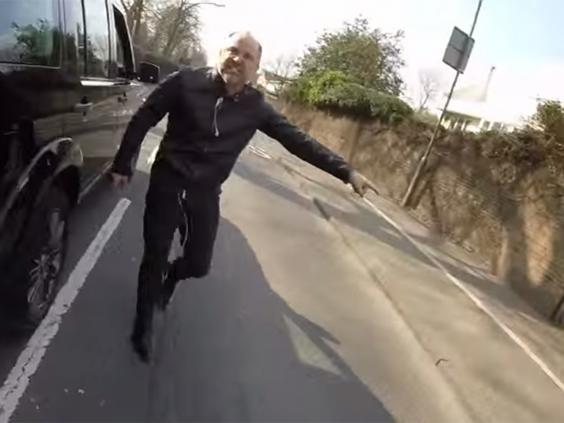 The cyclist who filmed the attack is heard shouting back at Wells, and uploaded the video onto YouTube where it has been watched more than 135,000 times.
Wells, 50, a master butcher, owns the Brew café chain, which has restaurants dotted across south west London in Clapham, Wimbledon, Wandsworth and Putney, with a new location soon to be opened in Kew.
The cafés host a number of events, including a "Bike workshop and coffee pitstop," which is advertised on the Brew site with the message: "We'll fix up your bike while you enjoy a coffee".
The incident happened in March and Wells has reportedly been fined under a public order offence.
Today Wells issued a statement in which he apologised for his behaviour, which he called unacceptable, and for any offence that may have been caused, adding that he fully appreciates that cyclists have as much right to the road as any other users, the Richmond and Twickenham Guardian reports.
Wells did not respond to a request from The Independent for comment.
Reuse content