The WikiLeaks founder Julian Assange has claimed he will leave the Ecuadorean embassy "soon" after spending more than two years inside the building to avoid being arrested.
The Australian-born technology expert, who claimed political asylum inside the London embassy to avoid prosecution for sex crimes, addressed speculation he was about to hand himself in to police.
Questioned by reporters at a press conference yesterday, Mr Assange said: "I am leaving the embassy soon, but perhaps not for the reasons the Murdoch press and Sky News are saying at the moment".
He was referring to reports that he has suffered from problems with his heart and his lungs. However, although he did not respond to specific questions about his health, Mr Assange admitted: "Being detained for four years in various ways, and in this embassy for two years, with no sunlight, it is reasonable for any healthy person to find themselves with certain difficulties."
His spokesman Kristinn Hrafnsson later confirmed: "He is ready to leave at any moment as soon as the ridiculous siege outside will stop and he is offered safe passage."
Mr Assange claimed political asylum to avoid extradition to Sweden to face allegations of sexual offences made by two women. More than £7m of public money has been spent guarding the embassy since he fled there in 2012. The anti-privacy campaigner, who denies the accusations, fears if he travelled to Sweden he will eventually be extradited to the United States to face charges over WikiLeaks' mass disclosure of US government secrets.
Ecuador granted Mr Assange political asylum but the WikiLeaks founder has been unable to leave its London embassy and travel to the south American country for fear he would be intercepted by the Metropolitan Police, who are obliged to enforce a European arrest warrant obtained by Swedish police.
Appearing alongside Mr Assange at the press conference, Ecuador's Foreign Minister Ricardo Patino said: "We call on the international community to join a much-needed international campaign to guarantee freedom and human rights for Assange. We uphold Julian Assange's status as a political asylee.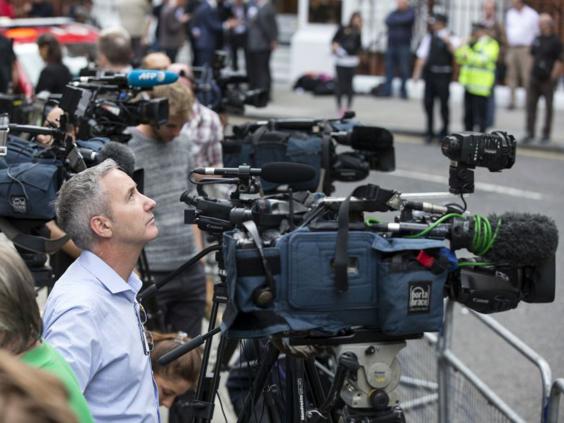 "We continue to offer him our protection and we continue to be ready to talk to the British and Swedish government to try to find a solution to this serious breach of Julian Assange's human rights."
Mr Patino said he was hoping to set up a meeting and discuss the case with the Foreign Secretary Philip Hammond "over the coming weeks".He also indicated that Britain rejected a request from Ecuador to allow Mr Assange to be taken to hospital in a diplomatic car without risk of arrest.
Reports over the weekend sourced to "WikiLeaks insiders" suggested Mr Assange is suffering from a potentially life-threatening heart condition, a chronic lung condition and dangerously high blood pressure. The anonymous comments appeared in a Mail on Sunday interview with Mr Assange in which he made no mention of his health.
In Sweden, lawyers for Mr Assange recently failed to overturn the arrest warrant on human rights grounds. Judge Lena Egelin said: "The court believes there is probable cause for the crimes of which he is accused. He has chosen himself to go into the embassy and … the court does not believe that the deprivation of his liberty is such as to be disproportionate" to the allegations that he faces.
Video: London Live discuss Assange's potential trial
Mr Assange argues that if he returns to Sweden to face the allegations of sexual offences involving two women in 2010, he will eventually be extradited to the US where he could face 35 years in prison for publishing classified documents related to the Pentagon's activities in Iraq and Afghanistan.
In an interview with The Mail on Sunday, Mr Assange, 43, said "the world is going crazy". "Maybe it's time to think that WikiLeaks is not the main problem for the West, maybe me and my publishing house are a lesser threat than say [Isis] in Iraq or, closer to home, paedophiles in Westminster," he said.
"Why are they burning £240,000 a month on me which could be better spent on hospital beds, meals for the needy or teachers' salaries?"