The actress Juliet Stevenson has joined calls for the UK to offer more resettlement places to Syrian refugees.
While a total of 3.9 million Syrians are now residing in refugee camps in countries neighbouring their homeland – with another 7.6million people internally displaced inside the wartorn nation - Britain has resettled fewer than 200 Syrians, a number deemed insignificant by activists.
"We seem to treat the news of dying migrants as just another statistic and this has derailed the real humanitarian need that lies in this crisis," said Ms Stevenson. "We can do more than just the few hundreds of the refugees that have been taken in from Syria."
The Olivier award-winning actress, whose films include Emma and Bend it Like Beckham, is a patron of Refugee Action. She argued that there has to be real alternatives and more safe and legal routes for people looking out for safe places.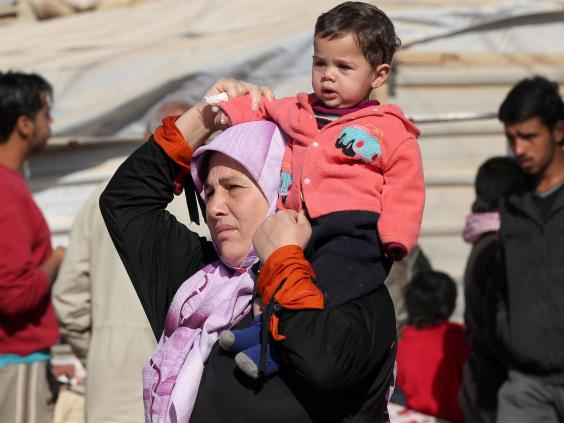 "I might be lucky to have been born in a stable country but many others have not been that lucky. Right now more men and women forced to flee due to crisis in their countries," she said.
Until recently, the UK government policy was to focus on humanitarian aid to Syria's neighbours rather than to accept large numbers of refugees for resettlement in the UK.
However, through the "vulnerable persons relocation scheme", the UK is meant to provide a route for up to 700 Syrian refugees with priority for victims of sexual violence and torture, the elderly and disabled.
Refugee agencies came together on Wednesday to celebrate the role the UK has long played in protecting those fleeing persecution, by holding a 'walk of witness' across London.
Muhammed, a 29-year-old originally from Eritrea, said that being resettled in the UK is a dream come true and that more Syrians should be allowed the same saviour.
"I am happy and free at last. I have never felt like this before all my life," he said.
"We do not take those risky boat journeys to make money in Europe but rather find a safe place to live in. To have the liberty to achieve our dreams which is not possible in Eritrea."
Muhammed said his only prayer was not to end up in a refugee camps in Eastern Sudan, which he termed as "torture chambers".
Sudanese traffickers have been documented by Human Rights Watch to be kidnapping Eritreans in eastern Sudan and selling them to Egyptian traffickers in Sinai, who have subjected hundreds to horrific violence in order to extort large sums of money from the victims' relatives.
Reuse content