Junior doctors have condemned Jeremy Hunt's "terrifying" offer of an 11-per-cent pay rise as a "cynical attempt" to "manipulate the figures" – and claimed the raise will be a pay cut in real terms of 26 per cent.
The Health Secretary announced junior doctors would see an 11-per-cent hike in their basic pay on Wednesday, in what is being seen as a last-ditch-effort to prevent further industrial action.  
Mr Hunt, who claims only one per cent of the NHS's junior 50,000 doctors would lose out, proposes new doctors will see a pay rise from £22,636 to £25,500.
The pay rise is no such thing
But junior doctors and the British Medical Association (BMA), who are preparing to ballot for industrial action tomorrow, have criticised the timing of the announcement.
Junior doctor Sarah Muldoon condemned the Health Secretary's latest remarks as "smoke and mirrors" and told The Independent: "The pay rise is no such thing."
While Mr Hunt's latest proposal will see some doctors' salaries increased, these junior doctors – often referred to as the backbone of the NHS – will be expected to work on average 30 per cent more hours for an 11 per cent increase in salary.
In some breakdowns, this means a doctor on a standard contract of (approximately) £20,000, supplemented to £30,000 by unsociable working hours pay, will be reduced to £22,000 gross pay - a 26-per-cent pay cut, according to a junior doctor who spoke to The Independent.
New contract will amount to 30% pay cut for most #juniordoctors + removal of safeguards to prevent overworking

— TAMAL RAY (@DrRayBakes) November 4, 2015
@rachyoungeritv As of August 2016 I will be an A&E registrar and facing a pay cut according to the DoH calculator #juniordoctors #yesyes

— Dr Sammy (@sbattrawden) November 4, 2015
"It is so terrifying that this man has swooped in with what he knows is a cynical attempt," Ms Muldoon, a 31-year-old anaesthetist, who works in a hospital in South London, continued.
"We know that this is just clever manipulation of figures and nothing more.
I think people have to not take anything the health secretary says at face value
"It is clearly an attempt to make junior doctors appear greedy and money-seeking while not addressing any of the patient safety concerns that we have raised."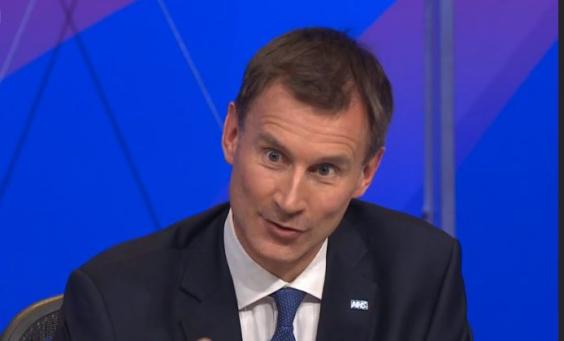 Her concerns were echoed by Dr Johann Malawana, the BMA's junior doctors' leader, who said his organisation – which represents roughly 156,000 doctors in the UK – had yet to see the new offer.
"I haven't actually seen the proposals because it's all been released via the media overnight," Mr Malawana told BBC Breakfast on Wednesday.
Mr Hunt, who wrote to all doctors to inform them of the changes today, said he remained "completely committed to the values of the NHS" and called on the BMA "to do the right thing and come back to the negotiating table".
"We again make the guarantee that no junior doctor working within the current limits will see a pay cut compared to their current contract," the Health Secretary said in a statement. 
"As we have consistently said, we will reduce the maximum number of hours that can be worked in any one week and are putting in place better safeguards, meaning the firm offer gives the best protection junior doctors have ever had against working long, unsafe hours. 
In numbers: the NHS crisis
"Our proposals offer better basic pay with increases based on responsibility instead of time served, a shorter working week and improved patient safety."
But junior doctor Sarah Williams, an A&E trainee at a South London hospital, said their dispute was "not about money."
"At no point have we as doctors asked for a pay rise," she told The Independent.
"We are fighting for our current pay with no increase in hours or restructuring of working day which would reduce our pay."
Ms Williams voiced her frustration at the Department of Health's decision to play a "media game" with patients and doctors' contract in an attempt "to remove public support."
"He could give me a 100 per cent pay rise and I still couldn't safely do my job," she said.
Thousands of doctors have taken to streets across the country in recent weeks to protest against the Health Secretary's changes to their contracts. They have warned Mr Hunt's proposal will risk patient safety and lead to pay cuts.
"I think people have to not take anything the health secretary says at face value," Ms Muldoon added.
"He's attempting to smear the junior doctors and he's attempting to set up division between them and the rest of the health force.
"Junior doctors have said all along it is not about us. If [Mrt Hunt's proposals are] forced through it will affect all of us." 
Reuse content