A rare Lamborghini supercar worth a quarter of a million pounds was involved in a three-car collision in the exclusive London neighbourhood of Kensington on Sunday.
The matt-black Aventador was damaged on its front, and had to be towed from the scene of the crash in Sloane Street - well-known for its wealthy residents.
Witnesses told the Evening Standard that the Lamborghini was in a collision with a hatchback, causing it to veer off into a parked car.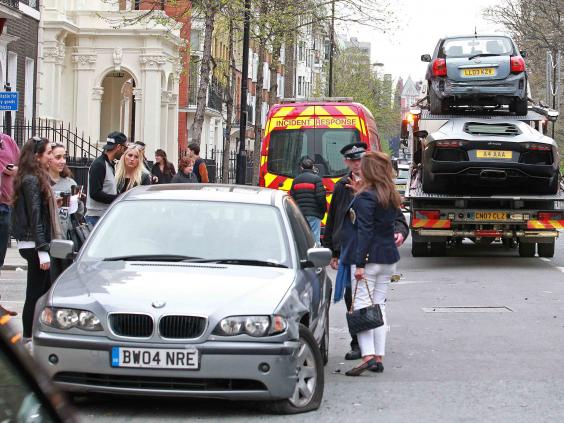 After the crash, during which no one was hurt, shoppers in Sloane Street gathered around and took photos and videos.
Art consultant Lila Afshar returned from a Mother's Day lunch with her two daughters to find her BMW had been the caught up in the collision.
Ms Afshar, from St John's Wood, told the newspaper: "We showed up about three hours after the incident and there was a letter on the windshield.
"The Lamborghini was being towed away and the owner came up and explained what had happened.  He was really apologetic about it."