One of England's leading criminal lawyers, who has been involved in some of the most high-profile cases of the past 40 years, has told his fellow barristers "It's time to make a stand and strike" against the Government's cuts to legal aid.
Michael Mansfield QC, who represented those wrongly convicted of the IRA's Guildford and Birmingham bombings, and the relatives of Jean Charles de Menezes, the Brazilian man shot by police at Stockwell Tube station, said the "rank and file of the Bar are ready and have had enough".
The Criminal Bar Association (CBA), the representative leadership of barristers, has been hesitant in advising its members to join the action this week alongside solicitors from England and Wales. Their aim is to boycott new legal aid cases – which could effectively see courts begin to grind to a halt.
 However Mr Mansfield told The Independent on Sunday that the professional fate of barristers and solicitors was "interlinked", and unless there was effective, unified action against the cost-cutting reforms begun by Chris Grayling and continued by his successor as Justice Secretary, Michael Gove, then "the independent Bar is never going to survive this".
Although the CBA leadership believes that talks with the Government could still produce a positive settlement with the Ministry of Justice and that "perpetual antagonism" with Mr Gove's department may not be an effective strategy, rank-and-file barristers recently voted almost unanimously to back hard-line action and to join solicitors in the boycott of new work.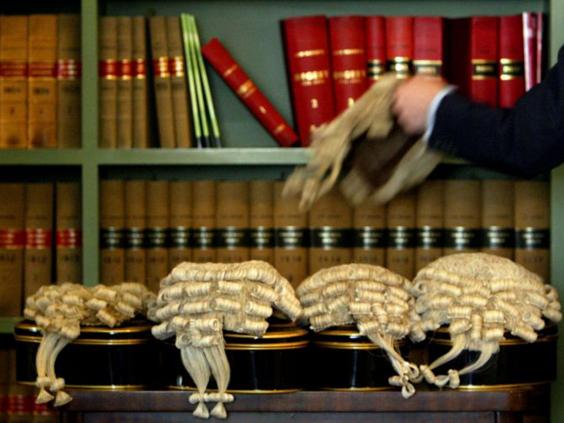 Lawyers in London, Sheffield, Leeds and other cities are expected to announce formally tomorrow that they will join colleagues from Manchester, Merseyside and Cardiff who voted last week not to take on any new legal aid work from this Wednesday, 1 July.
The principal objection is to the post-election decision by Mr Gove, who is also Lord Chancellor, to implement a further 8.75 per cent cut to legal aid fees, on top of a similar fee reduction enforced last year.
Mr Gove is also accused of forcing through an unwanted consolidation of solicitors' firms which can apply for "duty" contracts. These provide legal representation for suspects held by the police, or for new defendants appearing in court who have asked for a lawyer. Under new rules the approved number of firms able to bid for duty contracts will fall from about 1,500 to just over 500.
Bill Waddington, the chair of the Criminal Law Solicitors Association, forecast that the combination of reduced fees and the shrinkage of firms with income from "duty" clients would threaten the viability of small  and medium-sized firms engaged in criminal work. The changes would also accelerate the use by large firms of in-house solicitor-advocates, effectively squeezing out barristers whose advocacy skills may be higher, but who simply cost more.
Some leading barristers fear that because larger law firms have already bid for duty contracts, solicitors may not be prepared to see through sustained action against the Ministry of Justice.
Mr Mansfield said that although leading criminal barristers may not want to take risks, the economic reality for the rank and file was different. He said: "They have had enough and know the writing is on the wall unless they do something.
"The service begins with the front-line solicitor. That is where the contact is made, through the duty solicitor schemes. If the high-street solicitor is going out of business – and the prognosis is that two thirds may not survive – the firms remaining will do the advocacy work themselves."
The move by Mr Gove to back the highly criticised reforms of Mr Grayling – the first lord chancellor in English legal history who was not a lawyer – was described by one leading barrister as "Soviet". He accused the Government of measuring justice as a "bulk commodity that can bought cheaply".
Although a half-day strike by barristers last year was deemed effective, with the Government backing off from imposing further cuts to Bar fees, Mr Gove took the decision after his recent appointment to continue with the Grayling austerity regime on solicitors' legal aid fees.
Mark George QC, the head of the Garden Court North chambers in Manchester, described Mr Gove's assurance that the "high quality of advocacy" would be supported as "a classic example of divide and rule".
He warned: "We have to take action together. We have to stop this bickering between the Bar and solicitors and stop giving the Government the opportunity to drive a wedge between the two of us."
Reuse content