The man who was almost beheaded in a knife attack at Leytonstone Tube station has condemned its inclusion on a controversial list of "terror attacks" drawn up by the White House.
The dossier of 78 incidents was released by Donald Trump's team to back up the President's claim atrocities in Europe were "not even being reported [by the] dishonest press".
The White House said its list included terror attacks "executed or inspired by Isis", but several had not been classified as terror-related by prosecutors, including the London attack.
Lyle Zimmerman, a biologist and musician, was on his way to play a gig with his band on 5 December 2015 when he unknowingly boarded the same Central Line carriage as Muhiddin Mire.
As they got off the train at Leytonstone, Mire attacked him from behind, punching him to the ground and kicking him in the head until he passed out.
Mire then withdrew a bread knife and attempted to behead Mr Zimmerman in front of Tube passengers who tried to stop the attack as Mire slashed at them with his weapon. 
Mr Zimmerman said his recollection of the attack, which left him with a jagged gash in his throat requiring 19 stitches, was fuzzy.
"The guy beat me up really quick, it was kind of shocking and next thing I know I wake up and there's a doctor sitting with me on the steps telling me I'm going to be ok," he told The Independent.
"Three days later I was back in the pub playing music."
The 57-year-old cannot remember Mire shouting during the frenzied assault, when Mire claimed he was carrying out the attack for "my Syrian brothers" and repeatedly shouted "Allahu akbar" as police took him down with tasers.
In pictures: Leytonstone stabbing
In pictures: Leytonstone stabbing
1/5

Mobile phone footage shows the suspect being tasered and arrested at Leytonstone Tube station

2/5

Mobile phone footage shows the suspect being tasered and arrested at Leytonstone Tube station

3/5

Mobile phone footage shows the suspect at Leytonstone Tube station

4/5

Mobile phone footage shows the suspect at Leytonstone Tube station

5/5

Mobile phone footage shows the suspect at Leytonstone Tube station
The statements caused police to initially investigate the stabbing as a "terror incident" but the culprit, who had a history of paranoid schizophrenia, was not charged with terror offences and received a life sentence for attempted murder. 
"I was very clear in my mind within a day or so of the attack that it was just a mental health tragedy," Mr Zimmerman said.
"This guy had had a really profound history of mental illness and his family had been trying to get him help.  I thought it was entirely appropriate that he wasn't charged with terrorism crimes."
But the White House does not agree.
It listed the Leytonstone incident among 78 "under-reported" terror attacks on Western targets between September 2014 and December.
"For the White House, that's not good enough," Mr Zimmerman said. "I felt like it was heavily covered and also not actually an act of terrorism.
"It was obvious to me that the event was ripe for sensationalisation, and that was going to help Isis and help far right extremists as well by making it this big, terrifying event."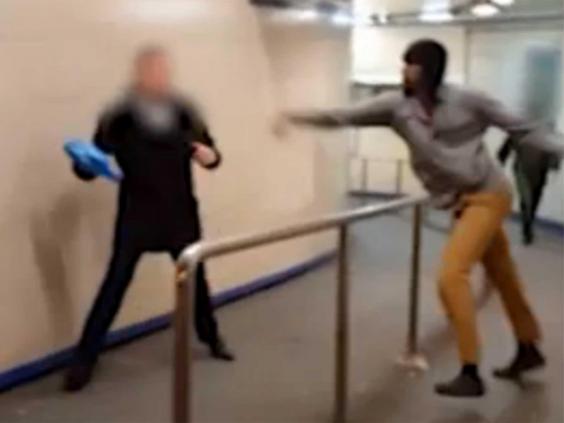 Mr Trump cited the threat of terror attacks as the main reason for his attempted suspension of the US refugee programme and halt on immigration from seven-mainly Muslim countries.
The executive order, labelled a "Muslim ban" by critics, has been suspended after a legal challenge that sparked angry allegations from the President that a judge had "opened up our country to potential terrorists".
Mr Zimmerman said the White House's terror list aimed to "appeal to the lowest common denominator" of Mr Trump's support base.
He disagrees with the President's immigration ban, believing it's "counter-productive to US safety" by alienating international allies.
The dual British national pointed out that in the aftermath of the Leytonstone attack, when an onlooker's shout of "you ain't no Muslim bruv" went viral, he was treated by Muslim police officers and doctors.
"In America you don't have a rusty bread knife, you have an automatic weapon," Mr Zimmerman added.
"Either he gets hold of a gun and I'm dead, or police shoot him dead.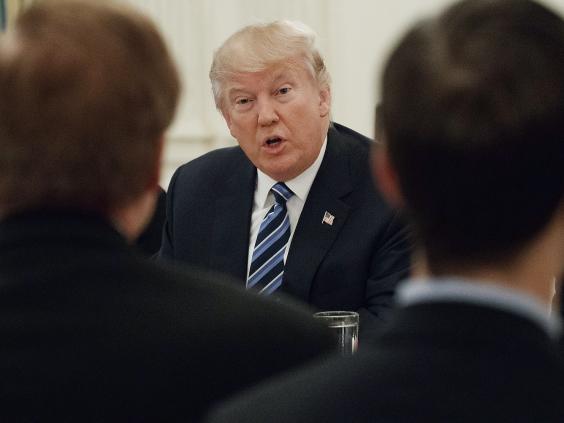 "But I'm glad Mire is in [Broadmoor] hospital, I don't want him to be dead. He's not a martyr and I think that's a good thing."
Commander Dean Haydon, head of the Metropolitan Police Service Counter Terrorism Command, said Mire was "inspired by Isis" to carry out the unprovoked attack, while the judge concluded that he was motived by events in Syria.
It was not the only contested attack on the White House's list, which included the murder of a British man and woman at a hostel in Australia.
Mia Ayliffe-Chung, 21, was stabbed to death by her French roommate in a hostel, while Tom Jackson died of his injuries after trying to save her.
Smail Ayad shouted "Allahu Akbar" during the murder but investigators said the attack was not-terror related after concluding that he attacked Ms Ayliffe-Chung after she rejected his advances.
Her mother, Rosie Ayliffe, wrote an open letter to Mr Trump voicing her anger about her daughter's murder being included on the list.
"The possibility of Mia and Tom's deaths being consequent to an Islamic terror attack was discounted in the early stages of the police investigation," she wrote, accusing the President of "vilifying whole nation states and their people based on religion."
Sandra Jackson said the President had used her son's murder to "further his campaign of hate," adding: "How dare you. You are a disgrace."