The roof of a busy London tour bus has been ripped off after hitting a tree in the capital.
A tour of London's finest attractions ground to a halt unexpectedly, when the already partly open-top bus lost its roof after making contact with a tree in Bloomsbury.
Initial reports indicate that four passengers have been taken to hospital, with others receiving treatment for minor injuries close to the site.
Joseph Whelan was on the bus with his wife and two children. "It was like a bomb going off," he told the Press Association.
Mr Whelan, from Canada, said he was among a group of Canadians who were in the UK for a wedding which took place on Saturday. He said the bride was also on the bus and had been taken to hospital.
He described the immediate aftermath as "total chaos" and said there was "blood all over the floor".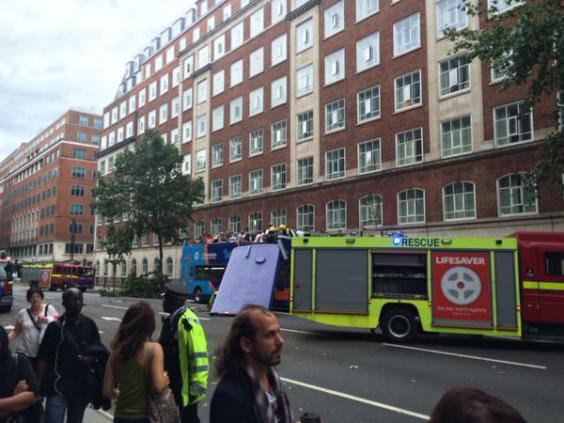 The London Fire Brigade has stated that fire crews were called at 1.12pm, with three response vehicles being sent to the site of the incident.
A spokesman for LFB told The Independent: "It's a tourist bus in collision with a tree that's taken the roof off, so we're working with LAS service down there at the scene at the moment."
Speaking to The Independent, bus operator Golden Tours said: "We are aware about the incident at Russell square and our entire management is on site at the moment.
"We are trying to assess the situation and gather all the facts before we can come up with a statement. Our main priority is the well being of our client's who were on the bus."
Reuse content