There is still a week to go before Betty Musker's 104 birthday, but already her care home in Warrington has been inundated with birthday cards in time for the special day – over 5,049 and counting.
Ms Musker, a great-grandmother, had told her carers that she didn't expect many cards this year, but since her family started a Facebook campaign that went viral, she has had thousands of cards flying in from all over the world.
People in Singapore, Australia and America have sent cards, as well as those closer to home, after the Facebook page "For the love of Betty Musker," set up by her family and her carers, was reportedly shared over 16,000 times.
Some of the cards have been football themed, and with good reason: Ms Musker is an avid Liverpool FC fan, and despite moving away from Liverpool 10 years ago, she watches every game she can on TV, her great-granddaughter, Alison Whittle, told The Independent.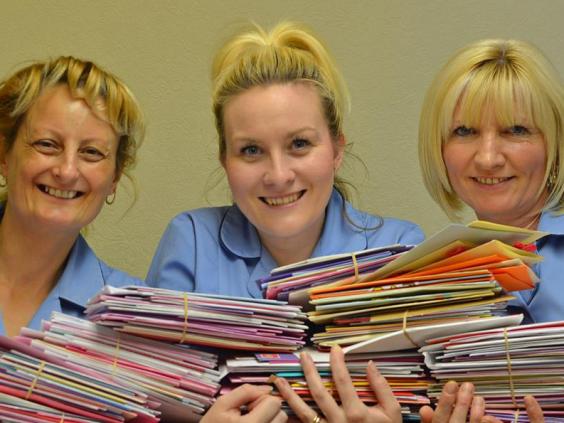 "It's amazing how people have gone out of their way to send the cards from here, there and everywhere, it's really kind. We've had cards from Singapore, Australia, the Ukraine, Korea - from everywhere," Ms Whittle said.
Ms Whittle said the care home and the family have been delighted with people's efforts. Children as young as toddlers have drawn cards for Ms Musker, while some of the cards "look like a work of art". One person went as far as to send a bunch of roses with a teddy bear from Australia.
Contributors have been posting notes and birthday messages on the Facebook page to let Ms Musker's family know that a card is on its way, while staff at the care home have posted regular updates and pictures of the sheer volume of cards being sent in each day.
The big reveal is being saved until Ms Musker's birthday however, when she will discover how many people have sent her birthday wishes.
The family are planning on recording Ms Musker's reaction to seeing her cards on video, which will be posted on the Facebook page for all the contributors to watch.
Reuse content