One of the many heroes of the London Bridge terror attack has spoken of the moment he was stabbed in the neck as he tried to "face the attackers down" and defend his friends. 
Journalist Geoff Ho was left in intensive care after attempting to take on the terrorists in Borough Market on Saturday night, but revealed he was "on the mend" just days later after undergoing surgery for his injuries. 
Friend Steve Dyson visited the journalist in hospital on Monday and reported that Mr Ho is now able to speak and is recovering so well he has decided to join Tinder.
"Just been to see Geoff Ho in hospital," he wrote in an online post, The Mirror reported. 
"He's now able to talk, is in good spirits and doing really well.
"He has also realised that due to his new found fame and hero status, it's now time to strike and download Tinder.
"We love you Geoff, and are thankful you're doing well."
Mr Ho, the business editor of the Sunday Express, has given a vivid account of how he stood up to the terrorists on Saturday night, minutes after helping a lone bouncer fight off two men in a separate incident outside the Southwark Tavern.
He had already posted his "this isn't happening on my watch" statement on Facebook describing the fight where he helped the bouncer when he walked into Borough Market. 
"At that point I thought "job done, now for beer and food," Mr Ho said in a statement.
"I went the five doors down the street to Black & Blue. Within two minutes of my leaving the Southwark Tavern and posting 'not on my watch' on Facebook, the terrorist attackers arrived at the restaurant.
"Most of my friends and the staff hid under tables but one of my friends was frozen behind me. I knew I had to face the attackers down, they were armed and I had the best chance of delaying them until the police arrived or they'd get everyone.
"I had to shield my friends and the people there. Then I noticed they had what looked like suicide vests on. I tried to slow them, they attacked. It happened so quickly.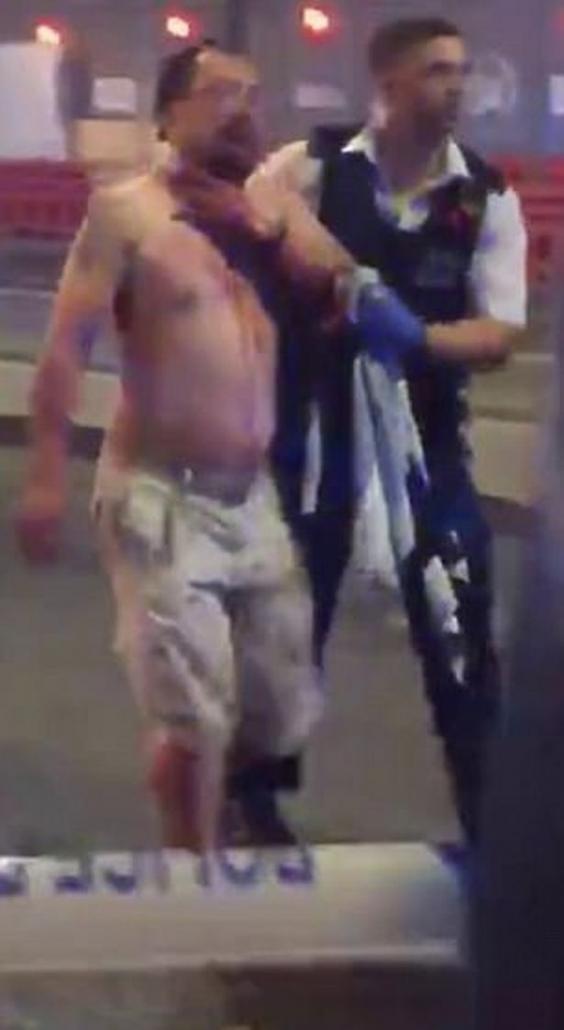 "The b****** in the Arsenal shirt came at me first. I think I got a hit in on one of them, but either he or his accomplice got me with a shot to the throat.
"They got my friend who was behind me with a minor stab wound in the face and hands and ran off. I picked up my friend and bundled him into the storeroom.
"I called the police and within moments they arrived. I gave the police descriptions of the three and we were evacuated."
Mr Ho said he had been told by doctors that he would make a full recovery from his injuries, adding: "Also, I want to make it clear that many of my friends are Muslim.
"The people who attacked me were not representative of Islam. I stand in solidarity with my Muslim brothers and sisters."
He urged people to donate to a fund for the British Red Cross and London Air Ambulance. 
Additional reporting by Press Association
Reuse content