Network Rail has said it will review its plans during development of the Thameslink programme at London Bridge after a short closure last night caused "life-threatening chaos" for rush hour commuters.
Lines were shut down for 45 minutes from 4.20pm because of a person on the tracks at Streatham, the operator said. The knock-on delays saw huge numbers of people stranded on platforms and some forced to jump closed barriers to avoid the crush, while onlookers posted dramatic images online.
The London Mayor, Boris Johnson, said: "This chaos must end now. The scenes at London Bridge last night were completely unacceptable.
"It is a disgrace that Network Rail and the train operating companies have failed once again to get a grip of the situation at London Bridge.
Mick Cash, leader of the Rail, Maritime and Transport union said last night's scenes were "horrific", adding: "RMT is sick and tired of the excuses about the continuing chaos at London Bridge which led to horrific scenes at the station last night.
"The fragmentation and privatisation of our railways leaves train companies and Network Rail blaming each other while passengers and staff are left caught in the kind of life threatening chaos we have seen in pictures from one of London's major rail terminals last night."
If you kettle 1000's of commuters through 2 small doors and lock down every single gate, this happens #londonbridge pic.twitter.com/Ouqrs15nVM

— The Blower's Son (@BlowersSon) March 3, 2015
Network Rail's route managing director for the South East, Dave Ward, described the situation for commuters last night as "very tough".
"We will as a matter of course be reviewing our plans and the events of last night to see what, if any, lessons can be learned," he said.
"The railway around south London is so busy that if one train is delayed by just one minute it will delay 17 other services as a result," he said. That is why the Thameslink programme is so important to the future of our railway."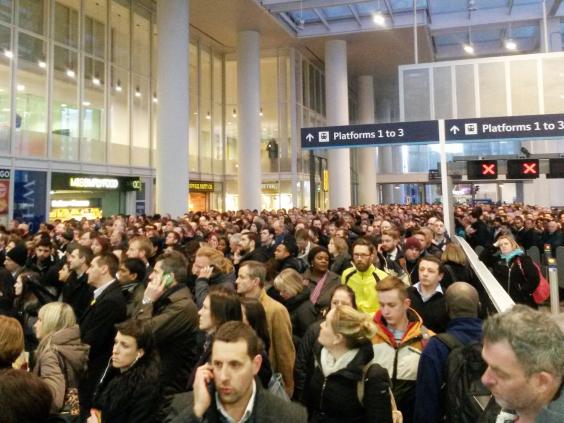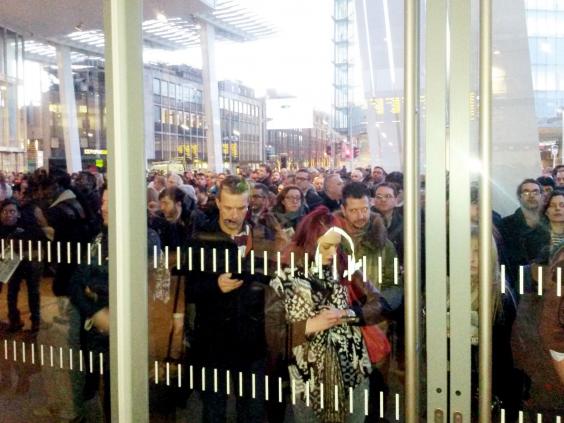 Labour said there needed to be a "very frank discussion" with rail bosses about why rail services have been "consistently underperforming" while passengers are charged "extortionate" fares.
A Conservative Party spokesman said: "For the thousands of commuters whose journeys home were disrupted, last night's events were unacceptable. While the cause of delays was beyond anyone's control, it is clear the crowd management at the station failed.
Travel chaos around the UK
Travel chaos around the UK
1/6 Travel chaos

Travelers are locked out of Finsbury Park station, London, where they were directed to go as trains in and out of King's Cross have been cancelled

PA

2/6 Travel chaos

Passengers wait at King's Cross, London, as trains in and out of the station have been cancelled

PA

3/6 Travel chaos

Railway workers on the tracks outside King's Cross, London, as trains in and out of the station have been cancelled because of overrunning Network Rail engineering works

PA

4/6 Travel chaos

Travellers are locked out of Finsbury Park station, London, where they were directed to go as trains in and out of King's Cross have been cancelled

PA

5/6 Travel chaos

Travellers are locked out of Finsbury Park station, London

PA

6/6 Travel chaos

People wait outside Finsbury Park station, London

PA
"Network Rail and the operators know this and must ensure they make the necessary changes to give passengers a robust service and to ensure these scenes are not repeated."
Reuse content