Commuters travelling through London Bridge are urged to take alternative routes if possible as rail delays and cancellations are expected today due to a faulty train.
The engineering freight train broke down this morning at New Cross Gate station in south east London and the repercussions likely continue through to the evening rush-hour, according to Network Rail.
Delays of more than an hour at a time can be expected. No Thameslink trains to and from Brighton will be calling at London Bridge until at least 5pm.
London Bridge services are going to be amended throughout the day & the station is likely to be busy please use alternative routes.

; London Bridge (@NetworkRailLBG) March 9, 2015
Only 2 hours late to work today #LondonBridge

; Hannah Simmons (@h_simmons) March 9, 2015
Colleague has been stuck on a train outside London Bridge station for an hour and a quarter. The service there is just unbelievably bad

; Andrew Holgate (@aholgate) March 9, 2015
South Easterns delays is even WORSE today than last Monday. I've spent 2 hours in London Bridge now and still no trains down to Brighton?

; Tova Wellton (@TovaWellton) March 9, 2015
A huge rush was caused by a short closure of London Bridge station last Tuesday due to signalling problems and a person on the tracks at Streatham.
Commuters jumped over and dived under ticket barriers, that were shut to control crowds, to escape the escalating crush of thousands of people. Others were stranded on platforms for at least 45 minutes in what Boris Johnson and unions described as travel "chaos".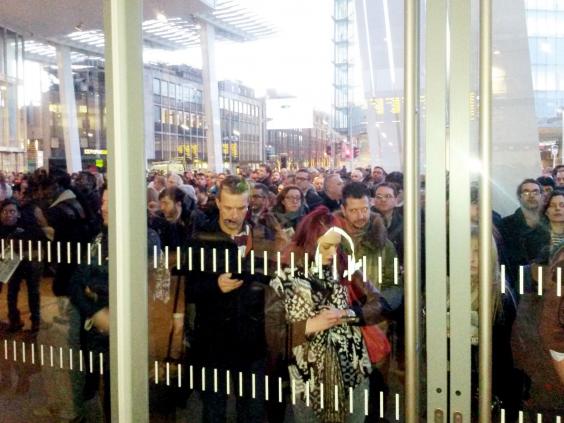 The Mayor of London had said: "This chaos must end now. The scenes at London Bridge were completely unacceptable.
"It is a disgrace that Network Rail and the train operating companies have failed once again to get a grip of the situation at London Bridge."
This is what happened at London Bridge last night amid rush hour 'chaos' http://t.co/sZcYs8oSro pic.twitter.com/W02RUYtHx3

; Evening Standard (@standardnews) March 4, 2015
Mick Cash, leader of the Rail, Maritime and Transport union said the scenes were "horrific".
He added: "The fragmentation and privatisation of our railways leaves train companies and Network Rail blaming each other while passengers and staff are left caught in the kind of life threatening chaos we have seen in pictures from one of London's major rail terminals last night."
Network Rail's route managing director for the South East, Dave Ward, described the situation for commuters as "very tough" and said the company will be reviewing plans in light of last Tuesday's travel misery.
London Bridge station is undergoing redevelopment in a £6.5 billion Thameslink scheme that started in May 2013 and is expected to finish in three years.
Reuse content