Flights have been suspended from Heathrow's Terminal 3 due to a security issue, a spokesman for the airport has said.
Departures from the mainly long-haul terminal were stopped "for a short time" on Friday morning, a representative for the west London hub said.
Unconfirmed reports said the alert was triggered by a passenger who attempted to run through security with an unscreened bag.
A Metropolitan Police spokeswoman said officers were at the scene dealing with reports of a "suspicious package".
Eyewitnesses described seeing armed police conducting searches of flights shortly before departure.
Tim Chambers, who was onboard a British Airways flight to Bilbao, told the Press Association his plane was grounded for two hours due to a suspected "security lapse".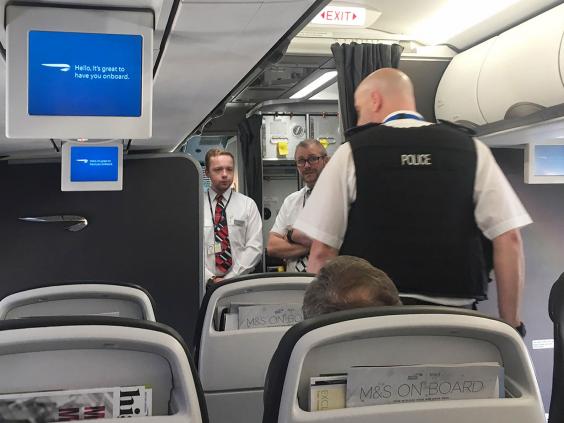 The passenger said the captain on his flight had told passengers the delays were due to an incident involving a man said to have grabbed his bag and run through security after it had been pulled aside to be checked.
Flights from the terminal were able to resume and an investigation has been launched, a spokesman confirmed to The Independent.
"Departures were suspended for a short time from Terminal 3 due to a security issue," the airport said in a statement.
"We are very sorry to any passengers whose journeys are affected.
"The safety and security of our passengers and colleagues is paramount."
In pictures: 70 years of Heathrow
In pictures: 70 years of Heathrow
1/22 Inside one of the terminal tents in 1946

The year the airport opened. Comfortable armchairs and flowers try to distract from the conditions

Graham Bridges collection

2/22 An aerial view of the airport in 1949

Construction of the runway layout and Central Area are under way

3/22 A Pan Am crew checks out the Boeing Stratocruiser N1029V Clipper Golden Eagle in 1954

During the early 1950s, Pan Am and American Overseas Airlines operated Statocruisers into London Airport in direct competition on the North Atlantic route operated by BOAC

4/22 One of the first official London Airport guidebooks

C.1953, priced 1s

5/22 In 1950 a permanent concrete terminal building was built

This replaced the tents previously used at London Airport North and is seen still in use for charter and cargo flights in this 1959 view

via Graham Bridges

6/22 BOAC check-in desk in 1954

Inside the new London Airport North terminal building, just before the move to the Central Area

Graham Bridges collection

7/22 Air traffic control tower in the 1960s

Inside the visual control room

CAA Archives via Pete Bish

8/22 Rear cover of the 1956 guidebook

Showing a plan of the airport at the time, with entrance prices to the spectators' viewing terraces and for airport coach tours

9/22 Spectators in 1958

How close can you get? As soon as the Central Area was open, spectators were afforded unprecedented views of the airliners

10/22 Terminal 3 was opened as the Oceanic Terminal on 13 November 1961

It was built to handle flight departures for long-haul routes. Renamed Terminal 3 in 1968, it was expanded in 1970 with the addition of an arrivals building

11/22 Inside Terminal 3 in 1969

Check-in desks for BOAC and QANTAS airlines

12/22 Plane spotting on Heathrow's viewing terraces in the 1960s

Wrap up warm, take your spotting logbooks, pen and binoculars and get your mum to pack your sandwiches

13/22 No 1 Passenger Building

Also called the Europa Building. In this photo, taken on 22 June 1963, flags of the many airlines it serves are flown

Lee Holden

14/22 Luggage-trailer-towing Routemaster buses

When BEA and BOAC merged to form BA on 1 April 1974, both fleets had to be repainted in the new livery, but so did all the ground support equipment

15/22 The entrance to the traffic tunnel in 1974

A Lufthansa Boeing 737 is seen on the runway

16/22 A 40 per cent scale model of Concorde

In September 1990 it was erected on the roundabout at the entrance to the tunnel that passes under the northern runway at Heathrow Airport. It was built in four main parts, with an 80ft-long central fuselage section, to which the wings and tail fin were attached. The completed model was placed on the roundabout in September 1990 and was monitored by CCTV and surrounded by an infrared perimeter alarm that was connected to the local Heathrow police station to ensure it was not vandalised

17/22 Heathrow Airport's 50th anniversary

On 2 June 1996, Heathrow marked its anniversary with a flypast of representative airliner types that have served the airport over the years. This culminated in a formation flypast by Concorde with Hawks of the RAF Red Arrows aerobatic team

18/22 The roof of Terminal 3's car park

One of the last bastions for plane spotters and spectators was here. This is the unfriendly notice that greets anyone who attempts this today

Richard Vandervord

19/22 On 24 October 2003 BA withdrew its Concordes from service

The final scheduled commercial flight was BA002 from JFK operated by G-BOAG. Here we see three of the Concordes parked together outside the BA hangar on 8 November 2003 following withdrawal

John Hughes

20/22 The new control tower

Costing £50 million to construct, it gives controllers an excellent 360-degree panoramic view

NATS photograph

21/22 The new Terminal 2

The Queen's Terminal

22/22

Looking due west down Runway 27L
In a separate incident, a man arriving at Heathrow on a flight from Turkey was arrested on Thursday evening on suspicion of terror-related crime.
The 30-year-old was detained by the Metropolitan Police's counter-terror squad as he stepped off the plane from Istanbul.
A Scotland Yard spokesman said the man had been arrested on suspicion of preparing for terrorist acts and terrorist training.
The suspect remains in custody at a south London police station, while officers search a property in the east of the capital.
Reuse content