One person has been killed and a section of the M25 closed following a major accident involving multiple lorries crashing through the central reservation.
Essex Police confirmed there had been one fatality following the incident near Waltham Abbey at 1.50am this morning. Three others have been taken to hospital after it was reported that "a number of people" had been trapped in their vehicles.
Four lorries and a Peugeot car were involved in the accident, police said, while some of the road required resurfacing after a lorry carrying cheese caught fire.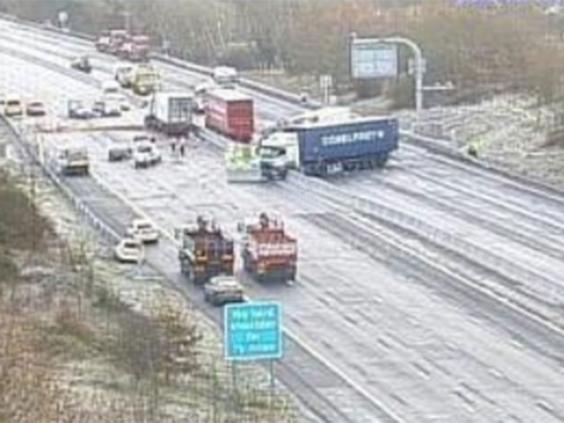 The Highways Agency said the motorway had been closed between junctions 23 and 27 clockwise and junctions 25 and 27 anti-clockwise, causing delays of at least one hour to drivers in the morning rush-hour.
It said the section of the ring-road would remain closed until the afternoon.
Images from CCTV traffic cameras at junction 26 showed a lorry with its front end pushing through the central reservation from the anti-clockwise to the clockwise side of the road. A large number of emergency vehicles remained on the scene.
A spokesperson for Essex Police said: "The M25 currently remains shut between junctions 25 and 27 while clean-up and repair work continue. Police have now released the scene to the Highways Agency."
Transport for London said the closures were having a knock-on effect on the A127, A10 and A12, where traffic remained "very slow".
Reuse content