More than half the children born at the turn of the millennium had experienced poverty by the time they reached the age of 11, says a new report out today.
And one in six (17 per cent) have been suffering from constant poverty since almost the day they were born.
The Millennium Cohort Study, which tracks the lives of children born between September 2000 and January 2002, offers the first real glimpse into what life is like for an 11-year-old living in modern Britain.
"Our findings are concerning because poverty is undoubtedly bad for children," said Professor Lucinda Platt, lead researcher for the study carried out by London University's Institute of Education. "It can have a negative effect on their educational attainment, health and behaviour in childhood and can have adverse consequences in adulthood.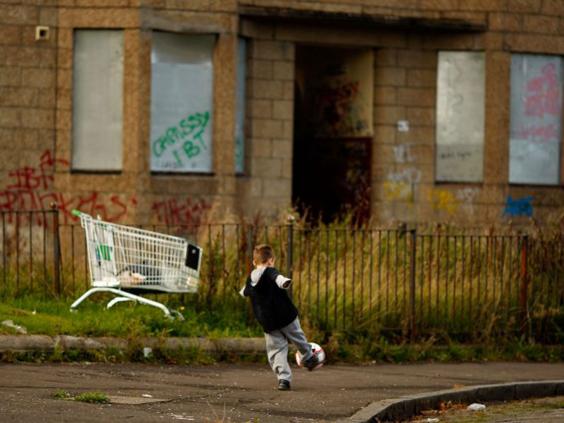 "Long durations of poverty put children at particular risk of poorer outcomes during their school years and in later life."
An analysis of the data shows children in wales and northern Ireland those of Pakistani or Bangladeshi origin are most likely to be prone to poverty. Persistent poverty was most likely to occur to children from a workless family (50 per cent) or brought up by a single parent (26 per cent).
The research also showed a very different pattern of family life for today's 11-year-olds even compared with two years ago.
Only 50 per cent of 11-year-olds were living with two natural parents who were married, down from 60 per cent at age nine. In 1969, nearly 90 per cent of 11-year-olds lived with their two natural parents.
However, the researchers concluded: "Despite the apparent rise in instability, the millennium generation are very satisfied with their lives. Three quarters of the children of the new century also reported being "completely happy" with their families.
Black Caribbean families (61 per cent) were the most likely to be lone-parent families, compared with just nine per cent of Indian and Bangladeshi families.
The study also gave a glimpse into the daily routine of today's 11-year-olds - with three per cent spending at least seven hours a day on their computers. Almost all the children (95 per cent) had access to their own home computer linked to the internet. A further 17 per cent said they spent upwards of three hours a day on their computers.
Nearly three quarters own their own mobile phones - up from just 15 per cent at age seven. More girls (77 per cent) than boys (67 per cent) were likely to own their own phone. They were also more likely to have their own TV in their bedroom at age 11 (60 per cent) compared with age nine (45 per cent).
Reuse content